To all of those kind folk who contacted 'handlebars HQ with words of encouragement about my meanderings through the lower reaches, the higher numbers (101-150), of the US album charts of 50 years ago, a big thank you & a digital hug to both of you. It's not always going to be the overlooked & the undervalued, the coulda & shoulda been bigger. Two of this week's selections are from groups who made pivotal, significant contributions to the resurgence of American popular music in the wake of the British Invasion tsunami. Their peak creativity & popularity may have been in the past but when they got it right they could still make a beautiful noise worthy of our time & attention.
With the departure in late 1967 of both David Crosby & drummer Michael Clarke membership of the Byrds, already a songwriter light when Gene Clark had left, had become somewhat of a revolving door. When Gram Parsons left after just one record & the formerly steadfast Chris Hillman decided that he would rather be a Flying Burrito Brother Roger McGuinn was the last Byrd standing of the original five who had struck jingle-jangle Folk Rock gold in 1965 with "Mr Tambourine Man". Roger recruited ace guitarist Clarence White who found a drum stool for his friend Gene Parsons then, after a couple of records, they were joined by bassist Skip Battin for the half-live, half studio double album "Untitled" (1970). "Farther Along", the group's 11th release, quickly recorded after the disappointing "Byrdmaniax", stood at #122 on the Cash Box album chart for the 5th of February 1972.
Any record by the Byrds will inevitably be compared to the astounding, barrier-breaking run of four albums from "Fifth Dimension" (1966) to "Sweetheart of the Rodeo" (1968) & that's a pretty high bar to clear. This later, the final, incarnation of the Byrds showed on "Untitled" & when I saw them play in 1971 that they had the chops to make the old songs more than just revive 45s & that record's "Chestnut Mare" returned the group to the UK Top 20 after a five year absence. Perhaps a greater democracy within the band & McGuinn's outside interests contributed to a lack of consistency but recent airings of "Farther Along" brought back good memories & a smile that I remembered all the tunes & most of the lyrics. Two well-chosen covers, "Lazy Waters" sung by Skip & the inimitable "Bugler" by Clarence, who, whether he is rocking or Country picking is immaculate throughout, are the highlights. There's only the one McGuinn song here, "Lost My Driving Wheel" would have been a bonus but Roger kept it back for a solo album & plans for reunion of the classic five Byrds were coming together, a half-hearted reconcilement for the final album by the group from whom we will always have "Younger Than Yesterday", "Notorious Byrd Brothers" & "Sweetheart…".
The Mamas & the Papas walked through the door for Los Angeles folkies who wanted to make Pop music opened by the Byrds & their crystal-clear, naturally balanced harmonies made their California dreams come true. John Phillips wrote the hit songs, his wife Michelle was the coolest, most attractive young woman in America, Cass Elliott sang sweet & soulful while Denny Doherty's voice really tied the room together. Across 1966-67 there were three Top 5 albums, six Top 10 45s & John's role in the conception & realisation of the Monterey Pop Festival placed the West Coast & his group as a focal point for the counter-culture & the Summer of Love. Such great success brought problems to a quartet whose inter-personal relationships were well, complicated. Mama Michelle was fired in June 66, re-hired in August, a 67 European tour began badly when Cass was arrested as she stepped off the boat then an argument between John & Cass led to cancelled dates. A fourth album was released, "Dream A Little Dream of Me" became a Cass Elliott single & that seemed to be the end of the Mamas & Papas. Or was it?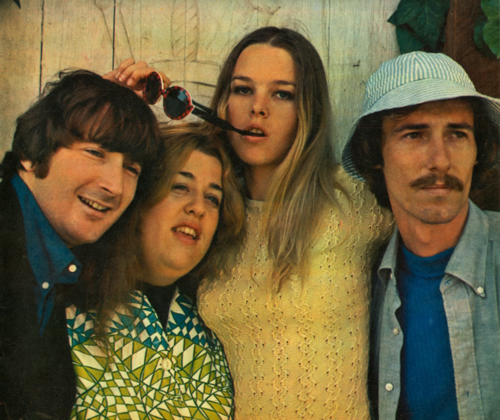 Cass was embraced & loved by a mainstream audience, hit records & TV specials followed. Michelle was looking towards Hollywood while Denny's debut was missing John's songs. These were to be found on "John, the Wolf King of L.A.", a soft Country Rock gem that really coulda, shoulda been bigger but business got in the way of the music. Dunhill Records had been sold by producer-friend to ABC & the M&P's new corporate bosses discovered that the group still owed them an album, that or a million dollars! For a record made under such awkward duress "People Like Us", #119 on this week's chart, bears up well over time. The songs & the singers are not as fresh & innocent as before but then weren't we all, the harmonies are impeccable & hey, there are not too many albums made by the Mamas & the Papas. "Snow Queen of Texas" takes the breath away, Denny's sweet & irresistible vocal matches "Blueberries For Breakfast" & my selection is the whisper of a tune "Shooting Star" because it always has been & always will be. We lost Cass in 1974, Denny never found a song to do justice to his pure voice, Michelle chose films & John chose heroin. For a while they shone as bright as anyone.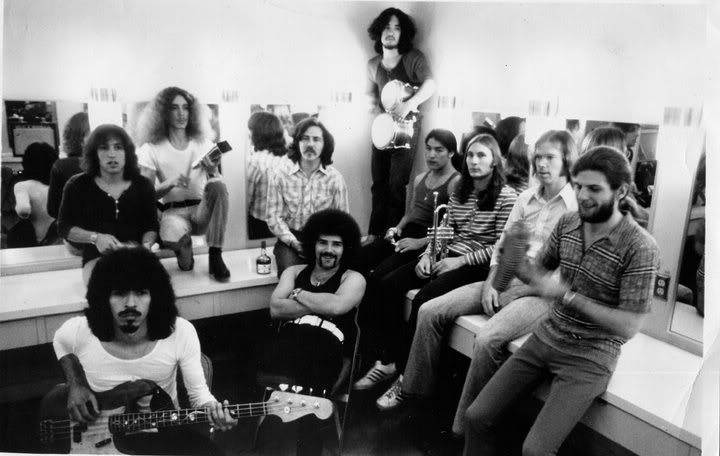 From the final records by two famous groups from L.A. it's 400 miles up the California coast to San Francisco & a debut album, something I had never heard until this week. Malo, in 1972, were a 12 piece band, an amalgamation of mainly Latino musicians whose self-titled record is at #144 on the chart. Among the members was guitarist Jorge Santana, brother of the more famous Carlos, but there's more to Malo than just who they knew, there was a lot of talent. I'm no expert on Boogaloo, the funky Nuyorican Salsa popular in the 1960s but when I hear Joe Bataan, Johnny Colon & others I like what I hear. Malo have a similar big band feel, a brass section & multiple percussionists filling out the sound while there's a Rock energy about these young guys, with just the six tracks on the album allowing the musicians to stretch out & find the groove. "Suavecito", a Top 20 hit, may be a little smooth & restrained for some tastes but it's great to see the band play live & you should try "Cafe" where all the ingredients, brass, percussion, stinging guitar, keyboards & strong vocals, whip up a heady brew.
There was some disruption after this album, keyboard player Richard Kermode & percussionist Coke Escovedo moved over to Santana but there are three more Malo records in the early 1970s before they tiook a six year break so that's me sorted for the weekend then. Hasta Luego!