By 2007 Tom Petty had been a successful recording artist for 30 years. He & his band of brothers, the Heartbreakers, released their attention-grabbing debut in 1976. Big records followed, a world tour as Bob Dylan's backing band was a measure of their progress & the estimation in which they were held. Solo LPs added to his collection of gold & platinum records as did his turn as Charlie T Wilbury Jr in a group of superstars & friends. They were the backing band for Johnny Cash's resurgence on his American recordings. In 2007 he was the subject of  an all-but 4 hour long film directed by Peter Bogdanovich. His steadfast commitment to anything that's Rock & Roll, his resolve when faced with music business shenanigans & the consistent quality of his output meant that he was now ranked alongside the artists of the 1960's who had inspired him to make music.
Tom was in the enviable position of being able to carry his audience down whatever path he chose. What he did was get his old band together. An album bearing their name was released 34 years after they had first entered a studio. Naturally, a cover of a Byrds song was a highlight of this collection.
Mudcrutch (really ?) had been the best band in Gainesville, Florida (pop:64,510 in 1970). They sold their possessions to finance a move to Los Angeles & signed a deal with Shelter Records, home of producer Denny Cordell whose UK success with the Move, Procol Harum & Joe Cocker had continued with Leon Russell when he crossed the Atlantic. So far so Hollywood but a single failed to connect & sessions for an album were not working out. The label felt that the talent was the singer/songwriter &, while the band were running down a shared dream, drummer Randall Marsh & guitarist Tom Leadon were dropped from the roster. Tom made his smartest decision ever to keep Mike Campbell & Benmont Tench, virtuosi on guitar & piano. The pair were fellow travellers until Tom's premature death in 2017. The rest is their story.
From the opening bars of Side 1, Track 1 of the first record it was obvious to anyone with ears that TP & the Heartbreakers had listened closely to the Byrds. "American Girl" was an urgent update on the Rickenbacker jangle. Here in the UK we were early adopters of this fresh take on classic American Rock. "Lover of the Bayou" opens "Untitled" (1970), the double LP that shows the later incarnation of the Byrds at their best. 'Crutch (sorry, but Mud is already taken) began as a covers band & I'm sure that "Lover…" was included in their early sets. Their mature take on the song is sturdy, modern & most acceptable, maybe not as loose & swampy as the original. In 2011 "Rolling Stone" rated Mike Campbell as the 79th best guitarist while in 2003 Clarence White of the Byrds was ranked at #41 so I guess the difference is 38 !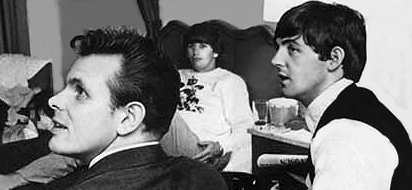 Petty's obsession with music began with a brief encounter with Elvis when he was 10 years old. The deal was sealed 3 years later when the Beatles arrived in the US. Del Shannon had his hits in the time between. "Runaway" (1961) with it's strong vocal, instantly memorable chorus & a musitron ( a homemade electronic  keyboard) instrumental break, sounded great back then & still does now. For a while Del resisted & embraced the tsunami of the British Invasion. He recorded songs by the Beatles & the Stones, the Fabs' posh mates Peter & Gordon had a hit with his "I Go to Pieces" & "Keep Searchin'" (1964) was an absolute belter. His excursions into Psych-Pop were less commercially successful. "Home & Away" an LP recorded with Stones' manager Andrew Loog Oldham & intended to be the "British answer to "Pet Sounds"" was made in 1967 but not properly released until 2006. Audiences still wanted to hear the hits so Del made a living as a golden oldie.
Tom Petty was listening back in the day, he wrote about it in a song. In 1981 he & his Heartbreakers joined Del in the studio to produce "Drop Down & Get Me" & they made a very good record. The update is respectful, there are 3 well-chosen covers (including Jagger/Richards' "Out of Time"), the arrangements are kept simple, the focus on Del's voice, still strong, the falsetto still in working order. The band & Jeff Lynne, were working with Del again when Roy Orbison, another master of dramatic 60's Pop & a Travelling Wilbury, unfortunately passed away. Shannon was a logical replacement but was then a troubled man who took his own life in February 1990. Del Shannon was very good, there's more to say about him…later.
In 1977 Roger McGuinn off of the Byrds met Tom Petty & recorded "American Girl". It seemed to be the right move. In 1974 I had seen Roger perform a long set, something solo, something Byrds & it was a true pleasure to be there. When he hooked up with Rolling Thunder, Bob Dylan's Rock & Roll Circus he met Mick Ronson who produced the LP "Cardiff Rose" for him. "Thunderbyrd" (1977) was a set of laid-back Folk-Rock released at a time when audiences were expecting & enjoying a new energy in our music. Columbia, who McGuinn had been with since "Mr Tambourine Man" did not renew his contract & it would be 14 years before there was another solo LP from him.
"Back from Rio" (1991) found TP & the band playing & co-writing on several tracks."King of the Hill" (see above) is the standout, the 12-string Rickenbacker sound that all the right people love for all the right reasons. Tom has no production credit but I'm sure that the song sounds exactly as he wants it. There's a telling scene in the documentary where Petty harangues clueless A&R men who are trying to foist inferior songs on to Roger, "a great man who has achieved great things". His respect for Rock's legacy & for the necessity of doing it right in the studio is non-negotiable. His disregard for the men from the label is apparent too. It's only Rock & Roll but he likes it. So do I.