Joe Simon had the new #1 on the Cash Box R&B Top 60 (they seem to have dropped the "in R&B Locations" – I'll miss it) of 50 years ago this week with "Drowning In the Sea of Love". Just one place below Al Green's "Let's Stay Together" was his first R&B Top 3 placing & by no means his last. There was 5 years of all-round greatness & success to come, the Reverend Al will surely feature in my future selections, probably before this year is done. Not this time though, the last post was exclusively male so this week it's only fair to balance it out.
In late 1969 singer Merry Clayton took a midnight phone call from her friend, producer Jack Nitzsche, asking her to come down to Sunset Sound Studio to help out his old friends the Rolling Stones. Merry, four months pregnant, got out of bed & in just three takes added a ferocious, full-throated vocal, absolutely appropriate for the apocalyptic "Gimme Shelter", an already substantial observation on end-of-the-decade tumult. Ms Clayton had been recording since her school days, first with Bobby Darin, as a Raelette & providing backing vocals on records you have heard. This new significant credit brought a solo contract with producer Lou Adler, the title track of her debut in 1970 being "Gimme Shelter". No Jagger this time, just Merry
Merry had provided backing vocals for Carole King's record "Tapestry", a major success, & the hottest songwriter around returned the favour by passing over three of her unrecorded songs for the "Merry Clayton" album. Of course the singer could still take it to church, it's what she did, both Neil Young's "Southern Man" & James Taylor's "Steamroller" are tours of force. It's King's songs, "After All This Time" is #22 on this week's chart, & a couple of well-chosen others that bring a pleasing restraint to the collection. So does a studio full of all-star Soul-Jazz players, Billy Preston, the eighth Beatle, was a friend from the Ray Charles days, Wilton Felder & Joe Semple off of the Crusaders, David T Walker, Motown's guitar man on the West Coast & Merry's husband Curtis Amy do great work on the Funky grooves. Over the years Merry worked with an impressive list of musicians yet remained 20 feet from stardom. In 2014 both her legs were amputated at the knee after a car accident but she could still sing. With a little help from her talented friends 2021's Gospel record "Beautiful Scars" is a lovely thing. It's not a comeback album, Merry Clayton has always been around.
"In & Out of My Life" is the highest new entry on the list at #48. There was a time when Martha & the Vandellas were the premier group on the Tamla Motown roster. In 1963 "Heat Wave" & "Quicksand" made the US Top 10, helping to establish the company as "The Sound of Young America". The following year "Dancing in the Street", monumental Motor City Soul, was kept from the #1 spot by Manfred Mann's "Do Wah Diddy Diddy" while rising fast was "Baby Love", the second of the Supremes' phenomenal run of 5 successive chart toppers & it appeared that Motown's star-making machinery would only support one superstar female trio. There were still some great 45s, "Jimmy Mack" is irresistible, "I'm Ready For Love", a fine example of the strong, urgent Vandellas sound while the instant attraction I felt towards "Honey Chile", the first credit to Martha Reeves & the Vandellas, is now permanent. The departures of first producer/writer Mickey Stevenson, co-writer of "Dancing…" with Marvin Gaye & Ivy Joe Hunter, then Holland-Dozier-Holland, providers of 8 of the 12 tracks on 1966's "Greatest Hits", along with Martha's debilitating addiction to painkillers, were barriers to maintaining a high quality output.
By 1972 Martha Reeves' Vandellas were sister Lois & Sandra Tilley & there hadn't been a Top 20 Pop or R&B it since 1967's "Honey Chile". "Black Magic", the soon to be released album, credited six production teams for just 11 tracks, giving the impression that if there was a spare afternoon with a song that perhaps Diana Ross had passed on then Martha & the Vandellas were called in. "In & Out of My Life" is a fine track, as is "Bless You" & a couple of the others but covers of songs by the Beatles, Jackson 5 & Dionne Warwick not so much. Motown were moving their operation from Detroit to Los Angeles & the group did not go with them. "Black Magic" was to be the trio's final record & Martha Reeves was a solo singer before the end of 1972. MCA spent a good deal of money on Martha but she was never matched with the same quality of material as that which made Gladys Knight such a star after she left the label at the same time. Still, Martha is loved for a decade of hits & whether she is performing or showing up on "Celebrity Master Chef" it's always a pleasure.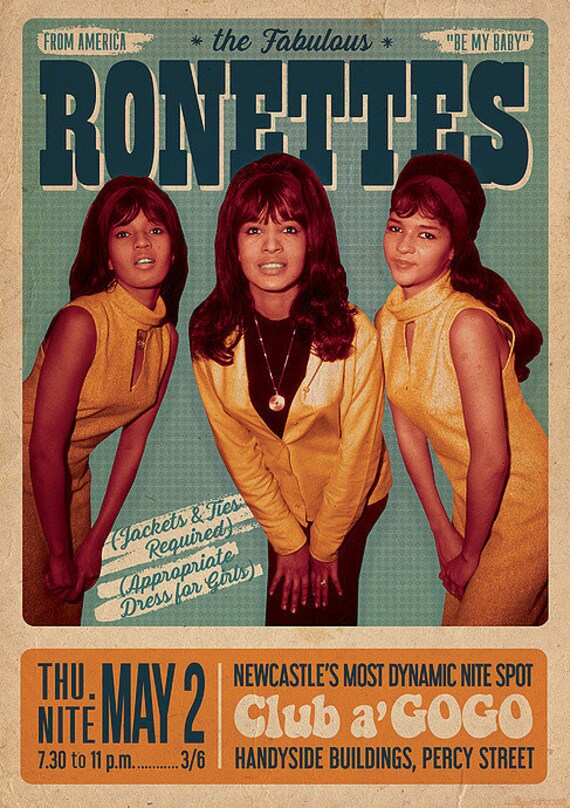 I'm sorry to interrupt our normal programming but tribute must be paid to Veronica "Ronnie" Spector who unfortunately died this week. In late 1963, when I was hoping that Santa would show up with a piece of kit that could play those highly desirable, intoxicating 7 inch vinyl discs (he really came through – a brand new Dansette), the UK Top 10 was packed with the Mersey Beat, two guitars, bass & drum, yeah, yeah, yeah. In the middle of this noise from North West England was something from the USA, two sisters, Veronica & Estelle, with their cousin Nedra, from Spanish Harlem who had moved to Los Angeles to make records with "The First Tycoon of Teen" Phil Spector. I knew very little about the Wall of Sound, of Spector's alchemy in Gold Star Studios but "Be My Baby" by the Ronettes, with its boom-ba-boom-pah drum intro, orchestration & backing vocals a gathering storm under a siren's call lead, strong, emotional, alluring, by Ronnie ("for every kiss you give me, I'll give you three" – oh my!) was a perfect Pop song, more iconic with every homage, echo & attempt to emulate its precise excellence.
With "Be My Baby" & the following "Baby I Love You" the Ronettes toured the UK in 1964, topping a bill including the Rolling Stones. If you saw that tour then you are both lucky & old. When we did see photos & then moving pictures of the trio they proved to be sharp, stylish & flipping gorgeous. Their subsequent 45s were not as commercially successful, perhaps the Motown girl groups became the current sound. Spector's productions, arranged by Jack Nitzsche who made that call to Merry Clayton, all featuring Ronnie's distinctive, beguiling voice, endure as atmospheric "little symphonies for the kids", often imitated, never equalled, undoubtedly the Ronettes.
It took Ronnie some time to extricate herself from an abusive marriage to Spector & a new generation of music fans had heard little from her. Singles made with George Harrison & the E Street Band, a 1980 album with Genya Ravan were well received as were later records where she covered the likes of the Ramones & Johnny Thunders but these were too individual to revive any major success. Ronnie continued to tour, happy to perform her timeless hits to audiences who were happy to hear them. People I know who saw these shows tell me that it was a great night. Ronnie Spector made her mark, she was a legend & oh, did I mention she was flipping gorgeous.
1964, the Santa Monica Civic Auditorium, an all star bill for the T.A.M.I. Show. The Ronettes have just performed a wonderful live "Be My Baby" & the girls go a little off-script for their take on the Isley Brothers' "Shout". It's wild, it's free, fun & as Mod as heck. It certainly didn't need all those Go-Go dancers cluttering up the stage.