Earlier this month I spent the most pleasant of afternoons seeing "Stan & Ollie" at the local multiplex. A film about cinema's greatest comedy duo couldn't be anything but affectionate & respectful & this one hits those notes perfectly. The twin heartbeats of the film are Steve Coogan & John C Reilly's outstanding impersonations of Laurel & Hardy. Set in dreary 1950's Britain subtle direction smartly blurs any lines between the real blokes & these new guys. It's no "Sons of the Desert" (1933), nothing else is but it's a fine, warm piece of work. The cinema has reduced all seats to £5 ($6.60) so I'll be returning next week for Tim Burton's live action remake of "Dumbo". I'll take a couple of kids with me because the sight of a tearful, solitary old man is never a good one.
There's not been a movie post for a while so here are some recent films that not only held my attention but I would be happy to watch again in my home cinema complex (I have a TV AND a sofa!).
It's stating the obvious that "Green Book" was not the best film of 2018 despite the Academy of Motion Picture Arts and Sciences deciding it was. I'm not getting into the whole "white saviour" thing, that's imposing an unnecessary critique on to a film that renders the developing relationship between an odd interracial couple as broadly & as inoffensively as possible. Race relations in 21st century America deserves a more nuanced perspective & we were never going to get that from writer/director Peter Farrelly whose last two films were "The Three Stooges" & "Dumb & Dumber To". The film introduced me to the cool piano music of Don Shirley so that's good.
Having been a fan of Spike Lee since "She's Gotta Have It" I much preferred "BlacKkKlansman". Denzel's boy John David Washington was prominent in the TV series "Ballers", he & his perfect afro star in the unlikely but true story of Ron Stallworth, the black cop who infiltrates the Klan using only a telephone & Adam Driver. Spike's characteristic energy & commitment to his viewpoint makes for an exciting ride. The clip above, cutting from a violent assault by racist cops to the joy of a "Soul Train" line dance ("It's Too Late to Turn Back Now" – Cornelius Bros & Sister Rose) shows the director at the top of his game. Lee will, I hope, never lose the agitprop aspect of his films, "BlacKkklansman", set in the 1970's, has plenty to say about contemporary America. The denouement may stray from actual events, the closing link to Charlottesville & the President's refusal to condemn the actions of racists is elementary but a necessary & effective reminder that things are same as it ever was.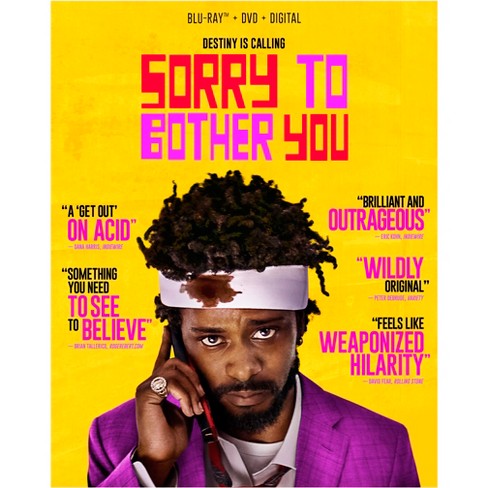 Boots Riley's frantic, deliriously absurd anti-capitalist satire "Sorry To Bother You" is a "what the heck is happening here?" eruption & marks the debut of a strikingly talented new writer/director. Riley's mad, mad, mad world is packed with ideas, maybe too many,  understandable for a film-maker eager to take his chance. "S.T.B.Y.", set in a skewed version of Oakland, California, made plenty at the box office, the bottom line in the business & there will be more from Boots. Oakland, across the bay from & connected by bridge to San Francisco, has a history of radical ideas, it's where the Black Panther Party was founded. The success of Silicon Valley & the subsequent squeeze on affordable housing in S.F. has brought gentrification to working class neighbourhoods in Oakland, a major concern in "Blindspotting" the best American film of 2018.
The script of "Blindspotting", by Daveed Diggs & Rafael Casal, both actors, friends since high school, evolved over 10 years & it shows. Every scene is lean & mean, the dialogue crackles, Collin (Diggs) has just days to go on his probation, anxious that his future should be jail-free, disturbed when he witnesses the murder of a young black man by a white cop. His best friend Miles (Casal), short-tempered & violent, is unhappy about the changes to the city, happy with the life he lives but does he really need that gun? "Blindspotting" skillfully blends the comedy with the drama, the friendship between the pair, one black, one white, feels like the real thing. Important issues, loyalty, class, race, police violence, are dealt with smartly, pertinently & without forcing it. When Miles' young son finds his father's gun you are on the edge of your seat, it happens again when Collin, the same gun tucked into his waistband, is on a street late at night with the cops for company. Collin's closing flow, " How come every time you come around you monsters got me feeling like a monster in my own town? I say it while I'm rapping, nigga, 'cause everyone conditioned to listen to a rapping nigga", says it loud. "Blindspotting" has got the bounce.
Alfonso Cuaron's "Roma", a beautifully shot remembrance of his childhood in 1970's Mexico City, won this year's Oscar for Best Foreign Language Film. An early release on Netflix expanded the audience for a finely detailed, impressively observed story. Another nominee in the same category was "Shoplifters" which concerns the struggles of a poor Tokyo household (really a family but it's complicated) with the law, Love, morality & survival. Intense, involving, subtle, the film attracts a list of adjectives, all of them good. I certainly must include the word "Humanity" here. Director Hirokazu Koreeda has been ranked with leading exponents of neorealism like Ozu & De Sica & I will be checking out his earlier films. In my opinion "Roma" is a very good movie while "Shoplifters" is a masterpiece.
Finally a man's gotta do what a man's gotta do & pick a Western. Much as I enjoyed "The Ballad of Buster Scruggs", the six story anthology by the always dependable Coen Brothers, its fragmentary format made for some unevenness. As is the case with most of the pair's movies more of its strength & charms will be revealed on repeated viewings.  Anyway it was always going to lose out to a cowboy film I had been eagerly anticipating for the whole of 2018.
Jacques Audiard has been making excellent films for over 20 years. The last three, "A Prophet", "Rust & Bone" & "Dheepan" are among the best of the 21st century. I was always going to be at the front of the queue for "The Sisters Brothers", his first in the English language. Charlie (Joaquin Pheonix) & Eli (John C Reilly again) Sisters are enforcers, stone-cold killers for the Commodore who trek across the West to San Francisco & the California Gold Rush in pursuit of their target. Like other European directors who go to Hollywood to make a genre film Audiard, who is French, respects the tradition of the great Westerns he saw when they were "a l'affiche" in Paris while adding  stylish flourishes to a well-trodden path.
"The Sisters Brothers" has an Old West shabbiness bringing to mind "McCabe & Mrs Miller", classy Peckinpah-like ultraviolence, scenery courtesy of John Ford & the director's own sense of epic story telling. The extreme gold prospecting really is something that you haven't seen before. Pheonix is good as the murderous Charlie, Reilly better as the reflective, protective Eli, Riz Ahmed & Jake Gyllenhaal add fine support. It's not the first time that a European co-production has suffered at the hands of its American distributor. The big bucks promotional budget isn't forthcoming when there are too many hands in the box office returns till. That's a pity because, as you may have guessed, I think it's a very good movie & if you are a fan of Westerns then I think you will too. "The Sisters Brothers" opens in the UK in early April & I'll be handing over my £5 to enjoy it again on the big screen then I'll be waiting for the "Deadwood" movie.
Well that's a lot of films, things got a little out of hand there. No mention of "The Favourite" either because we all knew that one day director Yorgos Lanthimos was going to crush it. He & his triple threat stars made an outstanding modern period drama but you knew that already too.