The Cash Box Top 60 in R&B Locations was a little static for the week starting January 2nd 1971. Just two records climbed into the Top 10, two others were new to the Top 20. The releases from Tamla Motown's production line, still stood predominate with three of the Top 5 & a further four in the Top 20 originating from Detroit's "Hitsville USA". There will be plenty of time in the rest of the year for a deeper dive in search of those pearls whose quality was not matched by a high chart position. On this first post of the year I'll start with the two songs that headed the chart 50 years ago. For the Supremes this was the eighth time the trio had enjoyed a #1 R&B placing, same as it ever was it seems but things were changing for Motown's most established act.
Since 1968 the Supremes had to manage without Holland-Dozier-Holland, the team who had written & produced enough songs for the trio that "Golden Hits Volume 3" was already on the racks. In January 1970 Diana Ross, the vivacious singer whose name had been placed at the front of the group, made her final on stage appearance, introducing her replacement Jean Terrell. Jean, Mary Wilson & the mellifluously named Cindy Birdsong began work on their LP "Right On" with new producer Frank Wilson, the man whose own Soul super rarity "Do I Love You (Indeed I Do)" was reportedly bought for £100,000 this year (I have it on CD so not me!). Mary was the only original Supreme now but the most popular female group in the world were still guaranteed spots on US prime time TV & radio. It was Frank's first job to find the songs that would keep them in the spotlight.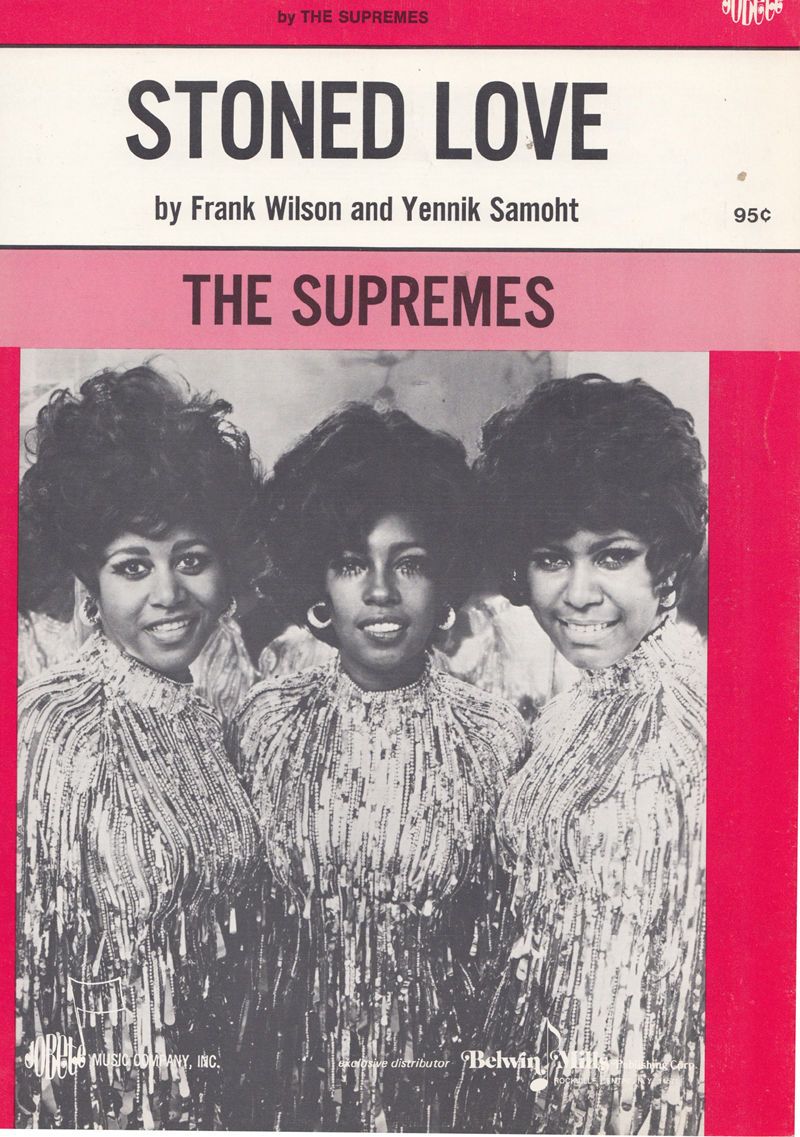 The producer was tipped to Kenney Thomas, a Detroit teenager, by a local DJ. Invited round to Frank's house young Kenney was startled & starstruck, as any 17 year old boy in 1970 would have been, to find beautiful superstar Mary Wilson there to check out his song. Frank added a little shape & a few words to the bare bones of a song, star Motown arranger David Van DePitte provided the lustre & that driving beat while the label persuaded radio stations that the nation's darlings hadn't given them a drug-related song to play. Kenney Thomas (credited as Yennek Samoht) had, with "Stoned Love", a million-selling record on his hands, a glorious record too, instantly recognisable from when Jean sings the title & you still know now that something good is coming up. The Supremes would have other big hits like "Floy Joy" & "Nathan Jones" but "Stoned Love" is the finest post-Diana single. They sure look happy & fine on this TV appearance. Kenney didn't write much more for Motown, his mother was wary of her son mixing in such starry circles & didn't want him to neglect his studies. I hope that he heeded his mum's counsel.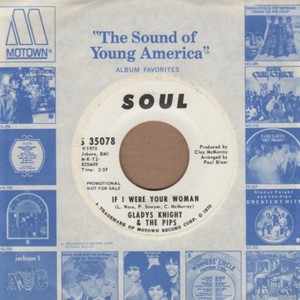 Arranger David Van DePitte was also all over the record rising one place to #2 on the chart. "If I Were Your Woman", a ballad that builds to a soulful crescendo, is the latest in a run of successes for Gladys Knight & the Pips, records that made Top 3 R&B & Top 20 Pop. Beautiful Gladys gradually raises the level while her Pips are, as usual, impeccably in synch with their steps & backing vocals. That's another Hitsville classic. Gladys had over a decade's experience before she & her group signed with Motown & they raised concerns about the adding of extra backing vocals to their songs as well as the choice of material they were given to record. At this highpoint in their popularity negotiations for a new contract proved to be unsatisfactory. In a case of "you don't know what you got till it's gone" "Neither One Of Us (Wants to be the One to Say Goodbye)", the group's final single, was one of the group's biggest selling records to date. A move to Buddah in 1973 realised their crossover appeal, Gladys became an international superstar while the Pips were rightfully celebrated for their support, their choreography & their Whoo-Hoos.
"If I Were Your Woman" had three names on the songwriting credits. Clay McMurray, formerly head of Quality Control, had made the move to producer. In the coming years he was to leave his mark on Soul Music. Pam Sawyer, from Romford, Essex, had moved to New York in 1961 then, encouraged by Holland-Dozier-Holland, on to Detroit six years later. As part of the Clan, Motown's new writing collective, Pam had her name on the labels of "Love Child" & "I'm Living In Shame" by the Supremes & David Ruffin's "My Whole World Ended". Now 83, Pam was inducted in 2020 to the Soul Music Hall Of Fame. She is responsible for the biggest British contribution to the label's great success & deserves wider recognition here at home. In the UK Gloria Jones (a.k.a. LaVerne Ware) is better known for her original 1964 recording of "Tainted Love", our best-selling single in 1981 for Soft Cell, & as the partner of Marc Bolan in the years before his tragic death. Encouraged in her songwriting talents by Ms Sawyer the Grammy nominated "If I Were Your Woman" was the best known song in her time at Motown.
OK, this great record is not actually on this week's Cash Box chart but a cover version of it is & that's how I discovered this gem. That's close enough isn't it? At #47, rising from #59 was "You Just Can't Win (By Making the Same Mistake)" by Gene & Jerry, two Chicago Soul legends, Chandler & Butler. Jerry Butler had started out with Curtis Mayfield in The Impressions. His recent work with young producers Kenny Gamble& Leon Huff had established his straight-from-the-fridge cool as "The Ice Man". Gene Chandler styled himself as "The Duke of Earl" after his #1 million-seller of 1962. A close relationship with ace producer Carl Davis (& thus Curtis M) kept his name in the frame throughout the decade. I mean no offence to Gene but if Jerry Butler is singing then I'll be listening. "One On One" is a fine album of uptown Chicago Soul duets by the experienced stars.
Gene was expanding his interest in the business of music, producing & releasing a million-seller with Mel & Tim. On January 1st 1971 his new Mister Chand label (his face is on the records) introduced "Getting Over the Hump" by Simtec & Wylie. Walter "Simtec" Simmons and Wylie Dixon brought their own band & a dynamic style that gained comparison with Sam & Dave. "Getting Over…", their only album, has a funked-up version of Rod Stewart's "Maggie May" & "You Just Can't Win", their own song, twice as long as the one on the chart is absolute fire. It's new to me & such discovery is why I so enjoy these investigations of 50 year old Soul. Well, that's 1971 in 2021, a fine start & undoubtedly more of the good stuff to come.