Last month's post on the Billboard R&B chart of 50 years ago was such a blast to write & hang about with. Spoilt (or is it spoiled?) for choice there were songs that had been favourites for all that time, other winners that I had discovered later & ones that had been forgotten or missed. I'm sure that moving it forward a month to February will prove to be just as rewarding. (Spoiler – it does, or I would be wasting our time here).
Tyrone Davis had his moment at #1 at the beginning of the month before being overtaken by Sly & the Family Stone's "Everyday People", the first of 3 of that multi-talented group's songs to top both the Pop & the R&B charts. When I listen to them I'm still delighted & now a little surprised that such immaculate, innovative, positive music, up there with the best of its time, became so widely popular. The attraction of this archive is more than nostalgia, something was happening, Soul music knew what was going on & each chart, all the way down to number 50, is packed with creative, exciting records.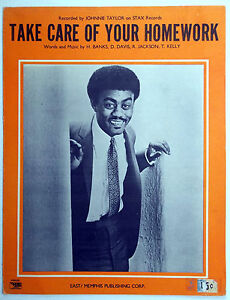 At #2 is Johnnie Taylor, the wonderfully named "Philosopher of Soul", with "Take Care Of Your Homework". 1968 had been a terrible year for his Stax record label & its hometown Memphis. The death in a plane crash of its major star Otis Redding hit the company & the music world hard. The Lorraine Motel was used by artists visiting the studio, in April the assassination there of Martin Luther King was a tragedy that shook the world. The sale of their distributor/supporter Atlantic Records got messy & Stax lost control of their back catalogue. The 3 million copies sold by Isaac Hayes' "Hot Buttered Soul" album was a major boost to a label that needed one but before that Johnnie's hit single "Who's Making Love" kept the label in the game & showed that there was still talent at the East McLemore Avenue studio.
Taylor had made some great 45's with the team of Isaac Hayes & Dave Porter. They were busy with their own albums & a new trio of writers calling themselves We Three provided Johnnie with "Who's Making Love" a story of playing away & paying the price, his biggest hit yet & the first of 17 straight Top 20 R&B hits. "Take Care of Your Homework" is more of the same, a forceful vocal with a classic Stax backline of the immaculate Booker T & the MG's with the blaring Memphis Horns…tasty! Johnnie kept up with changing styles & tastes & was back at #1 in 1976 with "Disco Lady. He never really made much impression in the UK but any "Best of…" selection will include a couple of songs you know & a whole lot more that you should know.
"Cissy Strut", the only instrumental in the Top 10 (at #9),  is the opening track from the debut album by the Meters, a glorious gumbo of rhythm & groove by the house band on so much good music from down south in New Orleans. Further down, in the lower reaches of the Top 30 there are 4 non-vocal tracks in succession. Young-Holt Unlimited had their last week on the chart with "Soulful Strut" as had Jimmy McGriff whose Hammond organisation Soul-Jazz was straight from the fridge. Cliff Nobles & Co were an odd one. "Switch It On" was a galloping variation on their big hit "The Horse", Cliff was the group's singer & didn't feature on the songs that sold. Then there was this little beauty.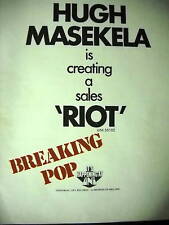 Hugh Masekela's coming to America, from South Africa via London, was ostensibly to further his musical education. Already a prominent musician back home the deteriorating political situation after the massacre of 69 people in Sharpeville led to his friends & supporters getting him the flip out of Joburg. At the start of 1967 his trumpet solo for the Byrds on "So You Want to be a Rock & Roll Star" was as cool as it gets. As his own music assimilated his new environs he incorporated R&B & Pop into his African Jazz rhythms. A partnership with his producer/friend Stewart Levine brought, in 1968, "Grazing in the Grass" to #1 on the Pop charts.
With such a background Masekela was bound to be affected by the struggle for civil rights in the USA. Throughout his life there was always a political dimension to his music whether instrumental or vocal. 1969's album "Masekela" included a "Blues For Huey", at the time Huey P Newton, a founder of the Black Panther Party, was imprisoned on charges which were later dismissed. "Mace & Grenades" & "Riot", released together as a single, were commentaries on events in Vietnam & the USA. What a rhythm "Riot" is, the repeated guitar motif underpinning Hugh's distinctive trumpet playing. In Jamaica Keith Hudson produced a fine Reggae version while just last year Earl Sweatshirt's dense & personal "Some Rap Songs" finds some resolution with a song by a man close enough to his family to be "Uncle" Hugh. "Riot", built to last.
The highest new entry of the week is "My Whole World Ended (the Moment You Left Me)" the debut solo single by David Ruffin, the former Temptation. Another time for David, maybe next month. In at #47 was Edwin Starr, another from the Motown roster, who was enjoying his return to the chart after 3 years away. "25 Miles" retains its impact 50 years on & plays over the opening scene of "Bad Times at El Royale", a smart move to get you interested in a smart new movie.
Edwin's early records with the Detroit label Ric-Tic were so much part of that city's trademark sound that I could not have been the only one to have assumed that he was already with the Tamla Motown organisation. "S.O.S." & "Headline News" were essentials in any DJ's  set in mid-60's UK. "25 Miles" took such liberties with Wilsoon Pickett's 1967 track "Mojo Mama" that the songwriting credits were adjusted accordingly. Edwin's forceful vocal matched to that driving Motown beat made for an irresistible mix. While this mini-skirt packed clip is as Mod As F… the audio isn't the best. You can hear the full power of the song by clicking this. "25 Miles" put Edwin's name back in the frame & he took his chance. On the opening track of his next record he asked a question, gave the answer that we all knew was the right one & found himself an enduring worldwide hit. "War! What is it good for ? Absolutely Nothing! Say it again y'all".