The Cash Box Top 50 in R&B Locations for February 1970 was dominated by Sly & the Family Stone's "Thank You (Falettinme Be Mice Elf Agin)". The single's massive success, a six week occupation of the #1 spot, caused a Top 10 logjam of seriously good records, songs that earned gold discs for a million sales, that are remembered & loved today. Eddie Holman, an artist enjoying the biggest hit of his career, stalled at the #2 spot for three weeks with "Hey There Lonely Girl", a song that is still instantly recognisable .
Eddie Holman was a gifted child & that gift was his remarkably dynamic voice. He performed around New York, trained at a music school in Harlem &, after a move to Philadelphia, studied for a music degree at college. Eddie made his first record while still a teenager & was only 19 & still a student when "This Can't Be True" made the Billboard Top 20 in 1966. He subsequently released a string of good singles, the quality of his voice never in doubt. In 1969 Eddie moved to ABC records, was given the opportunity to record an LP & one of the tracks became the one for which he is mainly remembered. "Hey There Lonely Boy" had been a US Top 30 hit for Ruby & the Romantics in 1963. A gender-swap, a pitch perfect falsetto delivery from a great singer, a deserved gold record hanging on Eddie Holman's wall.
Eddie's album "I Love You" was produced by Peter De Angelis, an old school record man, a veteran of the Philadelphia teen scene which flourished in the hiatus between Elvis joining the Army & the arrival of the Fab Four. The song choice displays the singer's great range but is, as are the arrangements, conservative even old-fashioned. There was no successful follow up though "Since I Don't Have You", the old Skyliners Doo-Wop hit, could have been. It would be 1977 before Eddie got to make another album. "Hey There Lonely Girl" was the ideal last-dance-of-the-night smooch & over here in the UK it took us longer to fully appreciate its quality. In November 1974, during one of our periodic Soul revivals it was in the Top 3 of our chart. There are recent clips of Eddie performing his big hit at British holiday camp gatherings of Soul fans, his voice still a show-stopping precision instrument, his warmth & delight in performing it reflected in appreciative audiences.
Well hello Ms Jackie Brown ! Steady at #5 on the chart for February 14th were the Delfonics (that's the fabulous…) with "Didn't I (Blow Your Mind This Time)" (that's the fantastic…). In 1966 the Philadelphian trio, lead vocal William Hart, baritone brother Wilbert & tenor Randy Cain were introduced to Thom Bell, a young producer/arranger. It's all there on the first single "He Don't Really Love You", William's strong emotional falsetto matched to solid harmonies complemented by Bell's symphonic, soulful arrangement, individual, dramatic but not overpowering. A record ahead of its time, an early indicator of the sweet Philly groove that would become a dominant strain of Soul music in the next decade. The following year "La-La (Means I Love You)", a signature Delfonics tune, blew up big on the Pop & R&B charts & though the equally memorable "Ready Or Not Here I Come" was not as big a hit as it maybe should have been, the Delfonics established had themselves as a new force on the Soul scene.
The confidence & talent of the group & the producer is evident on the self-titled LP released in February 1970, their third studio record. This time William Hart, by himself  or with Bell, wrote all but one of the songs. The exception, "When You Get Right Down To It" was donated by seasoned hit-maker Barry Mann (You've Lost That Lovin' Feeling'", "We Gotta get Out of This Place & a 100 others) & the result was outstanding work. Soul had never been sweeter, orchestrations never more lush & impressive. There were 5 charting singles released from the collection & the other tracks, particularly "Delfonics Theme (How Could You)", were just as good. "Didn't I", a triumph, was the biggest hit of them all, winner of the Grammy for Best R&B Performance by a Duo or Group that year. Just when their standing had never been higher Randy Cain left the group & Thom Bell moved on to work with the Spinners & the Stylistics as Philadelphia became a new hit factory. The same Philly studio guys, now known as MFSB, were around, William still wrote the songs & there were to be tracks that belong on any essential Delfonics collection but the group never again hit the heights they reached in 1970.
There's no reason to leave the Top 10 for this month's final selection. Rising rapidly from #15 to #9 was the 4th single to be released on the Invictus label, the new project for Tamla Motown writer/producer powerhouses Holland-Dozier-Holland. The Chairmen of the Board, a quartet based in Detroit, were one of the initial acts signed, released the label's debut LP & scored its first major hit with the dynamic "Give Me Just a Little More Time". H-D-H were lawyered up to negotiate their separation from Motown & they were not allowed to put their own names to their songs. That Chairmen's LP has 5 credits for "R. Dunbar & E,Wayne". While there's no doubt that Ronald Dunbar made his contribution, Edythe Wayne was a collective pseudonym for the most prolific hitmakers of the 1960's & you can tell. "Give Me…" & another success, "You've Got Me Dangling On A String", would have been ideal for the Four Tops but the Chairman of the Board, with the urgent lead vocals of General Johnson, did a fine job.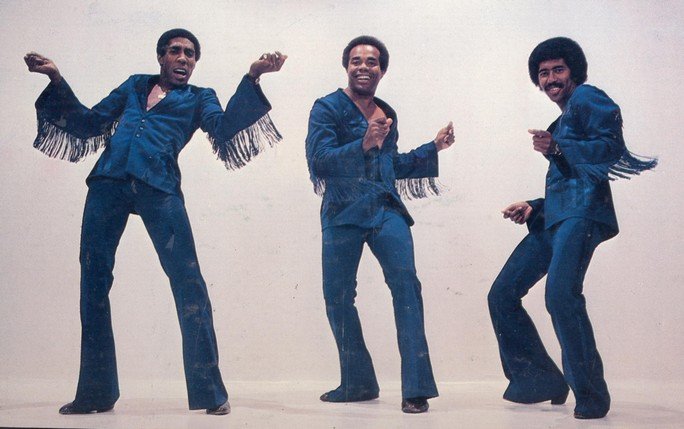 General Johnson had been about the record industry for a decade or so. In 1961 his group the Showmen had been in New Orleans with Allen Toussaint, the Rock & Roll manifesto "It Will Stand" was not the only memorable track that arose from these sessions. The General flourished in the freedom afforded by his new bosses, becoming the featured vocalist & taking on a greater share of songwriting duties. One track from that first LP, a rather, in my opinion, maudlin Country Soul lament "Patches" written with Ronald Dunbar, was picked up by Clarence Carter & won a 1971 Grammy for Best R&B Song. In 1971 Johnson had a co-credit on the effervescent "Want Ads", a #1 Pop hit for Honey Cone, another successful act from the Invictus stable. There were just 3 LPs from the group, solo efforts from each member too & singles that made a bigger impression in the UK than at home. The final record for the label, "Skin I'm In" (1974) is a very strong funked-up collection employing the talents of the Parliament/Funkadelic posse who were often around the Invictus studio. The Chairmen of the Board were not around for too long but they made their mark.