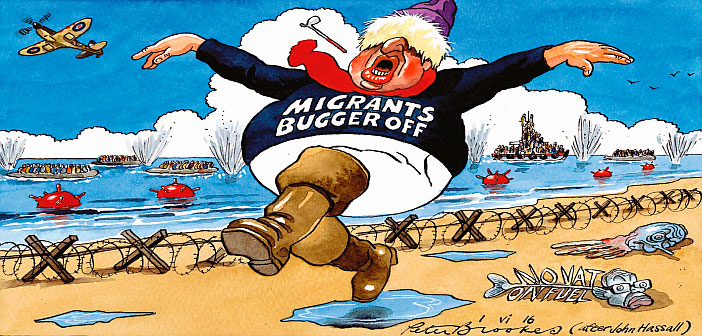 It has, it seems to me, been a bad year to be English. The fissure caused by the UK's narrow decision to separate from our European neighbours generated a level of intolerance, bigotry & nostalgia for an illusory past that saddens me. The election of our very own graceless, mendacious, racist, anti-democratic oaf marks a rejection of the post-war consensus, an attempt to distribute the resources of an affluent industrial nation more equitably, to the benefit of so many of the less advantaged of our country & a step closer to Hobbes' view of society where Life is "solitary, poor, nasty, brutish, and short". You had better grab what you can while you can. That's not what I like about being English, not what I celebrate about the British.
Our government's ignorance, duplicity & manipulation of the Northern Irish alongside a dismissal of the objections in Scotland has progressed the likelihood of the break-up of the United Kingdom. I wish my Irish & Scottish friends all the luck in their brave new futures but find little pleasure being left with this rump of self-harming ragged trousered misanthropists & gangster capitalists intent on selling England by the pound. At our best the British are resourceful, innovative, inclusive, self-deprecatory & progressive. Blake, Watt, Dickens, Stopes, Pankhurst, Bevan, the Beatles, George Best, Monty Python, the Clash & many more, they're my kind of people. In 2019 I have taken it where I found it, here's some English music.
Robyn Hitchcock & Andy Partridge, both born in 1953, have mutual musical interests & influences, The Beatles, the Kinks, Pink Floyd when Syd Barrett was around, the whimsical reverie of British psychedelia. Robyn has continued to make interesting records throughout this decade, often with the help of Peter Buck off of REM & other American friends. I've bought the last two, "The Man Upstairs", warm & charming, was included in my picks of 2014. After a stunning run of albums with his group XTC Andy released 6 volumes of "Fuzzy Warbles" demos & since then the pickings have been slim. The last we heard from him was a song for the Monkees in 2016 then, two years later, cover versions of Syd's "Apples & Oranges" & the Bonzo Dog Band's "Humanoid Boogie". The pair had collaborated before on just the one song for Hitchcock's "Ole Tarantula" & now we're treated to a whole 4-track EP.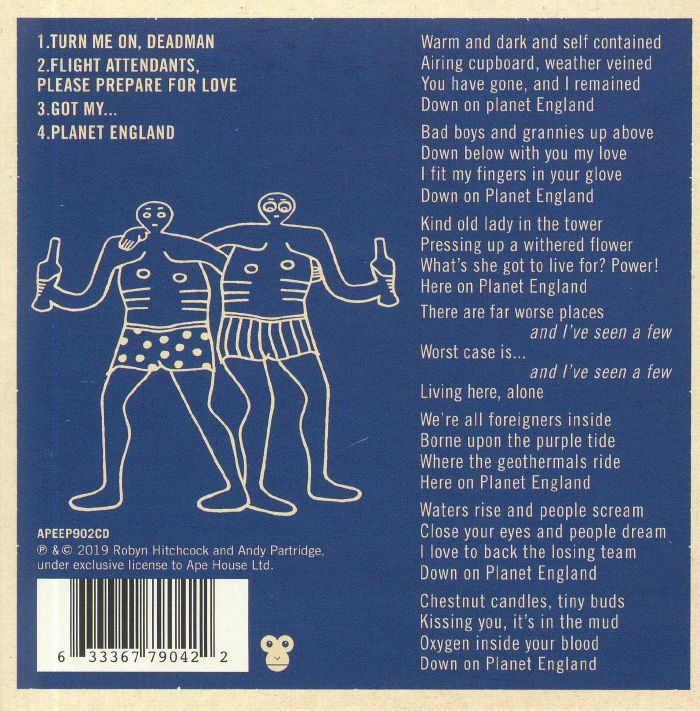 "Planet England" is what I was rambling about up the page. It's creative, perspicacious &, running at 17 minutes, does not overstay its welcome. I said I was familiar with Hitchcock's recent offerings while I listen to the late records of XTC more than any of the other 1980's Beat groups. The more I listen the more I love the light lysergic touch of Andy's harmonic & melodious flourishes & adornments. It's good to have him back. The title track (starting at 11.10) is a gentle, nostalgic maybe (can that be avoided at our age?), certainly affectionate commentary on the English "oxygen inside our blood". Ending with the sound of rain "Planet England" is my favourite of the year. Sir Raymond Douglas Davies off of the Kinks can be proud of his influence & legacy.
When this Brexit brouhaha has settled (the English Civil War?) I'm moving 12 miles due West to the Socialist Republic of South Yorkshire where, after a hard day's work for an honest day's pay, we'll gather at the Jessica Ennis Memorial Hall & listen to the music of Kate Rusby. I love "the Barnsley Nightingale" & this year's "Philosophers, Poets & Kings", her 17th album, continues to showcase her flawless voice & taste in a mix of traditional & modern (an Oasis song!) Folk. Enhanced by the production & tenor guitar of Damien O'Kane it's a delight & a beauty. Respect is paid to the British Folk Rock legacy with a version of Fairport Convention's "Crazy Man Michael", the self-penned "Halt the Wagons", a commemoration of the Huskar Pit disaster where 26 working children perished, will bring a tear to the most hardened. The sprightly horse opera "Jenny", an update of the ballad "Creeping Jen" makes the cut here but really any track will do. Kate Rusby is a treasure.
2019 saw the welcome & worth the wait return to recording for David Berman. It had been over 10 years since his group, the Silver Jews, had released the last of their six albums of lo-fi, country-tinged indie rock, music that has worn very well over time. Original member Stephen Malkmus was more successful with his other group Pavement while David, with an assortment of musicians, chronicled his good times & bad times with a fine turn of phrase, a sardonic humour & a Pop sensibility which had you singing along with choruses after just a couple of hearings.
And so it is with "Purple Mountains", a set of songs artfully & honestly crafted, fractured cowboy chords with a little more polish in the production, to get to the point & get its hooks in you. David was obviously not in a good place to write these songs, affected by the death of his mother & estrangement from his wife, despondent probably doesn't go far enough. Unfortunately just a month after the album's release he took his own life. For a while the record was a difficult listen, it may have been Berman's extended suicide note. It's the quality of the music, songs as good as "All My Happiness Is Gone", "Snow Is Falling In Manhattan", "She's Making Friends, I'm Turning Stranger", that has kept me reaching for the album & appreciating its dark humours. "Storyline Fever" is a jewel, that should have been played on the sort of radio station I would listen to.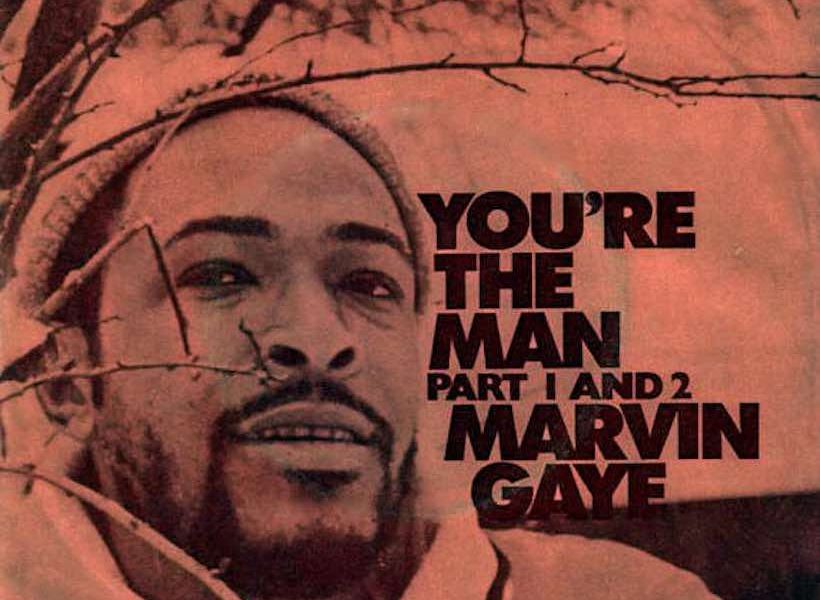 Room for just one more. I'm still working my way through Prince's 6 CD & DVD super deluxe edition of "1999" while the attractive & definitive "G Stands For Go-Betweens: Volume 2" is beyond my limited means so my re-issue of the year is "You're the Man" by Marvin Gaye. The collection was promoted as a "lost" album from 1972, more than a little disingenuous. Marvin was top of the world Ma after the monumental "What's Going On" re-defined the possibilities of Soul music as activism. The soundtrack "Trouble Man" (1972) & the intimate, erotic "Let's Get it On" (1973) confirmed that he was entering his imperial phase. "You're the Man" collects singles, released & shelved, studio out-takes & collaborative experiments from a time when Marvin was flying high, hesitant & conflicted about what was happening brother & where his music was going.
We get the political, "The World is Rated X" & the title track, both excellent & the personal. "You Are My Special One" would not be out of place on "Let's Get It On". It was written & produced, like 3 others here, by talented Motown staff writer Willie Hutch. Two  songs , including the rather wonderful Marvin/Smokey Robinson tune "Symphony", have had respectful modern re-mixes. A couple more reach back to his pre-"What's Going On" Pop-Soul sound, he was not going to use them. My selection here is the final track "Checking Out (Double Clutch)", a deliciously funky jam made with bandleader Hamilton Bohannon. The common denominator is the wonderful voice & thoughtful , soulful sensibility of marvellous Marvin Gaye.  "You're the Man" documents an interesting period in a great singer's career. Many of the tracks have appeared on other anthologies but it's just fine to have them all in one place.