"A.K.A. Doc Pomus" is a documentary about the great songwriter of the late 1950's & early 1960's. Like anyone with an interest in the music of that time I know his name, usually in a co-credit with Mort Shuman, from the labels of a lot of very good records. I now appreciate that he not only wrote a whole lot more than those but that he was also a unique character whose influence on the New York music scene continued long after those hit-making years.
Jerome Felder was born in Brooklyn in 1927. At the age of 6 he contracted polio & was unable to walk without the aid of crutches & leg irons. A gregarious boy, excluded from his friend's more athletic activities, he often had nothing going on but the radio & his knowledge & love of the Blues began. "Doc" was adopted so that his mother didn't make the connection that the only overweight, white, teenage, Jewish Blues singer in NYC was her son. He made some records & was proud when his hero Big Joe Turner recorded one of his songs. In 1956 Ray Charles hit with "Lonely Avenue", Doc's first chart success. A year later "Young Blood" by the Coasters, co-written with Atlantic's tyros Leiber & Stoller made him enough money to persuade him that songwriting was something to concentrate on. At his wedding, unable to dance with his wife, he encouraged her to do so with other guests & he had an idea to write a song about it.
"Save the Last Dance for Me" (1960) was one of a run of songs by the Drifters which, according to a very good book, "elevated the entire art of American popular music". Doc was comfortable writing Blues songs for adults but felt that he needed some assistance to connect with the teenage market so he partnered up with Mort Shuman who was 10 years younger. They had 10 hits in 1959 & led the songwriting pack with 13 in 1961, providing material for the teen idols of the day. Not all of them were up to the standard of "Save the Last…but "A Teenager in Love" was a solid gold smash for Dion & the Belmonts & the pair were invited to Britain to write for our home-grown rock & rollers.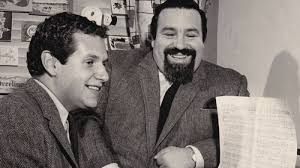 In London they made a connection that could get their songs to Elvis Presley, at the time doing his army service in Germany. "A Mess of Blues" was on the flip side of "It's Now or Never"  & of the 12 tracks on "Elvis' Golden Records Vol 3", covering 1960-62, 4 were written by Doc. In all Presley recorded 18 of his songs including "Suspicion", "Little Sister" & "Viva Las Vegas". I was not the biggest fan of Elvis' post-military output, those big ballads were never to my taste. He could still rock though & never more so than on the Bo Diddley/Buddy Holly influenced "(Marie's the Name) His Latest Flame"…it still sounds fresh. Elvis rang Doc once, he thought it was a prank & hung up !
The Elvis money meant that Doc was living pretty well in the suburbs of Long Island with a hotel suite across from the office in the week, hanging out & writing with Phil Spector when the Tycoon of Teen came to town. Then those pesky young Brits & Bob Dylan started writing their own songs Those off-the-peg Brill Building tunesmiths were less in demand. Pomus & Shuman split, they had written more than 500 songs, his marriage ended, a fall meant that he was restricted to a wheelchair & the taxman was calling. For a decade he made his living from the poker game he ran. It wasn't until Elvis' death in 1977 that the boost in sales brought increased royalties.
Doc Pomus held court in the lobby of the Westover hotel, working from his apartment on the 11th floor. The assembly included admirers from all walks of New York city life, a Damon  Runyon novel made real. He found new collaborators & there are 7 songs across 2 1979 LPs from good work done with Dr John. His companion was very impressed when they attended an award ceremony to find that John Lennon had insisted on being seated at the same table. Mink (Willy ) De Ville was in thrall to the baion rhythm & Ben E King's vocals on those classic Drifters records. For "Le Chat Bleu"(1981) there are 3 songs written with Doc . The rather tasty "Just To Walk That Little Girl Home" is an evocative homage to earlier times.
He attracted many aspiring songwriters & salons were held in his apartment where old friends Lou Reed, Tom Waits, Otis Blackwell ("All Shook Up", "Great Balls of Fire") & others would pass along their experience. Doc's work with the Rhythm & Blues Foundation unearthed long-owed royalties & helped out artists less lucky than himself. In 1991 he became the first white recipient of that body's Pioneer award. His sweet, sad, soulful songs continued to be recorded by many artists but unfortunately he died from lung cancer in March of that year.
Doc Pomus' funeral was quite a scene. Lou Reed spoke, Dr John played & the great Little Jimmy Scott scored a recording contract after he sang. I'll end with Lou's immense version of "This Magic Moment", recorded for a tribute LP & featured in David Lynch's film "Lost Highway". It's a much covered song & this is not the shimmering Doo Wop of the Drifters' 1960 original. It is though a timeless love song & you can never have too much Lou Reed.