The highest new entry on the Cash Box Top 50 in R&B Locations for April 25th 1970 was the debut solo single by a singer for whom her label had the greatest of expectations. In the preceding 10 years Tamla Motown's commercial, artistic & indeed cultural influence had become the most incredible story in American popular music. The company began the new decade with the launch & instant success of the Jackson 5. It was now the turn of their biggest female star to take centre stage.
Diana Ross had already sung on 12 US Pop #1 records with the Supremes, a trio that her name had been at the front of since 1967. For her debut LP she was placed with husband & wife writer/producers Nikolas Ashford & Valerie Simpson who provided 10 of the 11 songs, a surprising 6 of which had been previously recorded by other Motown acts. "Reach Out & Touch (Somebody's Hand)" was the lead single & it sold 500,000 copies, more than respectable for any single. While it's now one of Ms Ross' signature songs #20 on the Pop chart & #7 R&B was lower than expected particularly while "Up the Ladder to the Roof", the first 45 by the Supremes without Diana hit #10 & #5 respectively.
The "Diana Ross" LP is undoubtedly a fine record & the next single, a remake of "Ain't No Mountain High Enough", a hit for Marvin Gaye & Tammi Terrell, put Diana right back at the top, achieving the double whammy of #1 Pop & R&B. Despite this Motown rushed her back into the studio with staffer Deke Richards & another album "Everything Is Everything" was released in November 1970. There were more modern standards, 2 Beatles songs, Bacharach & David, Aretha Franklin & on the cover, after the previous dressed-down, doe-eyed, elfin look Diana was much more glam. Diana Ross was already an American musical icon before she started a solo career. Whether she was singing big, positive, emotional ballads or songs custom-made for her by the Bee Gees & Chic, new music from her was an event anticipated by her millions of fans & she remained a major star for over 30 years.
After a week in the Top 10 Doris Duke's "To the Other Woman (I'm the Other Woman)", a top shelf example of Deep Soul, was sliding down the chart to #21. Doris Curry, born in Georgia, had moved to New York to see what opportunities were offered by the music business. In 1966, now Doris Willingham, there was a single & regular gigs as a back-up singer at the Apollo theatre & for recording sessions. A spot as a member of Nina Simone's touring band was certainly prestigious. In 1969 Doris was introduced to Jerry Williams Jr a performer/songwriter who was re-inventing himself as Swamp Dogg & setting up his own production operation. Mr Dogg made a deal with Phil Walden, the former manager of Otis Redding, so the pair headed off to the new Capricorn studio in Macon Georgia to make an album.
Swamp's vision was to make Soul "concept" albums & "I'm A Loser" is a collection of lovelorn, love-weary songs from the perspective of a grown woman. With Doris' strong, Gospel-inflected vocals getting understated support from the talented Capricorn Rhythm Section (that's got to be Duane Allman on "Ghost of Myself") it really is Southern Soul at its best. The remarried Doris Logan became Doris Duke & they were ready to go."To the Other Woman", written by Swamp & Gary US Bonds, a Rock & Roller from the early 1960s, is a strong almost Country ballad, the lyrics unusual & distinctive enough to be memorable & to stand out when heard on the radio. It & the more upbeat follow up "The Feeling Is Right" both made the R&B chart.Doris objected to having little input in the recording process beyond providing vocals to finished tracks & her relationship with her producer was never a good one. The pair did record another LP together, "A Legend In Her Own Time" & then only because of the previous success. Swamp Dogg had his own thing going on, an album & a single rising up the chart. We'll get to this in a couple of weeks.
Further down the Top 50, stalled at #41, was a singer on the way to restoring his reputation as a significant talent. In 1964 Bobby Womack, with his sister-in-law Shirley wrote "It's All Over Now" for the family group the Valentinos & a cover version by the Rolling Stones became that group's first UK #1. Later in the year the untimely death of Sam Cooke, Bobby's idol & mentor was a great blow. A hurried marriage to Barbara, Sam's widow, met with disapproval from the Cooke family & a reluctance from radio stations to give airtime to his records. In Memphis Bobby found a place at American Studios where he played on many sessions, having a couple of his songs picked up & put on the chart by Wilson Pickett. "I'm In Love" & "I'm a Midnight Mover" featured on his 1969 debut LP. Covers of "Fly Me To the Moon" (the title track) & California Dreamin'" were R&B Top 20 singles.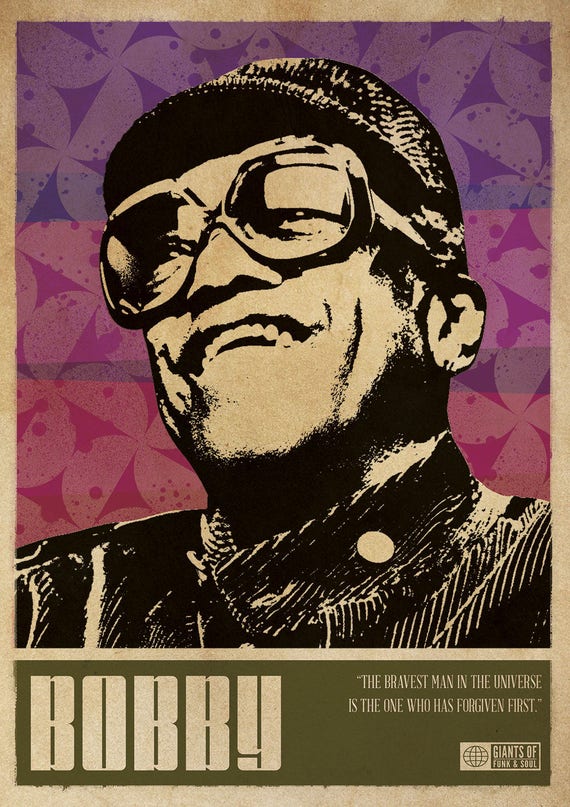 "More Than I Can Stand" is taken from the "My Prescription" album, a disc I don't own but I know every song. Bobby was hitting his soulful stride with a mix of original songs & sometimes unlikely covers ("Everyone's Gone To the Moon" & "I Left My Heart in San Francisco") with great backing from his friends the session men at American. "Communication" (1971) &, after a move to Muscle Shoals, the self-produced "Understanding" (1972), with "I Can Understand It" & "Harry Hippie", continued the run. I have a "best of…" from these first 4 records & it's a double album. In the future Bobby's title track for the "Across 110th St" movie became an instant & abiding classic. In 1981 the LP "The Poet" was something of a revival & while his subsequent recordings reflected changing times & styles he kept his essential qualities. The self-styled & justifiable "only survivor left in town" kept on until his passing in 2014. In 1970 Bobby Womack had already laid the foundation of his reputation, by the time he was done he was a legend.