In April 1966 the Rolling Stones released "Aftermath", their 4th (well, in the UK anyway) LP, a marked departure from the previous three in that all 14 tracks were composed by Mick Jagger & Keith Richards. The repertoire of every British Beat Boom group was a mix of Rock & Roll & R&B favourites, often new US songs were quickly covered & became bigger hits than the original on both sides of the Atlantic. After a couple of years this was a little played out & a second wave of groups (the Kinks, the Who) included talents who, like Lennon & McCartney, wrote their own songs. "Aftermath" came between "19th Nervous Breakdown" & "Paint It Black", self-penned smashes. Now there were these fresh potential hits. Just like new LP's by those Beatles & that Bob Dylan there was a queue, a long one, to cover these songs.
Chris Farlowe had an inside line to the new songs by Mick & Keith. In 1965 the singer signed to the new Immediate record label founded by Andrew Loog Oldham, the publicist-turned-Stones manager, by their side in the rapid elevation from "England's Newest Hitmakers" to one of the biggest groups in the world. Farlowe's version of "Think" was released as a single in January 1966, four months before "Aftermath". Produced by Oldham, Jagger & Richards & isn't that the Stones' singer on the closing backing vocals, Farlowe's strong mature voice set off with a brassy, sassy, Soul arrangement. There's no doubt that Chris had one of the most distinct voices around but his debut LP,  "14 Things to Think About", is a little heavy on big ballads that had been done better elsewhere rather than the bluesy Soul to which he was more suited. "Think" made the Top 40 in the UK, next time around another "Aftermath" cover & he hit big.
"Out of Time" is one of the strongest tracks on "Aftermath", Brian's light, imaginative marimba introduction leading into Mick's restrained vocal & an instantly memorable chorus. Chris, produced by Jagger, gave it the Big Beat treatment & made the UK #1 spot in July 1966. It was perhaps an over reliance on the Stones connection, an easy option, that prevented Farlowe consolidating such a success. There were three more 45's by Jagger-Richards, "Ride On Baby", "Yesterday's Papers" & "Paint It Black" which all missed the Top 30. He got first crack at Mike d'Abo's "Handbags & Gladrags", a great song which sure sounded like a hit but wasn't. When Immediate folded in 1970 he became a voice for hire with Prog bands Colosseum & Atomic Rooster. In 1966 groups performing original material was the thing, that's why the Stones moved away from the R&B covers. British singers like Joe Cocker & Rod Stewart were appreciated for their individual interpretations of discerningly selected material. This came a little too late for Chris Farlowe.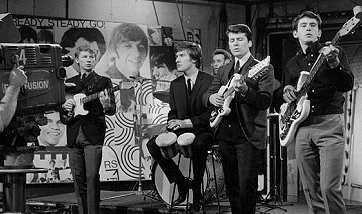 Time was when the Searchers were bigger than the Stones. After an apprenticeship which, like the Beatles, included a residency at the Star Club in Hamburg, they were caught up in the Mersey Mania &, under the guidance of producer Tony Hatch at Pye Records, 3 of their first 4 singles were UK #1 hits (the 4th "Sugar & Spice" was only #2). The departure of bassist Tony Jackson, lead vocals on the earliest hits, had no real effect & with 3 US Top 20 songs in 1964 the group were part of the British Invasion. Their harmonies & John McNally's 12-string jangle were an influence on the upcoming Folk Rockers. "When You Walk in the Room" was a perfect Pop record & there were a few of those around in 1964. A dependence on other people's songs in an industry where you were as only as good as your last record meant that it was difficult to keep up.
After 1965's "Goodbye My Love" the Searchers were no longer hitting the UK Top 10 & when drummer/harmoniser Chris Curtis, on & off stage a strong personality, left the group they lost a little individuality. They were looking for more modern material but covering a Stones song was still a little surprising. "Take It or Leave It", gentler than the original & pleasant enough, just failed to reach the UK Top 30. Subsequent singles, in a variety of styles, made less impression & the Searchers were finding gigs on the cabaret circuit. Later these progenitors of Power Pop found a new, deserved lease of life with Sire Records. I caught a show of theirs in the early 80's before an appreciative young audience. They did all the old hits, "Needles & Pins" was demanded twice, an evening of melodic Mersey Beat was thoroughly enjoyed by all.
"Would you let your daughter marry a Rolling Stone?". Andrew Loog Oldham's Situationist mischief positioned the group as the evil twins of the Beatles. Long hair, being rude to journalists & peeing in public was rebellious enough but the band's recreational drug use made them a target for the Sunday tabloids & Scotland Yard. After a raid in February 1967 the following June Mick & Keith were sentenced to 3 months & a year in prison respectively. Meanwhile Brian had been charged with possession in May. The Who, prompted by Pete Townshend, pledged their support by rush-releasing a double A-side of Jagger-Richards songs, the first, they said, of a monthly series for as long as the pair faced doing time.
"Under My Thumb", possibly the most misogynistic of the "Aftermath" songs (there's a few but the Stones disliked everybody not just women) was covered first by Wayne Gibson, a favourite in the Soul clubs up North & finally a hit in 1974. In the US rock & roller Del Shannon made a pretty good stab at it. Released on June 30th 1967 the Who's version is a rush propelled by Keith Moon's drums while, with bassist John Entwistle away on honeymoon, Pete plays everything else including those great stabs of fuzz guitar. The single, coupled with "The Last Time" was both the first & last in the series as in July Keith's conviction was overturned & Mick given a conditional discharge. Still, it's the thought that counts & it was a pretty great thought.
OK, there's room for one more & this is from 1979, hardly jumping on the Stones bandwagon but my what a track. Ellen Foley had duetted with someone called Meatloaf on "Paradise By the Dashboard Light" from something called "Bat Out of Hell" which I believe was quite a big deal. Like many attractive, intelligent American women she was an Anglophile & chose two experienced British musicians to produce her debut LP "Night Out". Ian Hunter & Mick Ronson were touring & recording together after leaving successful bands, Mott the Hoople & the Spiders From Mars respectively, & they did a fine job.
Mick Ronson (that's the great…) was no stranger to a crunchy Keith Richards riff,  there's  "Rebel Rebel", "Jean Genie" & that's just a start. "Stupid Girl" is a full-on Glam assault & it's great to hear. In fact Ronno's guitar flourishes & perfect solos allied to Hunter's attachment to a bit of Rock & Roll drama makes for a most listenable album. Ellen became romantically involved with Mick Jones off of the Clash & on "Spirit of St Louis" (1981), recorded after "Sandanista", she was backed by the band. With 6 Strummer/Jones songs included that's definitely one to check out.