On the Cash Box Top 60 in R&B Locations chart for the 17th of October 1970 there was a new #1 record. "Express Yourself", the toppermost for the past two weeks, was to be the only time that Charles Wright & the Watts 103rd Street Rhythm Band would attain such heights. Its successor "I'll Be There" was the fourth time that the Jackson 5 had reached that pinnacle in 1970! The Top 3 was rounded out by another from the Tamla Motown roster. On the departure of Holland-Dozier-Holland from the label the Four Tops had adopted a smoother, less urgent style. Of course the inimitable lead vocals of Levi Stubbs were still prominent & popular. Still Water (Love), supplied by producers Smokey Robinson & Frank "Do I Love You" Wilson, was their latest hit.
It's been a month or so since my last review of the R&B chart of 50 years ago & there are plenty of new records around. The Top 10 is of such high quality that it would be easy to select three from there. Let's start with one of them & see where it leads us.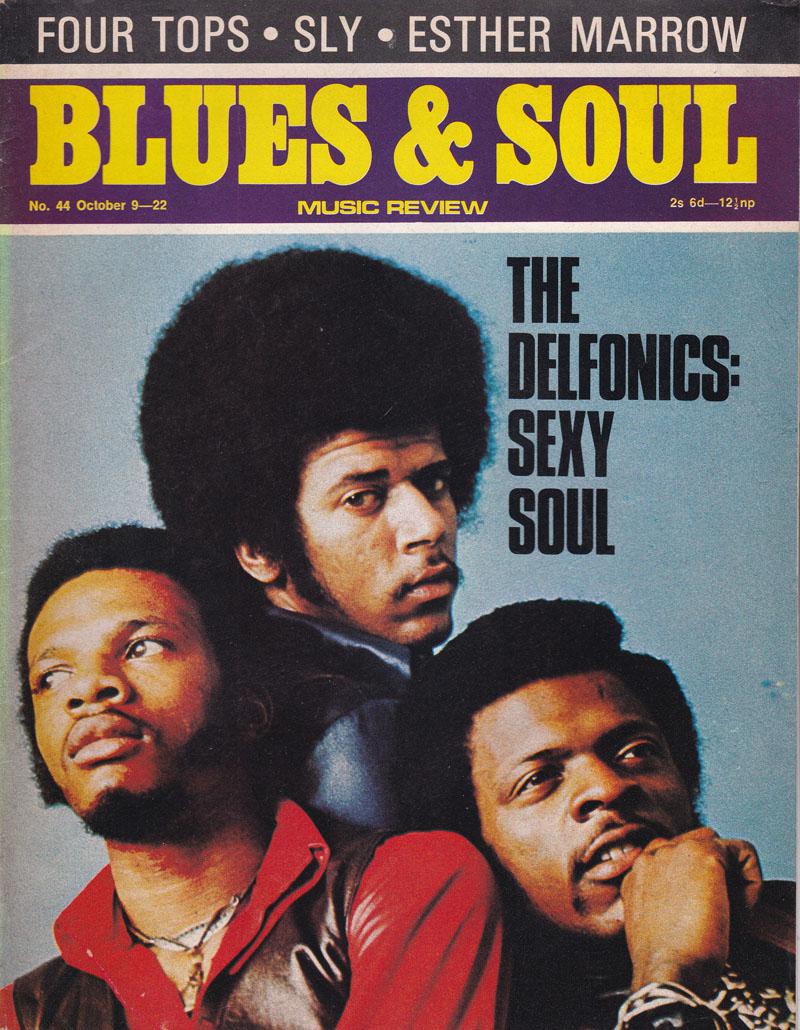 At #9 on the chart, climbing 5 places, the Philadelphia trio the Delfonics were enjoying a run of hits. William Hart & his brother Wilbert had been in vocal groups since high school. An introduction to young producer/arranger Thom Bell led to a contract with Cameo-Parkway & a couple of 45s. On the demise of their label a move to the new Philly Groove gave Bell the freedom to realise his vision. Their next single "La-La (Means I Love You)", released in January 1968, crossed over into the Pop chart, sold a million & placed the Delfonics in the vanguard of a new effortlessly smooth, pristine, symphonic Soul. Over the next 4 albums Bell developed his fastidious orchestrations of songs written by himself & William Hart. William's falsetto leads over a dramatic, melodic backdrop blew our minds on succeeding hits & they were very soon the favourite of Ms Jackie Brown from the film of the same name.
"When You Get Right Down To It" is the fourth song from the group's eponymous 1970 LP to make the R&B chart. "The Delfonics" is an album of such quality that the truly majestic "Delfonics Theme (How Could You)" was almost overlooked. The "La-La…" record (1968) has the shock & the thrill of the new. Now Bell could bring confidence & imagination to a proven hit sound providing a showcase for his & the group's talents. "When You Get…" is the only one of the 10 tracks not written or co-written by Bell & Hart. The songs of Barry Mann & Cynthia Weill had progressed popular music in the 1960s. "On Broadway" (the Drifters), "We Gotta Get Out of This Place" (the Animals) & "You've Lost That Lovin' Feeling" (Righteous Brothers) are just three. I've missed out the Crystals & the Ronettes, it's a long list. Mann's new song was in good hands & it's a gentle, beautiful noise.
Just one place lower,at #10, is a record by Bobby Byrd. Bobby worked for James Brown whose own rapidly rising "Call Me Super Bad" would enter the Top 10 the following week. It hadn't always been this way, way back in the 1950s Bobby had met James when the future "Minister of the New New Super Heavy Funk" was serving time in juvenile prison & the Byrd family had sponsored his parole. Byrd's band was called the Flames by the time James joined, initially as a drummer then singing. The label of "Please, Please, Please" said "James Brown & the Famous Flames" which displeased the other members but that was the way it stayed when the record sold over a million copies. After a brief split the Flames & Bobby rejoined Brown & stayed for over a decade, partners in a production company, singing backing vocals, carrying James' cape & recording his own singles through the 1960s.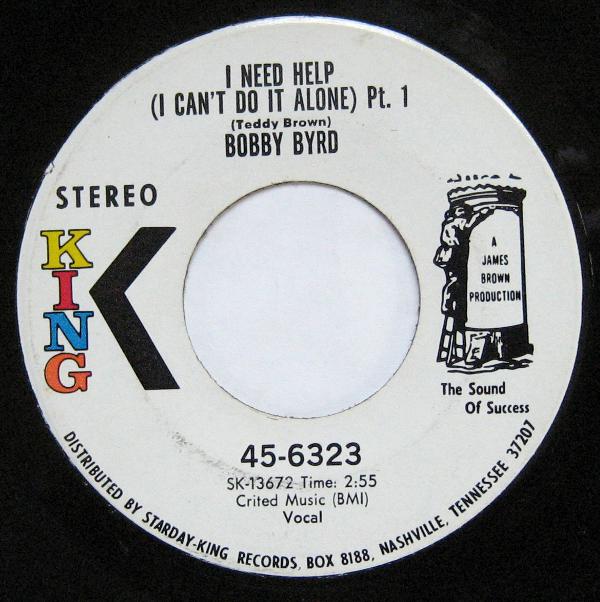 In 1970, after a break for a couple of years Byrd returned to Brown's set up when the singer's band had left over the same financial disputes experienced by the singing Famous Flames. The pair quickly hired the young Collins brothers, Bootsy (bass) & Catfish (guitar), who alongside trombonist/arranger Fred Wesley brought an energy & drive to the Funk which maintained James' popularity & his reputation as an innovator. Bobby co-wrote & can be heard on Get Up (I Feel Like Being A) Sex Machine" & "Get Up, Get Into It, Get Involved". The new band, the J.B.'s, continue that same brio & groove on "I Need Help (I Can't Do It Alone)" with Brown shouting encouragement in the background. James had always produced tracks for Bobby, his female singers & his band. They are companion pieces to whatever he had going on at the time & are often great records, not all of them were as successful on the chart as this one. The following year Bobby released "I Know You Got Soul", extensively & memorably sampled by Eric B & Rakim on their landmark debut "Paid In Full". Over a 21 year long professional relationship Bobby Byrd & James Brown…they got it!
Over the past 55 years Stevie Wonder has recorded many, yes many, songs that remain significant in Soul music. "Heaven Help Us All", at #40, the highest new entry on this week's chart from 50 years ago is one of them. In 1965, still only 15 years old, Stevie dropped the "Little" from his stage name & confirmed the "Wonder" with "Uptight (Everything's Alright)", straight from the fridge, a new deeper voice & the first single on which he had a co-writing credit. In 1970 Motown released 2 "live" records, fine collections but I can't imagine that many of his young Mod fans made it to the Talk of the Town, a cabaret club in that London. The "Signed, Sealed, Delivered" album was a step forward, the title track, "We Can Work It Out", one of the best Beatles covers, "Heaven Help Us All" & others. Written by Motown staffer Ron Miller, a man with the knack who had previously provided Stevie with songs, "Heaven Help…" reflected the singer & Soul's growing social conscience. Live appearances on US TV by Motown artists could suffer from the backing band not being the Funk Brothers. No problem here as Stevie's impassioned Gospel-inflected vocal bring it all on home. When, at around 2.54, he screams & flashes the peace sign on the prime time "Johnny Cash Show"… Ah man!
Subsequent to this Stevie asserted himself against his label, took over production duties & 1971's "Where I'm Coming From" was solely written by himself & his new wife Syreeta. On his coming of age, with full artistic control, this led to "Music of My Mind" & "Talking Book" in 1972 & he was unstoppable. Stevie was driving the car, choosing the route & we were happy to learn from him & go along for the ride. It's a debate point as to when Stevie Wonder's imperial phase began but certainly "Heaven Help Us All" stands as a signpost of things to come. In 1977 Tamla Motown released a well-compiled three album retrospective of Stevie's career up to 1971. That first thing in the morning slouch from the bed to the kettle, to the turntable, finding Side 6, Track 1 of "Looking Back/Anthology", put a little love in your heart & more of a spring in your step. "Heaven Help Us All" did it then & still does.
This week there were two new tracks from Stevie Wonder. It's a problem that 50 years on we still need songs about racial injustice. Stevie was never going to ignore the events of 2020 & if I want to hear from anyone then he's certainly that one. The toe-tapping Go-Go groove of "Can't Put It In The Hands Of Fate" includes Busta Rhymes & three other rappers who I'm much too old to know much about. I love it. "You say that you believe in all lives matter. I say, I don't believe the fuck you do"… Ah man!