The 1970's in American cinema is quite rightly regarded as a decade of great creativity. Directors like Robert Altman, Arthur Penn, Stanley Kubrick & others, who had initially worked within the limitations of studio control, matured & flourished as they enjoyed greater independence. They inspired & were joined by the younger "movie brats" Coppola, Cimino, Lucas, Spielberg & Scorsese. It's a list, a long one, I've not mentioned some of my & your favourites & I'm about to add Michael Ritchie. merited by an impressive run of films which still provoke & entertain & are always welcome when they come around on the TV.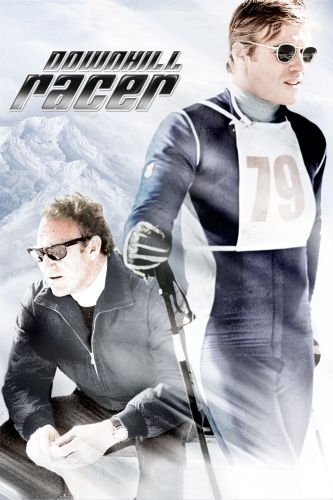 After Harvard Ritchie served his directorial apprenticeship on successful shows like "Dr Kildare", "The Big Valley" & a single episode of "The Man From UNCLE".  He directed 11 installments of "Run For Your Life", a series starring Ben Gazzara created by the same crew who made "The Fugitive" (now that sounds good). His debut feature film, "Downhill Racer" (1969), hit cinemas just two weeks after "Butch Cassidy & the Sundance Kid" had become the current rage, the highest grossing film of the year & made Robert Redford a major star. In "Downhill Racer" Redford is matched with Gene Hackman, not yet as recognisable as he was to become, who had made a big impression in 1967's "Bonnie & Clyde"
The film is a sharp, succinct commentary on competition & success set in the world of Alpine skiing. Redford's Olympic hopeful is talented, narcissistic & arrogant, he clashes with the pragmatic, angry (you've seen Gene act) coach Hackman. The spare semi-documentary feel, Ritchie hired Ken Loach's cinematographer & sound man, & the excellently shot race scenes made "Downhill Racer" a pretty good sports movie (it's not really about sport) & a distinctive, well-received debut for Ritchie. His next two films, released in 1972, featured the same actors.
First up was "Prime Cut" which matched Lee Marvin (Devlin),  a hitman with a heart, against Hackman (Mary Ann), a slaughterhouse owner with a sideline in slavery. Devlin is sent  to the Kansas prairies by the Chicago Mob after Mary Ann had made mincemeat & then sausages of the previous man for the job. This bootleg butchery is shown in Ritchie's stylish opening sequence. "Prime Cut" is an amoral, violent, entertaining action film. Marvin is a man with a mission, not to be distracted by Hackman's moustache-twirling bad guy or young orphan Poppy (Sissy Spacek). There's a nod to Hitchcock with a combine harvester chase through a cornfield. Spoiler alert…the people get away, a car gets killed.
The Midwest mayhem of "Prime Cut" has fine performances from its two stars, memorable set pieces & pulpy dialogue. 1972 was a big year for crime thrillers. There's a built-to-last solidity about "The Godfather", "The Getaway" & "Deliverance". Michael Ritchie's other film from that year effectively caught the mood of the times & can be considered one of the beat films of a very good year.
Robert Redford was 32 when he appeared in "Butch Cassidy & the Sundance Kid" (1969), a breakthrough role. He managed his position as a new Hollywood star very cannily & in 1972 starred in 3 films where he turned up, looked handsome & displayed his acting chops. "The Hot Rock" is a clever heist movie, the one about the mountain man "Jeremiah Johnson" was a big hit. He was very involved in the production of "The Candidate", his second hook up with Michael Ritchie, as cynical as a political movie needed to be in 1972, the year that Richard Nixon was re-elected President by a landslide.
So, Bill McKay (Redford) an idealistic lawyer, son of a former Democratic governor, runs for the US Senate. The deal is that he can't win so he can speak his mind. McKay is telegenic & a moderation of his message brings an upswing in the polls. In fact the less he says the more likely an upset becomes. Redford hits the spot as the bemused McKay (vote once, vote twice) at the mercy of a pair of jaundiced political pros played by the outstanding Peter Boyle & Allen Garfield. The script by Jeremy Larner, a former speechwriter for Presidential candidate Eugene McCarthy, won the Best Original Screenplay Oscar. These days we know that all politicians are lower than whale shit. TV series like "The Thick of It", "Veep" & "House of Cards" entertain while confirming that an absence of conscience is a political asset. "The Candidate" hit the bullseye with its points about media influence on the election process, reducing debate to non-sequitur soundbites, encouraging, with the complicity of those chasing votes, the generic rather than the specific. "The Candidate" did this in 1972…it was a warning.
Ritchie's position as a leading cinematic satirist was consolidated with "Smile" (1975), a faux documentary about a teenage beauty pageant, another riff on the failure of American success. It may seem an easy target now but this dark, very funny film, with an  ensemble cast lead by Bruce Dern, retains an affection & consideration for the participants alongside the mockery & cynicism. Satire was quite the thing in 1975, post-Watergate, pre-Bicentennial. Altman's "Nashville" & Hal Ashby's "Shampoo" may have had bigger budgets & more starpower but "Smile" catches the signs of the times just as well as these higher profile movies.
I keep telling the young folk that they should watch the films of the great comedy actor Walter Matthau but he never played a Superhero so they don't bother. "Whiplash Willie Gingrich ("The Fortune Cookie"), Oscar Madison ("The Odd Couple") & Walter Burns ("The Front Page") are wonderful characters, all lugubrious & anti-social (you'd like him), all in association with Jack Lemmon. I'm not forgetting "Charlie Varrick". In 1975 Matthau traded insults, written by Neil Simon, with George Burns in "The Sunshine Boys" & was nominated for an Academy award. For his next film he hooked up with Michael Ritchie & it was time to meet Morris Buttermaker.
"The Bad News Bears" (1976) is not just a likeable film, it's absolutely lovable. Buttermaker, an alcoholic former minor league pitcher is hired to coach a Little League baseball team made up of the incompetent kids the others won't play with. They lose their first game 26-0. He recruits his ex-girlfriend's daughter (Tatum O'Neal), the best pitcher in town, & the local teenage hoodlum (Jackie Earle Haley, last seen as the villain in "The Tick"). Of course things can only get better & the Bears make the championship game. They don't win but valuable lessons are learned. So far, so Disney. Did I mention the alcoholism or "the amusement value of hearing little kids cuss like Marines" (Time)?
In Michael Ritchie's capable hands "The Bad News Bears" skewers the notion of competition, fair play & success in American society & it's as funny as heck. Matthau's hangdog cynicism is magnificent. Tatum O'Neal had won a Best Actress for her only other film & here, demanding Buttermaker pays for ballet lessons in return for playing, a young girl approaching adolescence, you can see why. The group of outsider kids are beautifully played & portrayed. Everyone has a different favourite, Tanner, short-tempered & an imaginative vocabulary, Ahmad, a Black Muslim Hank Aaron fan, the shy, "booger-eating moron" Timmy, the two non-English speaking Mexican brothers & there's more. It's not the greatest film ever made but it's probably the best one about kids' sport. Man, if ever a movie is going to raise your mood it's this one. Here's the ending…
That's a pretty good run of film form, "The Bad News Bears" was a box office success & Michael Ritchie was surely set for the big movies. His contemporaries were being given stupid amounts of money, enough to bankrupt studios, to realise their visions.  Ritchie went on to direct films that you've seen & that I like but it never really happened for him. I'm not sure why, maybe I'll have worked it out before I get to do Part Two of this thing.