It was Al Green's second week at the top of the Cash Box R&B Top 60 on January 29th 1972. "Let's Stay Together" was the star's first chart-topper & there were to be five more ( four of his 45s "only" reached #2). Al was to be a major force in Soul music in the early 1970s, it's certain that he will be a feature selection here in the near future just not right now. Let's look a little further down the chart to see what catches the ear.
Eric Burdon was a big figure in the 1960s British Invasion, first as vocalist with the Animals then maintaining his popularity with his name at the front of a new pack of Animals. Five LPs in less than two years provided hit singles but was a hectic workload leading to burnout & leaving Eric without a band. Bringing along Danish harmonica player Lee Oskar, Eric hooked up with Night Shift, a backing group from Long Beach, California. A name change & the "Eric Burdon Declares War" record (1970) confirmed a surprising & serendipitous union, War's Afro-Funk-Jazz-Latin grooves proving to be a great foil to Eric's stoned Geordie Beat poetry. "Spill the Wine" became a Top 3 US Pop hit, the highest for the singer since 1964's "House of the Rising Sun". There was another album, a double, before personal troubles led to him leaving in the middle of a European tour. War, a seven piece band, were travelling the world, playing to bigger audiences, getting their name around. They also had a better record deal than their former front man ever had, with the tunes & the chops to rule out a return to the L.A. clubs.
There's a subtle texture to War's music, resonances of the ensemble groove revealed by repeated listening & not enough people wanted to play their first LP again. They needed a track that would be played on daytime radio & "Slippin' Into Darkness", at #11 on this week's R&B chart was that very thing. Playing live on "Soul Train" they unite around that bassline, sing great harmonies & you just wish they were playing the full six minutes rather than the shorter single version. The closer on the "All Day Music" album, "Baby Brother", a live & loud Blues jam, later re-tooled into a hit 45, indicates a strong stage presence. Having got their crossover hit War seized the opportunity & there were to be two more Top 10 singles by the end of 1972, starting a decade of great rhythms & gold records. Lee Oskar was recognisable, he was the white guy with the afro, the other six did their thing, made their contribution & it is to the band's credit that the line up was unchanged through all this success. War were an important, influential, individual group whose records sound as cool & fresh today as they did 50 years ago.
Donnie Elbert, a singer from Buffalo, New York had been recording since the mid-1950s, having his first R&B hit in 1957. With a career interrupted by a stint in the Army his releases met with little commercial success. In 1965 he recorded "A Little Piece of Leather", highlighting the falsetto end of his three octave range. Picked up in the UK by Sue Records, a label jam-packed with great American R&B overseen by DJ Guy Stevens (later producer of Mott the Hoople & the Clash) for Island Records. A Mod club favourite Donnie moved across the Atlantic, recording a tribute to Otis Redding & a Rock Steady 45, "Without You", a #1 in Jamaica. He returned to the US & the R&B chart in 1970 then, something he brought with him from England, a cover of the Supremes' "Where Did I Love Go" crossed over to the Pop Top 20. Things were going well for Donnie 50 years ago today, only he & Sly & the Family Stone had two records on the R&B listing.
Another Motown cover, "I Can't Help Myself" (the 4 Tops, "sugar pie honey bunch", you know it) rose a healthy 11 places to #30 & "Sweet Baby" moved from #34 to 32. Both are perfect for all-night dancing in the Soul clubs of Northern England, if Donnie was well-liked in the US he was loved over here & in 1972 the re-released "A Little Piece of Leather" made the UK Top 30. The records were on different labels & Avco, the bigger one, had the idea that more covers were the way to go. Donnie had been burned by bigger companies before, he had worked hard to find his own place & his independence. At All Platinum he had sung, written, produced, played everything but the strings & that's where he chose to stay until he was on the wrong end of a dispute with boss Sylvia Robinson over the composing credit for Shirley & Company's hit "Shame, Shame, Shame" (now that's a good tune) had him looking for a way out of a business where his talents were perhaps never fully appreciated & promoted.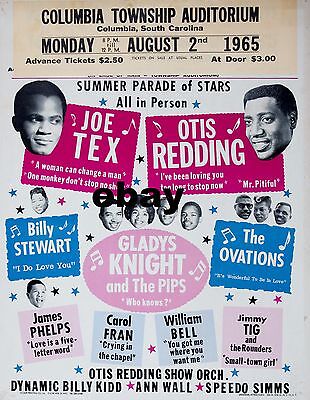 At #39 this week, up 10 places pop pickers, was a record that was on its way to the top of the R&B chart & #2 Pop, 3 million copies sold. I've written about Joe Tex here & some of his regular hits have featured in earlier Soul Selections. "I Gotcha" was Joe's first R&B #1 since 1965, his biggest crossover hit since "Skinny Legs & All" five years previously. Joe & his dancers give an energetic, er thrusting, performance of an insistent, confident gold record rap. After a sojourn at Atlantic Records where he was rather awkwardly given other people's songs to record Joe was back with the Dial label, with producer Buddy Killen, the songs all his own work. On the LP that came with "I Gotcha" he sticks with what he's good at, the sharp Memphis Funk sweetened by homespun homilies backed by Nashville session cats, both delivered with Joe's good humour. Not as consistent as the compilations of his great singles the record still has its moments like "Takin' A Chance", always a favourite.
Joe, now Yusuf Hazziez, stepped away for a while to preach & fund raise for the Nation of Islam. bBy the middle of the decade Disco was the current thing & Joe, receptive to new styles & dances since Sam Cooke was twisting the night away had something to add. "Ain't Gonna Bump No More (With No Big Fat Woman)" put him back in the R&B Top 10, the US Pop 20 & even some long-overdue attention here in the UK.