The highest new entry on the Cash Box Top 60 in R&B Locations for this week 50 years ago was "You Think You're Hot Stuff", Jean Knight's follow up to her #1 smash "Mr Big Stuff", the second chart topper of 1971, after "(Do The) Push & Pull (Part 1)" by Rufus Thomas for the Memphis based label Stax. Held in the same regard as Tamla Motown as a key player in the progression & popularity of Soul music Stax had faced tribulation after its breakthrough in the mid-1960s. The tragic, premature death in 1967 of the label's biggest star, Otis Redding, was followed by the discovery that a fracture in their relationship with distributors Atlantic meant that Stax held no rights to any recordings made from 1960 to 1967. A new catalogue was created with the release of 27 albums & 30 singles in mid-1969. There were some changes, Booker T Jones & Steve Cropper, pivotal as hit-making writers-producers-musicians, both left the company. The studio on East McLemore Avenue was no longer the organisation's creative hub. There was still talent enough to realise the label's ambition to diversify & expand. There were still plenty of discs on the R&B chart that featured the finger-snapping logo.
Johnnie Taylor was right there to help Stax along when, in 1969, his "Who's Making Love" sold a million. Johnnie had replaced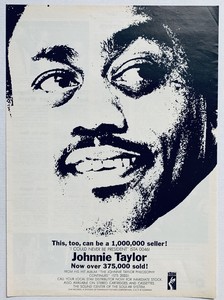 Sam Cooke in the Soul Stirrers, signed for Stax in 1966 &"Who's…" was a breakthrough for "The Philosopher of Soul", initiating a run of Top 10 R&B hits. Johnnie was equally comfortable with urgent, fast-paced songs like that hit & the great "I Could Never Be President" or bluesy ballads such as "Jody's Got Your Girl & Gone" & his current hit "Hijackin' Love", #14 this week after a couple of weeks on the Top 10. All of them had the solid groove & punchy horns of classic Memphis Soul. Producer Don Davis, a former session musician at Motown had found a place at Stax &, sensing more scope & opportunity there, encouraged some of his fellow Detroiters to follow him south. "Hijackin' Love" was co-written by Tony Hester, who had provided all the songs for the Dramatics' successful album "Whatcha See Is Whatcha Get" & by Richard "Popcorn" Wylie", a recording artist in his own right who played piano on early Motown hits & had a hand in Jamo Thomas' fantastic "I Spy (For The FBI)". Johnnie Taylor stuck with Stax until the end in 1975 & Don Davis stuck with Johnnie. In 1976 they found themselves at #1 on the US Pop chart with "Disco Lady".
For over a decade the Staple Singers enjoyed a thoroughly distinguished career as a leading Gospel-Folk group. A move towards recording more contemporary secular songs was sealed when the Chicago-based family group signed with Stax in 1968. For their first two records brother Pervis rejoined patriarch Pops & his three sisters Cleotha, Yvonne & Mavis. These albums were concurrent with the first solo collections by Mavis, two fine records featuring a strong, intimate voice which failed to set her apart in a crowded field of female vocalists. Perhaps it was realised that the right context for Mavis' outstanding talent was with her father & her sisters. The production seat vacated by the departed Steve Cropper was filled by Al Bell, now co-owner of Stax, the prime mover behind the revival & expansion of the label. A more thoughtful curation of songs that suited the positive, conscious reinforcement that had always been a hallmark of the group was taken to 3614 Jackson Highway in Alabama where the famed Muscle Shoals Rhythm Section had set up after leaving the FAME studio. Now the Staple Singers zinged & grooved like no-one else.
"If you don't respect yourself ain't nobody gonna give a good cahoot". "Respect Yourself", the lead 45 from an upcoming album, rose a healthy 15 places to #33 this week. It was co-written by Mack Rice whose "Mustang Sally" (you know it) had been successful for himself & for Wilson Pickett & by Luther Ingram, another recording artist whose discs on the Koko label were distributed by Stax. It's an example of the label's encouragement for the talent to be found around Memphis but I'm sure that they could not have expected such an enduring anthem of affirmation, capturing the confidence & hope of the civil rights movement. The growing popularity of the Staple Singers led to higher visibility & what was not to like about the group. 56 year old Roebuck "Pops" Staples had learned guitar from Country Blues greats in Mississippi. His restrained, insistent rhythm & his lead runs were an individual, irresistible, influential kind of Funk. The sisters had a calm, consanguine, natural grace & beauty & they had Mavis, a new Soul star. The achievements of the Staples Singers are a list, a long one & unfinished as Mavis continues to shine. "If you're walking round think'n that the world owes you something 'cause you're here. You goin' out the world backwards like you did when you first come here" – that's enough.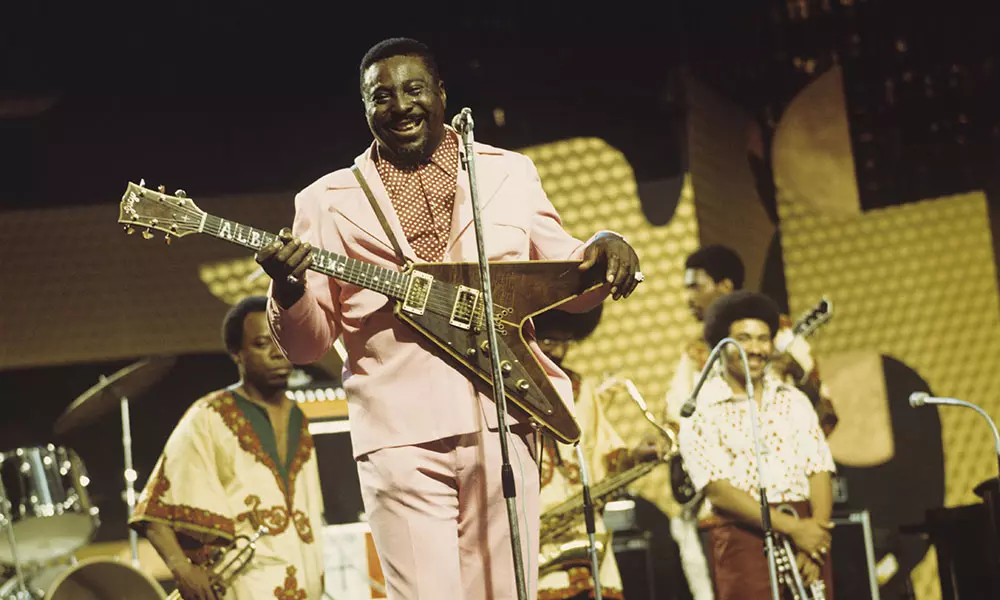 Albert King had been playing the Blues around Arkansas, Illinois & finally St Louis since the 1940s. His adopted surname encouraged a connection with the more famous B.B. King (no, they weren't brothers). Albert was left-handed & chose not to re-string his right-handed Gibson Flying V developing a string-bending strength giving him a distinctive, searing, muscular sound. In 1966, after little recording success in the previous five years, he signed to Stax records & handed to the care of drummer Al Jackson Jr who brought along the other members of his impeccable group Booker T & the M.G.s. Singles like "Crosscut Saw" & "Born Under A Bad Sign" may not have set the charts alight but they set a new standard in modern Blues & a collection of his Stax sessions released in 1967 proved to be very influential among young, mainly white, Rock guitarists. In 1968 he was invited to join a bill at the Fillmore Auditorium in San Francisco with Jimi Hendrix & Janis Joplin. Albert had found a new, younger audience & was making more money than he had thought possible after years of small club gigs.
For his 1971 album "Lovejoy" was produced by Don Nix, a saxophonist in his high school band the Mar-keys who scored big with "Last Night" when Stax was still called Satellite then became the house band for the label. Don was having a busy 1971, releasing two solo records of fine Southern Rock, organising the choir for George Harrison's Concert For Bangla Desh & producing the classic "Goin' Down" for another of the three Kings of the Blues Freddie. Working with Albert Don provided most of the songs & assembled two fine units for sessions in Los Angeles (Jesse Ed Davis, Wayne Perkins, Donald "Duck" Dunn, Jim Keltner) & the Muscle Shoals boys in Alabama. It takes a sensitive ear to distinguish what was recorded where (Jessie Ed's guitar in LA, Barry Beckett's keys in MS). It's a full Blues-Rock sound played with obvious enjoyment by everyone involved as they frame Albert's baritone & stinging guitar leads. "Everybody Wants To Get To Heaven" is at #50 on this week's chart, the slower, soulful Nix-Dan Penn song "Like A Road Leading Home" sure sounds good to me & the whole album should do to fans of the Blues & Southern Rock.
As well as these three selections & Jean Knight Stax had other records by Rufus Thomas, the Newcomers & Little Milton on this week's chart from 50 years ago. The following listing, for October 23 1971, the highest new entry was by the label's biggest star after the upheavals of a few years previously. "Theme From Shaft" by Isaac Hayes was a whole other stack of success, "Can you dig it?".