On another day of capitulation in Australia by the 11 best cricketers in England the memories evoked by the death this week of Ray Illingworth, a true great, are particularly poignant. Illy's captaincy of England for 31 international test matches between 1969 & 1973 included two series victories over Australia, a fiercely competitive, sometimes antagonistic rivalry for The Ashes, a title conferred after an Australian win in England in 1882. Other cricketing nations have progressed & excelled but, since the first meeting in 1877, this match-up has remained a measure of both nations standing in the sport. Ray Illingworth's shrewd tactical ability, his knowledge of the game & his determination to win meant that his contribution to the success of the national side was as significant as any other post-war captain.
Before the football season became a ubiquitous year-long obsession cricket was our Summer sport. On the back field where the children of our neighbourhood congregated, (between the flats & the allotments, remember that?) after the F.A. Cup final in May the jumpers for goalposts were replaced by an odd jumble of ill-matched equipment, stumps, if we had them, an approximate 22 yards apart for our impromptu but still serious games. A bat & a ball were the minimum requirement but we somehow begged, stole or borrowed an impressive amount of gear. I was kindly gifted a set of full-sized stumps, in demand even when I was otherwise engaged (measles, bath night, stuff like that) & while the wicket keeper's gloves were bagged by the big boys, wearing a single, frayed, leg pad, adequate protection against a tennis ball, gave your innings, however brief, greater authenticity.
The top two tiers of the sport consisted of teams representing the counties of England (OK, there was one from Wales). Our local side played in the rather condescendingly named lower section, the Minor Counties. Lincolnshire came to town once a year to play a two day game, amateurs joined in 1968 by the legendary spin bowler Sonny Ramadhin who, along with his partner Alf Valentine, had, in 1950, bamboozled the English batsmen, leading the West Indies to a first famous victory (of many) & immortalised in the cricket calypso above. We could eat all the picnic goodies packed by our mothers knowing that my grandma lived just a two minute cycle ride from the ground & that she would see us right when tea-time came around.
The top 17 counties competed for the Championship & the nearest one to my home, just 10 miles to the West, was Yorkshire. This proximity along with a growing awareness of which side of the country's North-South divide I was on (the North) led to the adoption of them as "my" team which was a stroke of luck as Yorkshire displaced the Surrey southerners as the dominant cricket force & were champions six times in the 1960s. At that time to play for Yorkshire you had to have been born in the county. A friends mother was sent North from Bedford for his arrival – just in case! We never saw these county sides play, only the Test matches were televised, we were reliant on the daily newspaper reports & scorecards, close study & imagination enhancing the great feats of batting & bowling that contributed to the team's continued success. I may not always be able to recall quite why I have come into the kitchen but the household (well, our house anyway) names of Tottenham Hotspur's 1960-61 Double-winning team, of England's 1966 World Cup winners & of that Yorkshire cricket team – go on, ask me!
Ray Illingworth, an off-spinner (I'm not about to go into the intricacies of spin bowling) & a more than reliable batsman "played cricket as he was brought up to play it, hard and seriously – giving nowt and expecting nowt in return – which is the best way to achieve results". He first achieved the "double" of 1000 runs & 100 wickets in a season in 1957 & was to repeat this five times in the next seven years. As the senior lieutenant of captain Brian Close, similarly schooled in the uncompromising local leagues, Illy showed young hopefuls what was expected of a Yorkshire cricket professional. Close, a man so pragmatic that his answer to an intimidating West Indian pace attack was to defend against their 100 mph bouncers, no helmet, with his chest (& these guys were not using tennis balls), could rely on Ray's assistance to solve the equation of changing conditions (English weather y'know), available time & the talent at his disposal to extract maximum points from any game.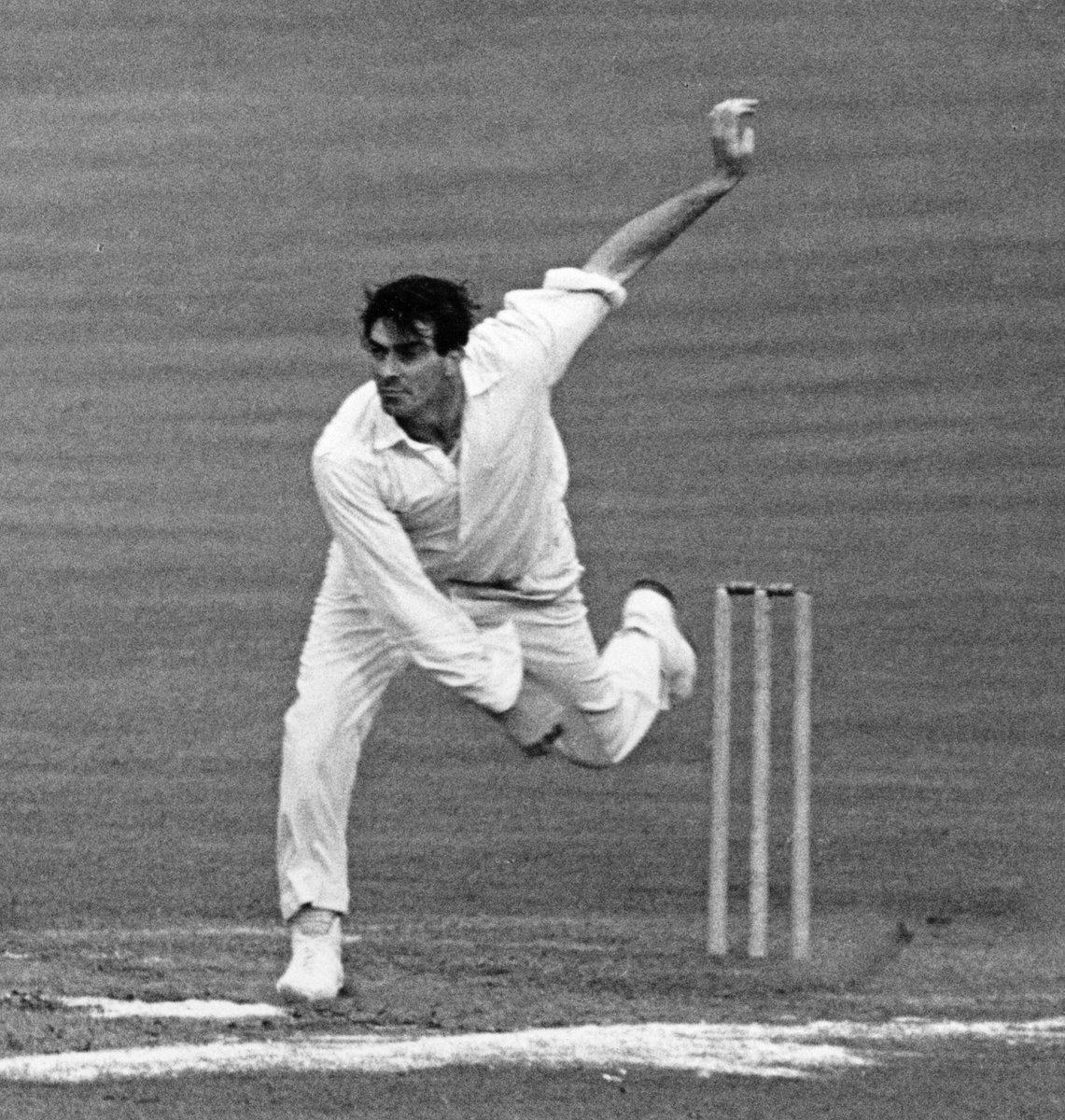 Yorkshire's batting strength, founded on seasoned internationals Phil Sharpe & John Hampshire was reinforced by the development of Geoffrey Boycott into a single-minded, prodigious collector of runs. The elegant Don Wilson gave Ray a partner effective on any wicket receptive to spin bowling. The new ball, the preserve of the fast bowlers was taken by the productive & reliable Tony Nicholson & Fred Trueman, "built for the job of a fast 'un, and with the spirit too", the best paceman in England, possibly the world & a national treasure. Fred's youthful gaucheness often brought disapproval from the staid M.C.C., arbiters of the game & he was often overlooked for national team selection until he proved to be just too damn good. On the 15th of August 1964 "Fiery" Fred became the first bowler to capture 300 wickets in Test cricket. I was on summer holiday, an 11 year old with the family transistor radio cupped to his ear, listening to the game taking place 140 miles away. Before I could pass the news to my Dad the whole promenade of the East Coast seaside resort began to applaud, a spontaneous & respectful tribute to a sportsman that I have never seen repeated. A working-class childhood hero is something to be!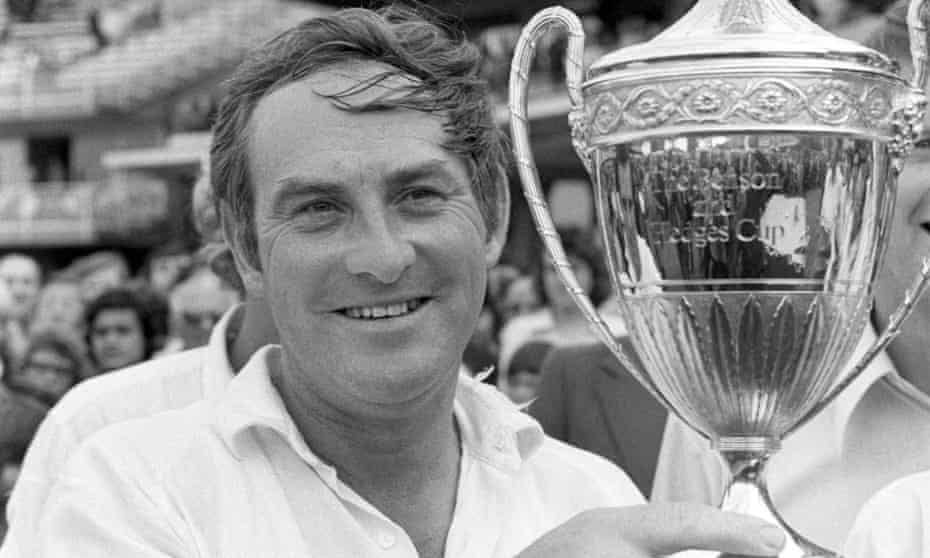 Ray left Yorkshire in 1968 after a contract dispute & joined Leicestershire as their captain, being appointed to that position with England just a month later, a stop-gap arrangement that continued until 1973! His shrewd leadership of a team of world class talents, Boycott, the run accumulator, Snow, the intimidating fast bowler ("Geoff & John" of Roy Harper's wonderfully evocative song), wicket keeper-batsman Knott, augmented by players toughened on the county circuit achieved results which made his position unassailable against opponents on the field & administrators off. Mention must be made here of the mercurial Basil D'Oliveira, exiled from his South Africa birthplace, his all-round skills appreciated by the England cricket team & the many fans of the sport. Leicestershire won their first trophy in 1972, there were to be four more including the Championship before he returned to Yorkshire as manager then captain, at 50 years old, in a spell he recorded in his book "The Tempestuous Years".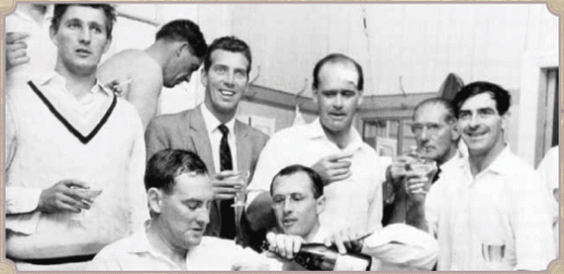 While at Leicester David Gower, a precocious batsman, benefitted greatly from Ray's experience & knowledge. Similarly at Somerset Brian Close mentored young Ian Botham. Two future captains, dominant personalities in 1980s England cricket schooled in the ways of winning the Yorkshire way. Such was Illy's stature in the game that involvement with England as chairman of selectors then manager was inevitable as perhaps were differences of opinion with a new generation of players. Maybe I've become "that old guy" now too, preferring waking up in a warm bed on a cold winter morning, reaching for the radio to discover the fortune of England's cricketers under a scorching Australian sun to staying up in the early hours watching the feeble resistance of today's finest. Ian Chappell, Australian captain, an uncompromising man himself, said of Ray Illingworth that he played to win from the first ball. The current England captain, a Yorkshireman, could maybe try that out.