The Top 10 of the Cash Box Top 60 in R&B Locations for 50 years ago this week can take a backseat this time around. The highest of the 10 new entries on the chart is such a great record that we will get straight to that then it really should be no problem to to select another two of the higher numbers from lower down the page.
How much do I love the voice of Overton Vertis Wright? Flipping loads! 50 years ago I was just 18, you know what I mean. Young & in love, leaving my parent's home for new adventures in a town 150 miles away, dumb as a box of hair. Everything was new, that's the way I liked it & Marvin Gaye, Sly & the Family Stone, Stevie Wonder, the Soul innovators, were the soundtrack to the excitement & anticipation. The deep Southern Soul of O.V. Wright seemed, I'll admit, a little staid. I knew nothing about the pain of loss, heartbreak & the tribulations Life brings. Now I'm almost grown (huh!) & have a greater experience of all that tricky stuff, I believe that O.V. is one of the singers (it's a short list) who is able to communicate & illuminate these feelings most honestly & convincingly.
"A Nickel & A Nail" entered the chart at #45, O.V. had started his recording career with two R&B Top 10 hits but, while popular in the southern states, he never emulated the success of some of his contemporaries. His Gospel group, the Sunset Travellers also included James Carr (blimey!). The pair went to Goldwax Records together but O.V. had signed a contract with the smaller Back Beat label whose owner Don Robey always (as Deadric Malone) seemed to have songwriting credit. A run of fine 45s brought the involvement in the late 1960s of producer Willie Mitchell & when Willie got his own thing going at Royal Studio in Memphis he brought O.V. along. With the Hi (Records) Rhythm Section & the Memphis Horns the backing was sweeter & stronger though never overpowering his intense, immaculate vocals. Yeah, there have now been times when all I've had in my pocket was a nickel & a nail & O.V. Wright sounds like he has too. That's the Blues.
O.V.'s run at Hi Records was interrupted by his involvement with narcotics leading to jail time. After a 4 year break he resumed recording in 1977. Such were the times that the music was now Disco-inflected but O.V. still sang it like it was. His take on Percy Sledge's "When A Man Loves A Woman", part of a 10 minute long medley, is spine-tingling & "Into Something (Can't Shake Loose)" is just too much. In September 1979 the Hi band (with the three Hodges brothers) got together with O.V. for a tour of Japan. Looking frail, a little sick & tired of being sick & tired, his voice is still a wonder, the resulting live album is a run through his career & a triumph of Memphis Soul, O.V.'s testification made all the more poignant by his fatal heart attack, at the age of 41, in the following year. O. V., you're gonna make me cry.
Now this is an odd one. Just making the chart at #59 this week is "Groovin' Out On Life" by Frederick II. I know the song from the original Jamaican hit by Hopeton Lewis, a lovely version by Dennis Brown, recorded at Studio One with Coxsone Dodd when the singer was just 14 years old & its inclusion on Nolan Porter's 1972 album "Nolan" but Frederick II, you got me there. It turns out that there's not a long-lost recording by the briefly King of Prussia (March 1888 – June 1888) but that this is the Nolan Porter track issued under a different name & that's nothing but a good thing!
If Nolan Porter was not in with the In Crowd of Los Angeles then he was certainly in with an In Crowd. His producer Gabriel Melker had been responsible for records by Steppenwolf ("Born To Be Wild"!), Three Dog Night, Janis Joplin & others. Married to Frank Zappa's, off of the Mothers of Invention, sister Candy, Nolan was able to recruit the assistance of the members of Little Feat, soon to be the coolest band on this planet. Subsequently a little more Rock innovation was added to the Soul, well-chosen cover versions (Booker T Jones, Randy Newman, a Little Feat song) were mixed with his own compositions. It was a prescription that served Rod Stewart pretty well in 1971. A 45, "I Like What You Give", was a small R&B hit but the LP "No Apologies" by simply "Nolan" failed to register. Anyway there was always Frederick II.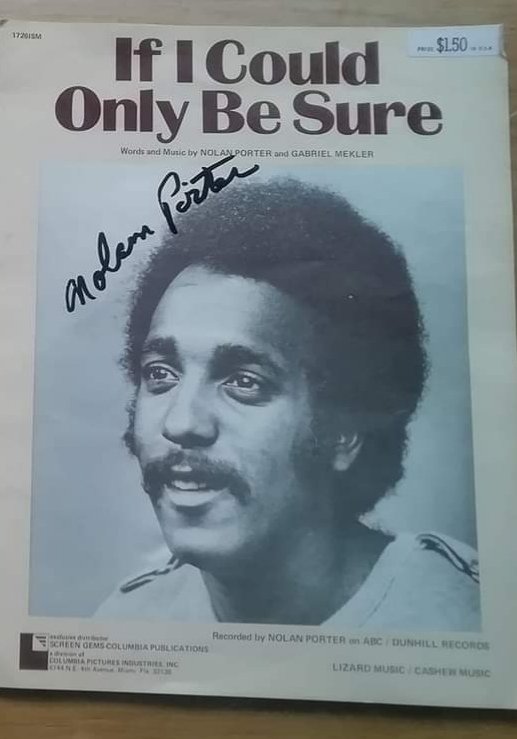 In 1968 Desmond Dekker's sensational "The Israelites", a #1 in the UK, reached the US Pop Top 10 but Jamaican music had not made the same impression there as it had on this side of the Atlantic. There were two Reggae songs on Nolan's re-mixed, re-shuffled (four new tracks) & re-released album & "Groovin'…" is a pretty sweet tune even if the L.A. boys don't totally re-create the depth & feel that the JA studio cats could play all day, every day. Is this the first US Reggae record to make the R&B chart? Nolan's record company went bust & that was it from him. His music was distinctive & good enough to attract devotion in UK Northern Soul clubs then enthusiasm from younger listeners. "If I Could Only Be Sure" & "Keep On Keeping On" (the riff borrowed by Joy Division for "Interzone") are the "hits" but all of Nolan Porter is worth checking out.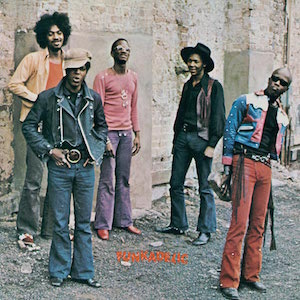 Just sneaking on to this week's chart at #60 is a track taken from "Maggot Brain", the third album released by Funkadelic in 14 months. George Clinton's vocal group, the Parliaments had integrated with its backing band to create an amalgamation who set off on a lysergically-fuelled magical mystery expedition, where the rules are that there are none, in search of that "way back yonder Funk". The group's first two records laid the foundation of the Funkadelic P-Funk credo, "Free Your Mind & Your Ass Will Follow", psychedelia energetically & free spiritedly combined with many Black & Rock influences, always music you could dance to. George encouraged the talented musicians he had assembled to express themselves & "Maggot Brain" is the realisation of their ideas about forging something modern, different & individual. It's a landmark record.
The acoustic guitar intro to "Can You Get To That" is pretty calming after the opening title track, a 10 minute long intense mind-melting instrumental led with rare skill & emotion by guitarist Eddie Hazel who knew that the talent of Jimi Hendrix was as much from the heart as well as the hands. "Can You…" is Gospel reinforced by Funk,the vocals by Isaac Hayes' backing singers Hot Buttered Soul,& it's as catchy as heck. Funkadelic enjoyed modest success with their records & it would be their ninth studio album, in 1978, before a platinum disc arrived. George was ready with a stadium-filling space spectacular based around some Mothership craziness & innovative, inspired music. "One Nation Under A Groove" is undoubtedly a great, still influential album. I prefer Funkadelic from 1971 when they had "rusty ankles and ashy kneecaps".
In 2013 Jeff Tweedy, off of Wilco, got back together with Mavis Staples to record a successor to the album "You Are Not Alone" from three years earlier. Mavis, a Queen of Soul with her family band, can make any song better with her presence & passion & "Can You Get To That", from "One True Vine" was a perfect candidate for revival. I try not to post phone clips but I will never get enough moving pictures of Mavis & her fine touring band. She takes you there!