"Stick-Up" by Honey Cone had been on the Cash Box Top 60 in R&B Locations for 10 weeks before reaching the top spot. Longevity, a slow & steady rise, was more of a thing 50 years ago & three of the Top 10 had entered the chart over three months ago. I am now, of course, like everyone else in the 21st century, only attracted the shiny, new things & much of the current Top 10 has been featured in previous posts. There is one record, at #4 on September 25th 1971 after one week at #1, that has not been included so let's start with one we all know, a classic hit, before excavating the listing's lower reaches for some less well-known good stuff.
In 1971 things were all new for Bill Withers & he was new to record buyers. The cover of his debut album showed him, lunchbox in hand, at his job as an assembler at Weber Aircraft in Burbank, California. Bill was 32 years old, reluctant to quit in case this music thing didn't work out. "Just As I Am" was produced by Booker T Jones who called in his fellow M.G.s Donald "Duck" Dunn on bass & drummer Al Jackson Jr. Steve Cropper was unavailable so Stephen Stills brought his guitar along. Heavy friends for a freshman recording artist. Judicious, expert use of strings added a sheen tosongs such as "Harlem", Grandma's Hands", "Hope She'll Be Happier" & the breakthrough "Ain't No Sunshine" (I know, I know, I know that you know that one) that showed Bill Withers to be a songwriter with the ability to capture emotion with a dextrous lucidity. The overall impression was one of likeability & sincerity. It was no surprise that this was just how Bill was.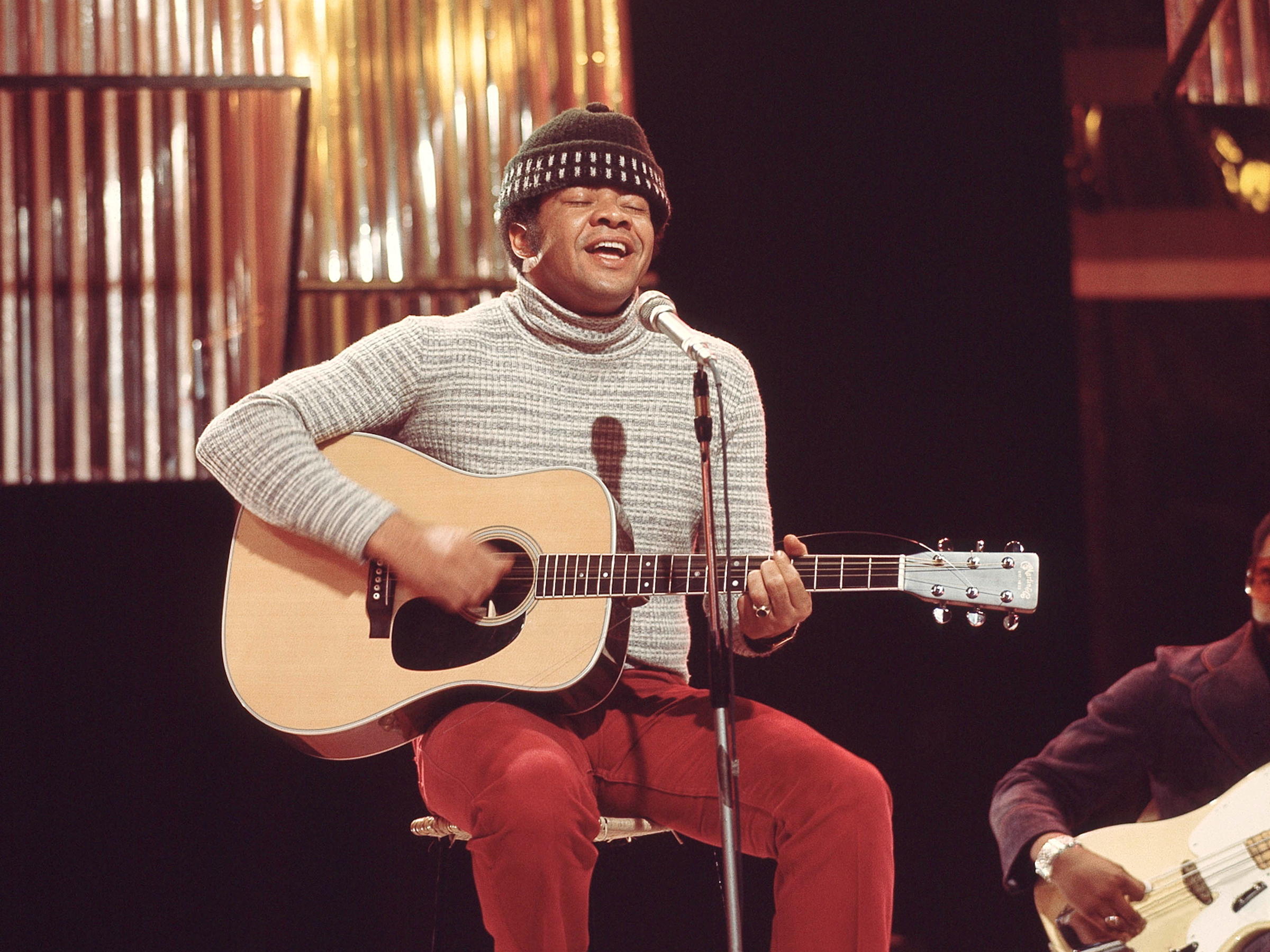 While he was trying to obtain a contract Bill made demo tapes using local Los Angeles musicians from Charles Wright & the Watts 103rd Street Rhythm Band. When the time came to take his show on the road they joined him &, as displayed on TV appearances & the 1973 "Live At The Carnegie Hall" album, their sympathetic, insouciant groove turned the Soul-Folk into an effortless Funk. In 1972 "Ain't No Sunshine" was deservedly awarded the Grammy for Best R&B Song. It was followed by "Still Bill", a very successful record produced by Bill & his band which not only included "Lean On Me" (US Pop #1) & "Use Me" (Pop #2) but also enough songs to make a damn fine list. After a move to a bigger label in 1975 he became increasingly dissatisfied with the insensitivity of the star making machinery & its effect on his creativity. "Menagerie" (1978) featured "Lovely Day" another song we all know, there was a hit collaboration with Grover Washington Jr, an album in 1985 & that was it. I hope that Bill Withers was fairly remunerated for those much-loved, much-covered songs he wrote. I do know from interview & documentary evidence that he was a content & admirable man who liked to live his life on his own terms.
Gabor Szabo, just like my Uncle Erno, was a young man when they both escaped a Red Army invasion of Hungary in 1956. Erno found his way to the UK where he absolutely lucked out by marrying Ruth, my favourite Auntie while Gabor arrived in California via Austria , a guitarist already Jazz-influenced by exposure to the Voice of America radio station in Budapest. After a couple of years studying in Boston he returned west & joined a quintet led by established bandleader Chico Hamilton with whom he made his first recordings. His solo records, 8 across 1966-67, often included versions of contemporary songs by the Beatles & others. I have never been sure about Jazz's interaction with the Pop canon, however cool, stylish & well-played or however "Jazz Raga" you make "Paint It Black". A creative & business partnership with vibraphonist Gary McFarland led to the formation of Skye Records & "Dreams" (1968) is fine collection of his many influences including Hungarian Folk music. His most commercially successful work with vocalist Lena Horne was released just as Skye had to declare bankruptcy.
So to 1971 & the "High Contrast" album with "Breezin", this week rising a healthy 12 places to #30. Now with the famed Blue Thumb label this was a collaboration with Bobby Womack who played rhythm guitar on the sessions & wrote 4 of the 7 songs. This is much more to my taste, a leisurely Jazz-Funk groove that anticipated later music by the Crusaders, Grover Washington Jr, Bob James, Eric Gale & the rest of the CTI crew. Gabor continued to record & often returned to Hungary. He had though picked up something else from American Jazz musicians & died when just 45 years old after a long-standing heroin addiction. Gabor Szabo is fondly remembered by those who were listening at the time. The great Carlos Santana cites him as an influence & merged Szabo's "Gypsy Queen" with Peter Green's "Black Magic Woman" to create a killer track.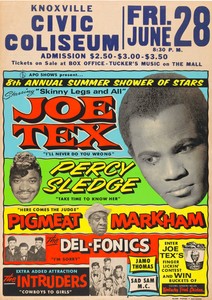 A new record from Joe Tex was always a good thing. Since "Hold What You Got", his first hit in 1965, there had been over 20 placings on the R&B Top 30. The 5 successive Top 10 singles across 1965-66, released on the Dial label, distributed by Atlantic, placed him in the front line of the Southern Soul artists who were coming to national attention. While Joe could write Soul stompers like "Show Me" & "S.Y.S.L.J.F.M. (The Letter Song") it was his three minute homilies, homespun observations told with a moral told with humour, warmth & exuberance, that became his stock-in-trade. "Skinny Legs & All" crossed over to the Pop chart in 1967, "Men Are Getting Scarce" ("Men are gettin' scarce, scarcer than hen's teeth, & that's mighty scarce!") were just two of a long line of memorable, individual hits which, along with an outstanding stage show (including impersonations), made him a major star.
Joe Tex was involved with the Soul Clan, a superstar collective with higher ideals than just making records which never received the promised backing of Atlantic. There was a move to Mercury Records but, through a partnership with manager-producer-Dial label owner Buddy Killen, he maintained his independence, recording what & where he wanted, using the best musicians from Muscle Shoals & American Sound Studios in Memphis. The Memphis Boys, Reggie Young (guitar), Tommy Cogbill (bass), keyboard players Bobby Emmons & Bobby Wood , would come on over to Nashville if Joe had sessions there. "Give The Baby What The Baby Wants", #41 this week, is a fine, funky workout for the crew that sits just right on the collection of Dial A-sides that is an essential for any Soul enthusiast. The following year "I Gotcha" became Joe"s biggest hit (#1 R&B, #2 Pop) but recording became more sporadic when Joe, a convert to Islam in 1966, announced his retirement in 1972, returning three years later after the death of Elijah Muhammad, the leader of the Nation of Islam. "Ain't Gonna Bump No More (With No Big Fat Woman)" was one last hit in 1977. Joe never really suited Disco & his music lacked the progression of some of his contemporaries. There were both health & financial problems before a fatal heart attack in 1982 which is a shame but there's always the great, uplifting music of Joe Tex – a Soul Man.