In the first hour of my first day on my first visit to the Glastonbury Festival I was assembling the necessary refreshments while watching my companion attempt to erect a tent I'd borrowed from a professional chess player of my acquaintance. She was no more an expert camper than myself but I was still surprised at the amount & volume of complaint coming in my direction. Please, I was trying to listen to the music drifting across the site, an acoustic version of a familiar Grateful Dead song, Of course it was, we had come to the festival for 3 days of Peace, Love & Music. As a Dead Head my interest was roused when another of their songs followed. I needed to get closer to the stage & investigate further. I left a joint for H, I'm sure that the weekend's accommodation would be sorted by the time I returned.
So the first live performance I saw on Worthy Farm's landmark Pyramid Stage was by Robert Hunter, the illustrious lyricist & collaborator with Jerry Garcia & the Grateful Dead, who unfortunately died this week aged 78. I'm no obituarist & it's tough to settle on three selections when there are so many significant songs. I do have to mark the loss of a great American poet, someone whose contribution to our music & certainly to my own musical experience, has been considerable.
Hunter & Garcia were a thing before the Dead, even before Mother McCree's Uptown Jug Champions. There's just one credit for him on the group's second album, "Anthem of the Sun" (1968), next time around his name was on all 8 tracks of "Aoxomoxoa" (1969). "Dark Star" is known as the apex of their improvised instrumentals but it has words & Hunter provided them. In 1970 the Dead's recordings transitioned from being a psychedelic dance band to embracing their & America's musical roots. Hunter's stories of gamblers. losers, drug-addled train drivers & other working men, new myths of the West,  complemented this blend of Folk, County & Blues.  On the perfect "American Beauty" the Grateful Dead were singing sweet songs to rock our soul & the considered, philosophical lyrics made the listening experience transcendent.
The Grateful Dead records, live & in the studio, the solo albums & side projects, were all part of our collections. Robert Hunter's "Tales of the Great Rum Runners" (1974) & "Tiger Rose" (1975) may not have got as much play as some of the others but they were good to have around, fine additions to a body of work from the extended Dead karass & an indication of songs that would have been more familiar if the band had picked them up. As the group matured so did Hunter's lyrics & there were still those good enough to become long-standing inclusions in the live set. Bassist Phil Lesh said this week, ""As much as anyone, he defined in his words what it meant to be the Grateful Dead".
Hunter continued to write with Garcia right up to the guitarist's death. His intimate connection was established & he was still able to distance himself from the excesses of Rock & Roll by living in England for some years. I guess that's how he ended up on the Glastonbury stage. He wrote with other people too, most notably with Bob Dylan on the "Together Through Life" LP (2009) where he shared credit on 9 of the 10 tracks. I could go on, checking for songs that mean more to me than they do to you, cherry picking some of his oracular lyrics, but I wont. Instead here's Elvis Costello's version of "Ship of Fools", one of the outstanding songs Hunter wrote for "From the Mars Hotel" (1974) perhaps the last album from the Grateful Dead's Golden Age.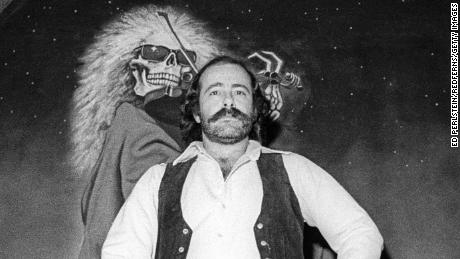 One sure thing is that Robert Hunter's words will be part of my funeral service, a reflection of the long, strange but hopeful trip it's been. Problem is which song to settle on. It's been "Box of Rain" for some time now though only a fool would not consider "Ripple". Coming up on the outside is this beauty from Jerry's first solo record. "To tell sweet lies, one last time and say good night", thanks for your stories Robert Hunter. Fare Thee Well.