Pete Townshend, off of the Who, got his flatmate/chauffeur a record deal with his managers' label. John "Speedy" Keen had written "Armenia City in the Sky", recorded by the Who on their "Sell Out" LP. A couple of other musicians were invited to the studio, Pete produced & played bass & by May 1969 there was a ready-to-release debut 45. In the first week of July "Something In The Air" by Thunderclap Newman, you know it, everybody does, displaced the Beatles' "Ballad of John & Yoko" from the top of the UK charts. It's a distinctive, accomplished record, perhaps diminished by its overuse in films about the period & commercials, but back then it sounded like the zeitgeist, of not only music but also of the way things were, had been captured on a 7″ plastic disc.
They were an incongruous trio Thunderclap Newman. Drummer/vocalist Keen had the songs. Guitarist Jimmy McCulloch, prodigiously talented, was just 15 years old (he looked younger!) when the single was released. Andy Newman was 26 (he looked older!), his boogie-woogie/honky-tonk piano insertions added a different even unique dimension to the music. Surprised by instant success & under-rehearsed, hurriedly augmented by a rhythm section, the group set out on a tour of small UK venues. They were the hottest band in the country but, as we shall see later, their mentor Pete Townshend was busy with other things.
It took another year, a long time in Pop music, for Thunderclap Newman to complete their debut LP, "Hollywood Dream". I know a lot of people who like a lot of different music & many great obscure albums from this time are not that "lost", they can be found round at my friends' houses. It's only this month (as part of y'know "research") that I have listened to the whole of this record & it seems that an interesting, varied, adept work has passed all of us by for so long. Speedy's voice may be a taste to be acquired but the songs have a touch of Ray Davies Englishness to them. Jimmy is an obvious talent, handling that acoustic/electric blend that Townshend was so good at while Andy's idiosyncratic keys ties the whole thing together. I had always thought that the follow-up 45 "Accidents", released in June 1970, cut from 10 minutes to 3, was a hit too but I thought wrong. "The Reason" was too similar to "Something …" to make an impression. There was to be just this one LP before the trio went their separate ways. Missed opportunities & poorly scheduled releases meant that Thunderclap Newman would be a one-hit wonder & what a hit it is.
Meanwhile in May there was a new single from the Idle Race, their fourth to be issued in the UK. "Days of Broken Arrows" was one to hear because the ones that came before were pretty good. Perhaps they had missed their main chance when, in February 1968, "The Skeleton & the Roundabout", a whimsical tale of the ups & downs of fairground life, had failed to sell despite support from some DJs on the national Radio 1. The demise of the 24 hour a day pirate stations did mean that lesser known groups struggled for attention & a follow-up, the Beatle-esque "The End of the Road", was similarly neglected after making an initial splash. Idle Race evolved from the Nightriders, a leading group on the Birmingham scene. When the group lost a couple of major players they enlisted a young singer/guitarist with a stash of songs influenced by the Fab Four. You may not have heard Idle Race but you know the work of Jeff Lynne.
There are two albums by this incarnation of the Idle Race. Inventive instrumentation & production, light on psychedelia, heavy on the influence of "Sergeant Pepper's Lonely Hearts Club Band" & very good they are too. Lynne's lyrics are idiosyncratic though the collections, like the singles, perhaps lacked the immediacy & the substance to attract a wider audience. Any fan of late-1960's British Pop will not be disappointed on further investigation. Jeff's next move was to join the Move, led by former Nightrider Roy Wood. Wood knew how to put the flesh on the bones of a song & make it a hit. "Brontosaurus", their first recording together, made the UK Top 10. A more confident Lynne eventually usurped Wood as the Move metamorphosed into the Electric Light Orchestra & a bunch of platinum records followed. Post-E.L.O. he moved into production & the rest, or some of it at least, is Wilbury.
So, on May the 17th 1969 The Who released a double album, a concept album, a Rock Opera no less, about a deaf, dumb & blind boy. Pete Townshend had always been interested in the Art of Pop & while he was a master of the 3 minute single was frustrated by its limitations. There had been an attempt to link songs on "A Quick One" in 1966, the jingles & commercials of "The Who Sell Out" gave a great album an entertaining continuity. "Tommy" was to realise Pete's big idea, he had given it away in interviews & then had to write the music so that the record walked it like he talked it. Recording sessions were interrupted because the Who had to play gigs, they needed the money. Failure was not a option.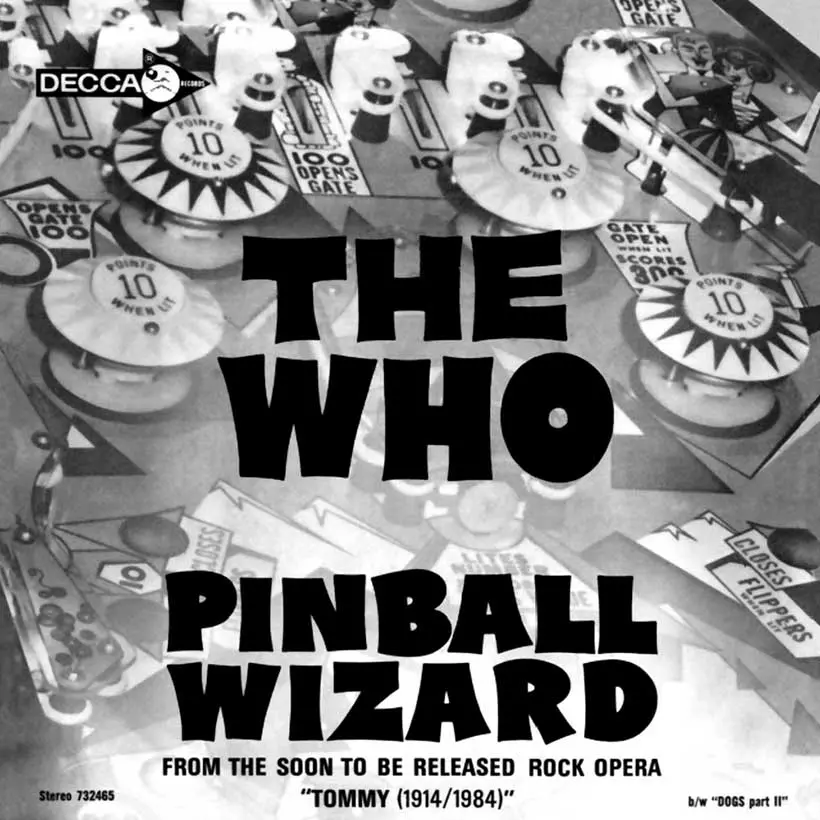 We had been given a taste of things to come with the single "Pinball Wizard" in March. Three non-album 45's had been released in the previous year & however much I liked them there had not been the group's accustomed commercial success. "Pinball Wizard" is, of course, now a classic & it sounded like one in 1969. It put the Who back on the UK & US charts, the perfect lead-in for the album. "Rock Opera" may have been the tagline of the day but thankfully there was more of the former than the latter. The grand opener "Overture" introduces musical themes to come while confirming that Townshend, Entwistle & Moon were the most imaginative of music's great power trios (proof of Daltrey's expanded vocal range came later). The libretto may have been vague in parts but Tommy's amazing journey struck a chord with a bigger world-wide audience than the Who had ever attracted before. In the summer of 1969 "Tommy" was all the rage.
Whatever your opinion on the growing aggrandisement of Rock at this time, an ambition to be more expansive possibly to the detriment of the adrenaline rush of a perfect Pop 45, there's no doubt that "Tommy" contributed, as Pete intended, to a more serious consideration of popular music. He was just 23 years old when he challenged his developing talent to find a new way to tell a story. None of that old stuff like writing a novel, making a movie or painting a picture but y'know, for the kids. Now, 50 years later, when a shot of the Who's Maximum R&B is just what you need the Pop Art of the preceding albums can do the trick. The sheer heft of "Live at Leeds" & "Who's Next" are unmatched while "Quadrophenia" can be considered a more successfully realised "concept" than Pete's first attempt. If "Tommy" is your selection there will be no reduction in quality.  It's a great album, a landmark in the development of our music. Here, have another track.