So the Billboard R&B charts from 1969 Episode IV …a new hope indeed. I've not looked ahead but this series is sure to run & run, the only problem with finding 3 (the magic number) tunes to feature is which ones to leave out. April 1969 looks like being the best month yet & I'm pretty sure that it's going to have to be 4 selections this time around. I'm teasing…it's 4. So, let's start at the very beginning with the #1 R&B record of the day.
"It's Your Thing", still a wow after 50 years, still a fresh & funky anthem. When , in 1966, the trio,  Rudolph, O'Kelly & Ronald, signed with Tamla Motown they had already been making records for 10 years. Things started well & their first LP, largely overseen by Motown's A Team, Holland-Dozier-Holland, included the immaculate "This Old Heart of Mine". The group knew how the music business worked & felt that subsequent songs & promotion provided by the label were not from the top shelf. Here in the UK we knew the original recordings of "Shout", a hit for Lulu & of course "Twist & Shout". We loved their Motown stuff & judicious re-releases brought the Isleys 4 Top 20 hits in 1968-9. How in the heck the label & the USA had missed out on the thunderous "Behind A Painted Smile" remains a mystery.
After a successful UK tour they decided that they should do what they wanna do, left Motown & resurrected, unused since 1964, T-Neck, their own label. With their own songs, their own production/arrangements & their kid brother, 16 year old Ernie on bass the Brothers showed that they had not only been listening to Sly & the Family Stone & James Brown but they absolutely got the new Funk. The family that played together took their New Thing, a surefire smash, a Grammy Award winner, ran with it & refined a style based around Ronald's distinctive vocals & Ernie's prominent lead guitar. The group's time came in 1973 when the "3+3" album began an unbroken run of gold & platinum selling records which lasted into the next decade. There are landmark songs across their long career & "It's Your Thing" is a pivot between Isley Soul & Isley Funk.
Between numbers 30-40 there is a cluster of newcomers to the chart. The Impressions, Percy Sledge, Ann Peebles & the Meters are favourites of mine, all of them over there on those shelves, but it's the highest new entry of the week, in at #30, that makes the cut. Since "Hold What You've Got", his breakthrough hit in 1964, Joe Tex made a lot of records that scored on the R&B charts without crossing over to the mainstream. "I Want To (Do Everything For You)" & "A Sweet Woman Like You" both made #1. None of his 14 Top 20 discs between 1964-68 troubled the UK chart compilers, we even missed "Skinny Legs & All" but we knew who he was. Every local British Soul band included "Show Me" in their set & many of them attempted "S.Y.S.L.J.F.M.".
There's an attractive genial good humour in the records of Joe Tex. He could rip up the dance floor then switch to a fine line of semi-spoken homilies, all delivered with a chuckle in his warm voice. I'd compare him to a Southern preacher but his advice could often concern rather earthy matters. "Buying A Book" has been a particular favourite since its inclusion on a home-made mixtape (from the radio, remember that?) which, in the early 1980's, reminded me just how much I loved classic Soul music. This story of the perils of May to September romances remains so because it's such a well put together record, the brass, the backing vocals & Joe Tex telling it like he sees it. Great stuff.
On the chart that keeps on giving there are names on the labels on the songs between 41 & 50 that are legendary. At #50 Sly & the Family Stone had "Stand" backed with "I Want to Take You Higher", a show-stopper at the Woodstock Festival later in 1969. #43 was none other than Howlin' flipping Wolf! "Evil" was from an album that matched the great Bluesman with younger musicians, a formula that his label Chess had previously used for Muddy Waters. Mr Wolf thought the record was "dog shit" ("Why don't you take them wah-wahs and all that other shit and go throw it off in the lake – on your way to the barber shop?") but it's so great to see Chester Burnett's name on the list among Archie Bell & the Drells & Bobby Womack. At #46 was an extraordinary song by Nina Simone & if you think I'm able to knock out a couple of crisp paragraphs capturing her magnificence then you must be crazy!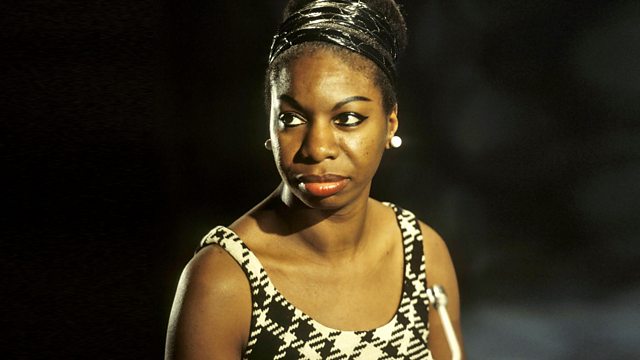 Back in the mid-1960's, when it came to female vocalists, I was all about Dusty & Aretha. I'd hear Ella or Billie & knew that there had been something special going on before then. Nina Simone's Jazz & Broadway standards seemed to be for an audience more mature than myself but as she included more contemporary material on her records it became apparent that the "High Priestess of Soul" had a talent to inhabit & express emotion in song like few others. I bought her live "Black Gold" LP (1970) with her interpretation of "Ain't Got No – I Got Life", the best thing to come out of the shoddy, sensationalist musical "Hair". There's a 10 minute version of the celebratory "Young, Gifted & Black" & a chilling, perfect exegesis of Sandy Denny's "Who Knows Where The Time Goes". Nina Simone's music, its forthright integrity on record & in live performance, continues to thrill. Many people make great music, not so many make great Art.
"Revolution" is Nina Simone's take on the Beatles' (John Lennon's) song of the same name. It keeps the same structure, the "It's gonna be alright" & that's about it. It's not an "answer" record more an indication that pacifist idealism, a white millionaire imagining no possessions & that all you need is love, is less of an option if you are young, gifted & black living in a racist society where "the only way that we can stand in fact is when you get your foot off our back". Written by Nina & her bandleader Weldon Irvine the swinging studio version, with a Sunday morning choir & a discordant ending, is a powerful statement. This strong live version, an excerpt from her performance at 1969's Harlem Cultural Festival, a series of concerts celebrating the best of African-American music, features her terrific backing unit. Conscious music, an irresistible groove & Nina Simone, these are a few of my favourite things.
I am not the biggest fan of the Bee Gees. At the height of their Disco dominance a British comedy group released the parody "Meaningless Songs In Very High Voices" & that still raises a smile. It is undeniable that the Gibb brothers have written some very good songs, Al Green's "How Can You Mend A Broken Heart" is a perfect thing & shows just how soulful they could be. At #44 on the chart was James Carr with a song apparently written for Otis Redding. I've not heard all of the many cover versions of "To Love Somebody" but have long thought that it is difficult to mess up such a well-crafted song. Released in 1967 it was soon picked up by American artists. The Sweet Inspirations, the best backing vocalists of the time were first, it was the title track of a Nina Simone LP & the great James Carr was the one who did bring it to Memphis. I feel that I've gone on a little too long today but I couldn't leave April 1969 behind without including a favourite Soul singer of mine & a fine record. If you are interested I wrote about the complicated life of James Carr here. OK I can't wait to see what May brings.