We are honoured to welcome a new contributor to the blog. Frannie Moran is a man of fine good humour who is most passionate about the things that matter to him, his family, his friends, music & an esoteric Irish sport which may or may not involve the use of sticks, I'm not sure. I am sure though that this will not be the last we'll hear from him because when this good old boy gets going…
I'm nearly 60 years of age, seen a lot, listened to a lot, felt a lot, unfelt a lot too. Had my fair share of ups and downs but the one thing that has kept me going through this adventure known to most of us as Life is the music. The music man, to paraphrase The Grateful Dead, even in times of great depression " The Music Never Stopped " So, I have been kindly asked by loosehandlebars to pen a few words regarding my musical highlights of 2019 and this where the headline becomes relevant. I for the most part play safe, I am slow to succumb to the charms (or otherwise) of new sounds. I gathered up a select group of favourite artists between the ages of 12 and 19 and like a faithful puppy dog I have remained forever loyal to these guys.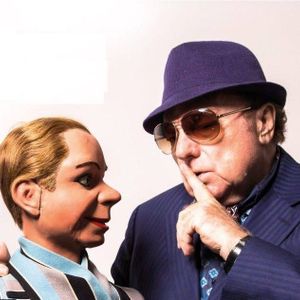 This brings me along nicely to the most recent release by Van Morrison entitled "3 Chords And The Truth". Now I worship at the altar of Van and have done for a long, long time. His recorded output over the last 15 years or so has been decidedly patchy notwithstanding the fact that there are certain gems to be found on every record, "Behind The Ritual" from "Keep It Simple" a fine example. but at last we have a Van record whilst not exactly replicating the brilliance of "Moondance", "Veedon Fleece" or "Into The Music", it keeps the listener engrossed throughout it's 70 odd minutes. Maybe it's the presence of Jay Berliner, the guitarist from all those years ago on "Astral Weeks", on a number of tracks that evokes the wave of nostalgia that I felt on hearing the album. This is the first " modern " Van the Man record that I have repeatedly played since acquiring it and on "Dark Night Of The Soul", well, what can I say, all the old magic is there, goose pimples down the arms, always a good sign.
We lost J.J. Cale a few years back and a little light went out in my life, cue 1977 and a drunken excursion to a wee village called Ballycastle about 18 miles from my home town of Ballina, Co.Mayo, into O'Connors pub and I knew Laurence would have something if not new at least something worth hearing and true to form he put  "Troubadour" by the aforementioned J.J. on the turntable, now Cale had been recording from maybe 1970 or thereabouts but I had never heard of him, instantly "Hey Baby" had me transfixed, I became a lifelong fan so imagine my delight when I heard that there was to be an album of unreleased tracks to be with us devotees fairly shortly and sure enough along came "Stay Around". J.J. never messed with the formula and this one proved an instant delight. Laid back, country/bluesy grooves, like the man never left us and "Winter Snow" in particular epitomises the man's understated brilliance
To my chagrin it was a very dull year for me on the live front, circumstances, weddings, bar mitzvahs, christenings, ya know the drill, family commitments, things that cost freakin' money. Fortunately, since 2002, in my adopted home town of Ballyshannon, Co. Donegal (pop 2,299), every June Bank Holiday, a festival celebrates the life & music of our favourite son. The death of Rory Gallagher in August 1995 was a bleak day for lovers of great Blues-based, guitar-driven Rock & Roll. His "Live In Europe" (1972) was, for the young teenager, a psychic blast, primal in a way Glam Rock could never be. From humble beginnings the efforts of  a group of young, enterprising lads now attracts crowds of up to 12,000, Blues enthusiasts from across the world, to the oldest town in Ireland to hear Rory tributes & bands of reputation playing their own music. It has become a monumental success and has a major artistic and socio-economic influence on the town.
From 2002 to my retirement in 2011, I policed this event along with my Garda colleagues. This my friends was hardly a chore, never had to make an arrest, the people who attend always gladden my heart, it's a sorta Hippie experience, I would've done it for nothing. I have met and made great friends with people from all over the world who like myself were there for the music and the spirit of the great man, Rory Gallagher. That & copious amounts of fine Guinness! I have been able to see Mick Taylor, Wilko Johnson, Eric Bell & many more in the Big Top. A three day ticket will set you back 75 Euros, that my friends is  value for money. This year the headliners were Wishbone Ash, a band I have loved since I heard the opening bars of "Blind Eye". These days it's sorta Andy Powell and associates, didn't really matter, they are all supreme musicians. For an hour and three quarters they tore up the place. Like most phone clips this does not really do them justice but believe me, they rocked.
The pubs are packed, live bands of the highest calibre play every night & the gigs are free, yes free, sure where would ya get it !! Next June two legends, Walter Trout & Horslips are returning & we look forward to the first appearance of Eric Gales. As always there'll be fun, frolics & some mighty impressive rock n roll so do yourselves a wee favour, get over to Ballyshannon next June Bank Holiday weekend. Here's a taster from this year.
Well folks, that's about it, don't get me wrong, of course I listen to new music, all forms really and I'm really digging 70s roots reggae at the moment but as the saying goes " Ya cannot teach an old dog new tricks " or can ya? Ye all keep on rockin', thanks for reading.
OK! It's everybody over to Mr Moran's in 2020. Bring your tent 'cos I've got first dibs on his spare bedroom. That's all you need as I've heard that Frannie has a very well stocked drinks cabinet.