The higher reaches of the Billboard R&B chart for May 23rd 1969 were packed with legendary names. The Isley Brothers, James Brown, Marvin Gaye & Aretha Franklin were all being denied the top spot by Joe Simon, a singer who is less widely remembered but back then was enjoying his biggest hit. "The Chokin' Kind", another song from master tunesmith Harlan Howard, had been a 1967 Country hit for Waylon Jennings. It was picked up by Nashville-based Joe, given a smooth Soul treatment & a crossover smash was inevitable.
Meanwhile at #8 a great band had another great tune.
This clip has been here before & when we finally get this time machine working then set the controls for the Oakland Coliseum on New Year's Eve 1970 when Booker T & the M.G.'s opened for Credence Clearwater Revival. The older guys had jammed with CCR & wanted to show just what they could do onstage. The exceptionally talented quartet didn't get around much anymore, kept busy in the Stax Memphis studios where they played on most of the music made in that label's ascendant years, writing & producing many of the hits. While Credence watch admiringly from the wings that driving beat from drummer Al Jackson & Duck Dunn's loping bass lay a solid foundation for Steve Cropper's stinging guitar lines & Booker T's swirling Hammond organ. The joy & compatibility of the ensemble is obvious. the trademark sound one of the wonders of the world of Soul Music.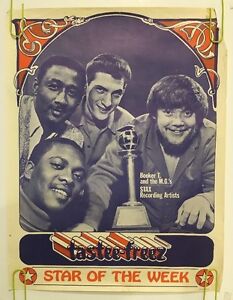 "Time Is Tight" was written for the soundtrack of "Up Tight", a film about Black militancy which sits between "In the Heat of the Night" & the upcoming Blaxploitation trend. The group's albums were often loaded with covers of the hits of the day. This soundtrack, mostly original material written by Booker T Jones, Jazz & Blues influences in the foreground, is one of their most interesting. The single version of "Time Is Tight", slower, succinct, building to an exciting crescendo, a highlight of a very impressive body of work, is just a click away. ( Here in the UK we hold particular affection for "Soul Limbo", for many years the intro to TV coverage of cricket).
Earlier in 1960's Phil Spector, the Tycoon of Teen, had kept US Pop interesting in the doldrums between Elvis joining the Army & the Fab Four appearing on the Ed Sullivan Show. Holed up in the echo chambers of Los Angeles' Gold Star Studios with some ace session players & a gang of drummers he & his crew meticulously pieced together a "Wall of Sound" on a string of hits. In 1966 he spent heaps of time & money on getting "River Deep-Mountain High" by Ike & Tina Turner just how he wanted it. Here in the UK where we got good taste, the song was recognised as a Spector master work, the US didn't get it & the single stalled at #88 in the Pop charts. We now know that an easily bruised ego was the least of his personality problems but it would be 3 years before Spector re-entered a studio for a Ronettes 45 & then this one at #28 & rising.
Checkmates Ltd, 5 guys from Indiana, had released a few unsuccessful singles & a couple of live albums before attracting the attention of the star producer. Spector's deal with A&M would get them out there & "Black Pearl" was the first track from an LP that gave frontman Sonny Charles lead billing. I loved the depth, drama & scope of Spector's teen symphonies & this, like those other ones, sounded great on the radio. Half of the album "Love Is All We Have To Give" is a fine addition to & send-off for the Wall of Sound. There's a heart-wrenching title track, a dynamic arrangement of "Proud Mary" that Ike Turner was happy to take for himself & a couple of updates from Phil's New York apprenticeship with Leiber & Stoller. Side 2 is a 20 minute long orchestral selection from the musical "Hair" & no-one wants to hear that.
The influence of last month's chart-topper was already becoming evident & there are two cover versions of the Isley Brothers' "It's Your Thing" among the new entries this week. At #45 was the Hammond organ-heavy Senor Soul. Four of their members would become War & their time, their big time, would come soon enough. The highest newcomer, at #38, is Marva Whitney, Soul Sister #1 with "It's My Thing (You Can't Tell Me Who To Sock It To)", a kind of cover version, a kind of answer record. The Isleys had taken much inspiration from James Brown's sound & it was only right that he & his band should have their say about it. Live, beautiful in living colour on "The Mike Douglas Show"…marvellous!
I
n 1968 Marva replaced Vicki Anderson as featured female vocalist in the James Brown Revue. Her boss was the money-maker for King Records so she got to make discs with her own name on the label. The records made with Vicki, Marva, Lyn Collins & his various backing musicians are sure enough Funky, brilliant satellites orbiting the star's own. This incredible clip is tagged as Marva & the J.B.'s. There's James conducting the hazy figures of the band who were still the Famous Flames on the records & I reckon, the James Brown Orchestra on stage. I'm sure that Maceo Parker is on saxophone, Jimmy Nolen, guitar but I would be wishing & hoping about the other players. No matter, how about that band! The following year Marva & everyone else quit over unresolved grievances with The Godfather of Funk & their replacements, they were the J.B.'s. That group could play a bit too.