It's the last week in May already, 2020 is flying by isn't it (yeah right!). On the Cash Box Top 50 in R&B locations for May 30th 1970 "Love On A Two Way Street" by the Moments retained the top spot for the seventh consecutive week. At #12, with a bullet as I believe our transatlantic friends say, up a massive 30 places, the Jackson 5 were heading for their third #1 of the year. This week's selections are by three acts whose class & longevity qualifies them for "legendary" status. All three of the records are not necessarily those that would be in the first 5 or even 10 that first come to mind by any of them but this is James Brown, the Isley Brothers & Jackie Wilson so you know it's going to be good.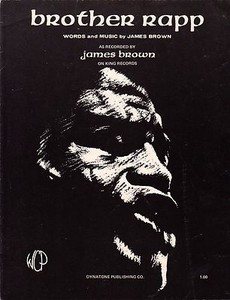 James "Mr Dynamite", "The Hardest Working Man In Show Business", "Soul Brother #1", "Minister of the New New Super Heavy Funk" Brown was already a sure thing for the Mount Rushmore of Soul by 1970. Since the release of "Please, Please, Please" in 1956 he had maintained his position at the forefront of Black music as a live act & on record. The two came together in 1962 when the "Live at the Apollo" album, essential to any record collection, sold a million copies. In the mid-1960s when I became aware of "The Godfather of Funk" through records like "Out of Sight", "Papa's Got a Brand New Bag" & "Cold Sweat", it was apparent that James was forging an individual path that many fans & musicians were happy to follow. The word "Funk" first appeared on his tracks in 1967. Three years later & Funk was that new bag. Now, whether it was established stars or the new groups, everything they did gonna be funky & James Brown could be heard in all of them.
"Brother Rapp (Parts 1 & 2)" was at #2 on this week's chart, it had been released & withdrawn earlier in the year then speeded up before a re-release. Of course it was a big R&B hit, everything James recorded at this time was. Even if you don't know the song you already know it has the most insistent, irresistible groove & that, on Part 2, saxophonist Maceo Parker probably blows up a storm (he does). James used "Brother Rapp" later for his soundtrack to the Jim Brown blaxploitation movie "Slaughter's Big Rip-Off" (1973). It was to be one of their last recordings together for some time as Maceo & other members of the band left in March 1970. James recruited a new crew including the Collins brothers, Bootsy & Catfish. At their first recording session they made "Get Up (I Feel Like Being A) Sex Machine. This was followed, before the year was out, by "Super Bad" & Get Up, Get Into It, Get Involved". These tracks are part of the DNA of Soul music. In 1970 & for years to follow James Brown was unstoppable.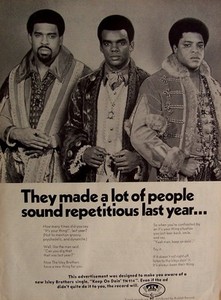 The Isley Brothers were in a good place in 1970. In the previous year, dissatisfied with their treatment at Tamla Motown, they had revived their own T-Neck label & the first release "It's Your Thing" was a bigger hit than their 1962 pre-Beatles "Twist & Shout" & was influential on the move from Soul to Funk that many were making. Two LPs in six months used their backlog of songs & with a mix of confidence & experience the brothers Ronald, Rudolph & O'Kelly had at least a couple of ideas that they thought just might work. Two younger Isleys, Ernie & Marvin along with brother-in-law Chris Jasper were showing great musical promise & they were encouraged to participate in the studio. Having these young guys around brought new energy & put the brothers in contact with more contemporary music. The Isleys were in no rush to make these changes, & their patience served them well. They had a thing going on anyway.
The next album "Get Into Something" was released in March 1970. The songs developed the Funk of "It's Your Thing", the ballads intimate the "Quiet Storm" gloss at which they became so proficient. Of the 10 tracks six were R&B Top 30 hits. "If He Can You Can", stalled at #23 this week, is a solid slab of Funk, heavy on the guitar effects & possibly my favourite on the record. I've seen Ernie Isley, just turned 18 on the day before the LP's release, praised for this work but I've a feeling that Charles "Skip" Pitts & his wah-wah pedal are responsible. 1971's "Givin' It Back" is a covers album, seven well-chosen tracks by the likes of Dylan, Neil Young & James Taylor. It reflected the growing contribution of the junior Isleys & Stephen Stills' "Love The One You're With" crossed over to the Pop charts. In 1973 the group fully embraced the changes & doubled in size. After 15 years of making records "3+3" & the lead single "That Lady" were a whole new ballgame for the Isley Brothers. Ronald, Rudolph & O'Kelly needed to clear some wall space for the Gold & Platinum records that came their way in the next decade.
In 1956 Elvis Presley, taking a Las Vegas break from all  that Rock & Roll brouhaha, went to see Billy Ward & His Dominoes on four successive nights. Their singer, the unbilled Jackie Wilson, performed a slower, more dramatic "Don't Be Cruel" & on his next appearance on "The Ed Sullivan Show" you could hear that Elvis had been taking notes. The following year Jackie made his solo debut with the stunning, innovative "Reet Petite" (oh oh oh oh!). It was co-written by fellow Detroiter Berry Gordy who contributed to the following singles including the massive hit "Lonely Teardrops". Jackie Wilson had earned the "Mr Excitement" tag & Gordy split with his royalties to form Tamla Motown. The hits kept on coming, 5 R&B #1s & often crossing to the Pop charts. Jackie Wilson was as popular & as influential as Sam Cooke during the developing urbanity of African-American music, retaining its emotion as R&B became Soul. His "…at the Copa" live album was two years before Sam's, a Christmas record made the US Top 10. In the mid-60's the great Chicago producer Carl Davis updated Jackie's sound, hits like "Whispers", "(You're Love Keeps Lifting Me) Higher & Higher" & "I Get the Sweetest Feeling" brought renewed success.
The Chicago crew were still working with Jackie on the "This Love Is Real" album (1970) & his latest single, "Let This Be A Letter (To My Baby)" is at #38 in this week's chart. Arranger Willie Henderson was having great success with Tyrone Davis, Eugene Record was writing songs as well as singing with the Chi-Lites & Carl Davis invited Motown's Funk Brothers along to pay their respects & add their expertise. Jackie's voice is still gymnastic, versatile & consummate. It's hardly a cutting edge record, Jackie was not about to sing the inner city blues, but it's a fine showcase for one of the great vocalists with enough innovation to keep him current & it still sounds good. Jackie Wilson was old school & experienced many of the problems associated with the music business. In 1961 he earned over $250,000 but bad investments, withholding of royalties & non-payment of tax left him broke. It didn't improve when his manager was running his record label. When the indictments did arrive he was unable to state his case as in 1975, the constant workload & personal problems brought on an onstage heart attack & subsequent coma which meant that he never performed again. Incredibly & tragically Jackie Wilson was initially buried in an unmarked grave. Fans rallied round to purchase a mausoleum but that's no way to say goodbye to such an influential artist.