A new decade & a new sensation was at the top spot of the Cash Box R&B chart. With both their roster & audience maturing Tamla Motown invested talent & expertise to launch their youthful latest signings, that family group from Gary, Indiana. "I Want You Back" was the Jackson 5's debut on the label, it sounded refreshing & lively then (the Sound of Even Younger America) & it still does now. The boys would have 3 more #1 R&B songs before the end of 1970, they will definitely feature as one of my main selections in a future post.
Back then , in the olden days, it could take up to two months after release for a record to sell enough copies to reach its optimum chart position. In a rare event the Jacksons , Michael, Jermaine, Tito & the other two, were replaced at the top by a song rising in one giant step from #35. It takes a special record to entice so many people across the country to hand over their $1 & this was one of them.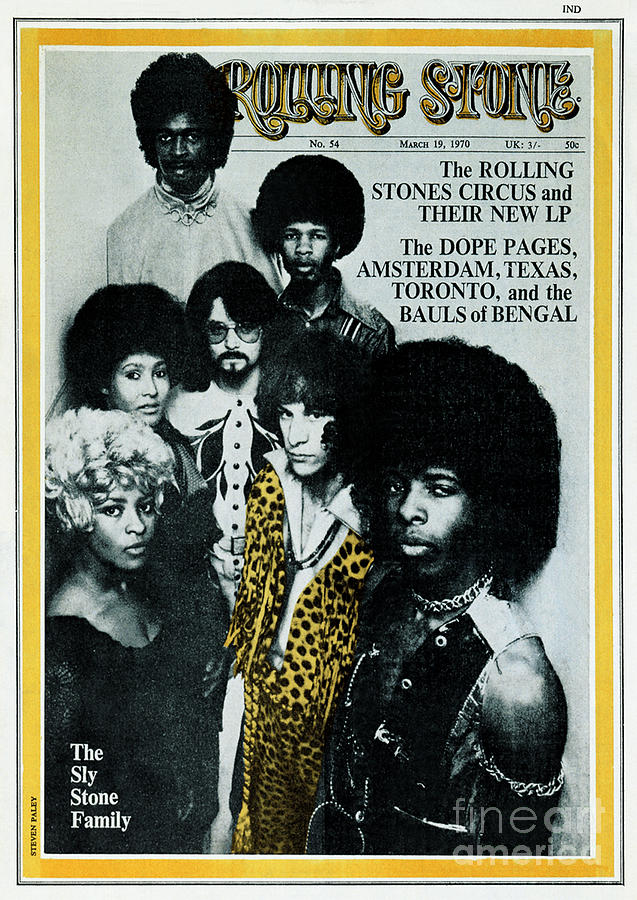 Sly & the Family Stone, I'll try not to keep you too long. Has there ever been another group that broke barriers, setting new standards while making the most popular records of the day & all the time looking damn fine? On the 1969 LP "Stand" things came together for this racially & gender integrated group. The exuberant interplay & positivity of their music, enhanced by psychedelic guitars, deep Funk grooves & an increase in social awareness was met with great public approval. "Everyday People" became the group's first #1 single & a charged, dynamic 3 a.m. appearance at Woodstock, "I Want to Take You Higher" featuring in the festival film, established them as the hottest band around & put them on the cover of the Rolling Stone.
"Thank You (Falettinme Be Mice Elf Agin)". After Larry Graham's slapped, popping bass guitar the instrument was never the same again but his was no virtuoso display, he & the whole band, Brother Freddie, Sister Rose, the brass section, Cynthia & Jerry & drummer Greg all make their contributions to a sum that is greater than its' parts. Presiding over this insidious, insistent fabulousness Sly Stone, writer/producer/bandleader, confident that he has the perfect ingredients for his Funk recipe. "Thank You…" was immediately influential & continued to be so, in Minneapolis 11 year old Prince Rogers Nelson was not only listening closely but checking that spelling as well. Such success brought tensions within the band while Sly became increasingly unreliable & paranoid. There was a 20 month delay before any new music was released before "Family Affair" & the narcotic, more uncomfortable "There's A Riot Goin On" LP topped all the charts again. Right now I just want to watch this clip of an outstanding band in their best threads promoting one of the greatest singles ever made.
Stalled at #8 on the chart of January 17th was a singer enjoying the biggest success of a varied & interesting career.  Through his friendship with a fellow boxer Major Lance Otis Leavill was introduced into the talented group assembled at Okeh Records in Chicago by producer/A&R man Carl Davis. He made himself useful to the boss, handling the studio session logistics, introducing new acts & making the occasional record. In 1964 he accompanied Lance on a Dick Clark Caravan of Stars tour & found himself on the jam-packed bill performing his own Top 40 hit "Let Me Love Her", written, it says here, by Billy Butler though it sounds to me as if Curtis Mayfield did a little more than provide backing vocals with his group the Impressions.
In 1967 Davis started his own label Dakar & Otis was appointed Vice-President & given shares. Within a year they had found a fresh sound & singer Tyrone Davis, no relation, was the new star of Chicago Soul. Leavill took a song written by his boss & Eugene Record whose own group, the Chi-Lites were soon to have their own time in the spotlight, employed the in-house expertise & found himself another hit. "I Love You" features Otis' sweet falsetto, Chicago's trademark punchy mix of brass & strings, demanding that you get yourself up & out on the dance floor, it's a winner. His follow-up, the swinging "Love Uprising" made the chart's lower reaches, there were other 45's but no LP. Anyway there were always things to do for Otis around the office & when the music was less involving he coached high school football & worked as a Chicago cop. Good man Otis Leavill.
Just one more selection, so many good, interesting records on the chart. The highest new entry of the week was "Psychedelic Shack" by the Tempations, I'm just guessing here but it possibly rose higher than its initial showing at #29. Here are some Blues records, Little Milton, B.B. King. Over there are the Jazz ones, Brother Jack McDuff, the combustible "Compared to What" by Les McCann & Eddie Harris. It's the quality of this clip, an appearance on the Hy Lit show from Philadelphia (Mr Lit was a DJ there) & a rare opportunity to see a significant Soul singer that swings it for me.
In 1962 the R&B hits recorded by Mary Wells began to crossover to the higher reaches of the Pop charts. Working with producer/writer Smokey Robinson she was the premier female singer at Tamla Motown. In 1964 an LP of duets with Marvin Gaye was followed by "My Guy" (you know it) which sold a bazillion all over the world. Endorsed by the Beatles who asked Mary to tour the UK with them, "My Guy" was the first time my young self understood how distinct & irresistible the Motown sound was. The smooth, sensual voiced Mary Wells celebrated her 21st birthday as an international superstar & then it all went off the rails.
On reaching her seniority Mary met with the label to renegotiate a contract that she had signed when she was just 17 (you know what I mean). Over-estimating her position, ill-advised by her husband & others & tempted by a great deal of money from 20th Century Fox she walked away from Tamla Motown. A follow up to "My Guy", a nailed-on hit, the superb "When I'm Gone" was cancelled & the song given to Brenda Holloway. It's been said that her former employer influenced R&B radio stations to limit airplay of Mary's subsequent records but a 5 month break in releases affected her popularity & while her fine work with Fox & Atlantic were R&B hits she never was able to crossover into the Pop charts again. What if Mary Wells had stayed with Motown? Could she have been as successful as Aretha Franklin & Dionne Warwick ? There's a good chance. Would the rise of the Supremes as Motown's top female act have been delayed? No, probably not.
By 1970, still only 26 years old, Mary was signed to the Jubilee label, writing & recording with her second husband Cecil Womack. "Dig the Way I Feel", at #26, is not as immediate as the earlier hits but the individual slow groove that later Cecil worked so successfully is OK by me & it's great to be able to see Mary sounding & looking so fine. She was close to the Womack brothers, Bobby produced some tracks with her & Curtis became her next husband. The public's goodwill towards Mary Wells never faded, she was always able to work & later, when diagnosed with throat cancer & struggling with medical bills, many of her contemporaries came around to help.