Three live performances from the Y-tube, from 2019, that have demanded & rewarded repeated viewing. I don't get to many gigs nowadays, the good ones are some distance from my small town & I don't, can't, won't drive (carbon footprint & as Miller in  "Repo Man" says "the more you drive, the less intelligent you are".) so Jah bless the Interwebs for bringing this energy into my living room.
We are a friendly bunch here at loosehandlebars so it was an easy & amicable decision to leave it to bass player of the Gatefolds, original contributor Joe Brown to big up "Dogrel" in his forthcoming pick of the year's pops. The debut LP from Fontaines DC, a young, talented gang of Dubliners is a cracker, an expression of what it is to be young, talented & Irish in 2019. Isn't "The Boys in the Better Land" one of everyone's songs of the year? We're not stepping on Joe's turf here because there are other tracks on the album that are candidates for that title.
Here they are introduced by someone called Jimmy Fallon who I once saw in a film about Baseball & now, for reasons that are not apparent to me, has a talk show on prime time US TV. Fontaines DC come on strong, confident that they have something worth listening to & the ability to make people pay attention. A 21st century garage band (like the Modern Lovers…anyone?), fronted by singer Grian Chatten wearing Ian Curtis' grey shirt & stare, declaiming like Mark E Smith & finding a style of his own. Bassist Conor Deegan III makes it acceptable to go out of the house in your favourite band tee shirt & a pair of Mayo GAA tracksuit bottoms which I know will please a friend of mine. These guys are "gonna be Big".
It's been a good year for Mavis Staples. February saw the release of "Live In London", a distillation of two shows at Islington's Union Chapel, with no reliance on the golden hits she enjoyed with her family's group the Staple Singers. There was plenty of material to select from the four albums with Jeff Tweedy & one with M. Ward she has made in her much-appreciated resurgence since 2010. This was followed in May with "We Get By", 11 new songs of Faith, Hope & clarity written for her by producer Ben Harper. It's a statement of the obvious that both records are as classy, inspirational & delightful as Mavis herself. The power & integrity of her message & her voice are undimmed by the passing of the years.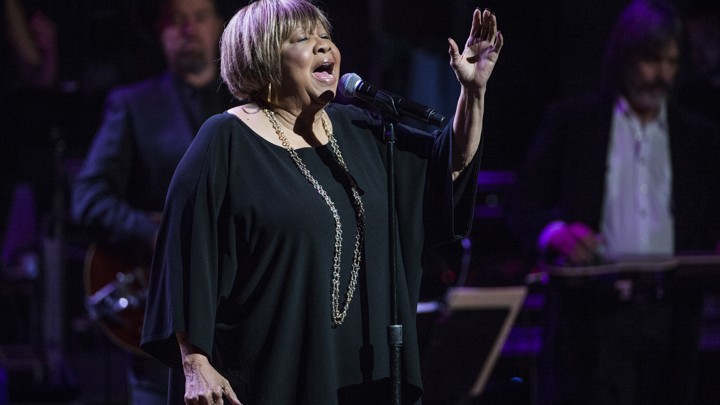 It was in May that Mavis reached the milestone of her 80th birthday &  celebratory concerts were held in New York, the Apollo, Nashville, the Ryman & Los Angeles. She was joined on stage by David Byrne, Norah Jones, John Prine, Nick Lowe, a long list of others I know & those I probably should know.  Some of these unique moments are captured on Y-tube clips where the visuals are shaky & the fidelity is low. So, moving forward to the end of June in a Somerset field, let's have Mavis & her small, tight, long-serving band finishing her Glastonbury Festival set with the Staples' hit "Take A Hand, Make A Friend". With their luggage lost somewhere over the Atlantic Ocean everyone is dressed casually in the festival tee shirt & stretching out (a shout to guitarist Rick Holmstrom) for the encore. This woman is beautiful & a legend. Just press play, it's all there.
Jason Isbell joined Mavis at all three of her birthday shows. There's been no new music from him this year but he kept busy as part of backing band for his wife Amanda Shires' new venture The Highwomen, a Country supergroup who have done very well for themselves with their debut LP. In October he & the 400 Unit returned to the Ryman Auditorium in Nashville for a third annual residency, six sold out shows over nine nights. To change it up audiences were asked to select the songs they would like to hear. I don't know if they had any say in the tunes the band chose to cover, whoever it was they did their job well.
A 10 minute version of "In Memory of Elizabeth Reed",  with guest Hammond organ player, invokes the spirit & memory of Duane, Gregg, Dickey & all the original Allman Brothers. Dire Straits' "Brothers In Arms" is a more surprising choice. Sadler Vaden may be the 400 Unit's guitar hero, this is Jason's solo turn. It's an exhilarating, turbo-charged run through Tom Petty's "Running Down the Dream" that makes the cut. Isbell has deservedly received accolades for his finely wrought roots-oriented songs but when this band makes some noise it's the best American Rock currently around. The 400 Unit are the Heartbreakers, the E Street Band & Jason Isbell, he's the Boss.