The guys behind Atlantic Records, the Ertegun brothers Ahmet & Nesuhi with Jerry Wexler, were often ahead of the other players in the Pop music game. Their subsidiary label Cotillion was initially an outlet for Blues & deep Southern Soul but the trio were record men who took the trouble to make discs that they could sell. They signed a veteran artist whose commercial success had faded, matched him to more contemporary material &, in March 1970, found themselves at the top of the Cash Box Top 50 R&B chart. Brook Benton was a consummate pro who had been making records for over 20 years & enjoyed a string of hits in the late 1950's & early 1960's. Brook's sophisticated delivery & a lush orchestral backing by the best New York session players made Tony Joe White's "Rainy Night in Georgia" his biggest hit for 7 years. It's now a tried & tested way for established names to revive their fortunes. Those Atlantic people knew what they were doing.
Last month my Soul selections were all from the Top 10 of the February chart. Let's look a little lower down & see if there was anything of interest & quality to be found. Of course there was.
Sly Stone had finally been dislodged after 6 weeks at #1 & "Thank You" was slipping down the chart but at #13, rapidly rising from #21, was the first release from his new Stone Flower label & it was still a family affair. Vaetta (Vet) Stewart, Mary McCreary & Elva Mouton had recorded a Gospel LP as the Heavenly Tones before, straight out of high school, providing backing vocals for Vet's big brother as Little Sister. "You're the One (Parts I & II)", it was Part II that got the radio play, sounds like a Sly & the Family Stone record. It's Cynthia & Jerry providing the horns & I like to think that it's Larry Graham playing that sensational bass line but it's just as likely that Sly himself is responsible for all the other instrumentation.
To my ears the insidious rhythms & simple lyrical chant of "You're the One" predates Disco by about four years. Music from the future, that's what Sly Stone was about in 1970. Lil Sis's next record "Somebody's Watching You", an alternate take on the Family Stone track from "Stand", was the first to use programmed drums. As Sly followed his own path & got a little lost Stone Flower only released a few singles, enough for a very interesting compilation LP & that's a pity. Solo albums by brother Freddie & Sister Rose would have been interesting to hear because the Stone family were a very talented bunch & their music was setting the scene in 1970.
Back in 1964 when Martha & the Vandellas were calling out around the world they were contending for the title as the biggest girl group in not only Detroit but the world. There's no doubt that the Supremes, benefitting from Tamla Motown's promotional push, soon had a firm grip on that belt but Holland-Dozier-Holland, the label's ace writing/production team continued to provide the Vandellas with hit singles. "Nowhere to Run" & "I'm Ready For Love" were tailor made for Martha's strong, urgent vocals. An older track, the charming "Jimmy Mack", was a major US success while here in the UK the romantic b-side "Third Finger Left Hand" was equally popular on the dancefloor.
All of Motown was affected by the departure of H-D-H though 1967's "Honey Chile", written by Sylvia Moy & new producer Richard Morris & the first single credited to Martha Reeves & the…, was no drop in quality. Things were changing, Vandella Betty Kelley was replaced by Martha's sister Sandra while the lead singer took some time out to deal with problems related to an addiction to pain-killers. The 1970 LP "Natural Resources" marked her return to the studio. The dramatic "I Should Be Proud" questioned whether the death of a young soldier in Vietnam was for a noble cause. Cash Box placed it at #35 on their chart but the single had limited radio play, the stations were not yet ready for Motown with a message. Later in 1970 "Ball of Confusion" by the Temptations & Edwin Starr's "War" brought a social conscience to commercial Black music & the Hit Parade. Martha Reeves & the Vandellas' "I Should Be Proud" can be considered alongside them as a harbinger of this new trend for saying it loud.
Ah the great Joe Tex had a new record out & here at loosehandlebars we always have time for Joe. Joseph Arrington Jr from Rogers, Texas was part of the great roster of Atlantic artists, "the Soul Clan". A close relationship with Dial Records owner/ producer Buddy Killen allowed him to record in Nashville, move south to Memphis or Muscle Shoals if he needed a little more Funk in the mix & maintain his independence while enjoying the distribution & promotion of a big label. Plenty of hit records, a dynamic stage show & an in-house publishing deal meant that Joe was doing well for himself. In 1968 the actual Colonel Sanders commissioned a KFC jingle from Joe, paid him $10,000 & two Cadillacs. Unfortunately in 67/68 he was a pallbearer at the funerals of first Otis Redding & then of Little Willie John. Joe Tex was a big deal & deservedly so.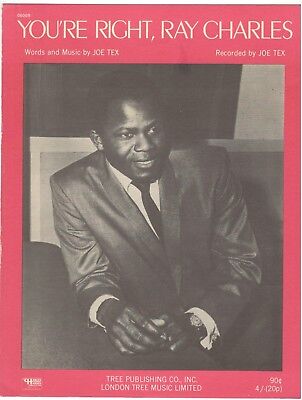 Back when Joe started to make records the two biggest R&B stars were Sam Cooke, a big influence on Joe & many others, & Ray Charles. "You're Right, Ray Charles", at #40 on the chart, passed on some advice given to the singer by Brother Ray. Joe Tex was a prolific songwriter, adept at faster Soul belters ("Show Me", "S.Y.S.L.J.F.M.") & ballads ("The Love You Save", "Buying A Book") delivered with the flow, wisdom & humour of a Southern preacher. Mr Charles' tip was to make music for the kids not the grown-ups but I think that Joe knew that already. "You're Right…" was part of a relatively unsuccessful run of 45's but Joe, who had converted to Islam in 1966, was always grounded & still able to find hit. In 1977, still in Nashville with Buddy Killen, "Ain't Gonna Bump No More (With a Big Fat Woman" gave him his only UK success. Joe's many albums are always interesting but the collection of his singles made for Dial is an essential treat for any devotees of 1960's Soul music.