The newly released, on Cherry Red records, "Surrender to the Rhythm: The London Pub Rock Scene in the Seventies", 3 CDs, 71 tracks by 71 acts, 4 hours of music, is as exhausting as it is exhaustive. All the names are present, the pioneers, Eggs Over Easy, Ducks Deluxe, Brinsley Schwarz, the bigger turns, Elvis Costello, Dr Feelgood, Graham Parker, the unlikely to be revived but very listenable Starry Eyed & Laughing, G.T. Moore & the Reggae Guitars, Roogalator. A number of those included, Mott the Hoople, Thin Lizzy, Sensational Alex Harvey Band, were already playing bigger licenced premises & fans of those bands (I know more than a few) may quibble about their presence. No matter, the collection is a reflection of early 1970s British Rock & selecting 3, maybe 5, probably 4 tracks that evoke some good, if a little woozy memories is no problem at all.
Pub Rock was more than giving Hippies an alternative to to spending a midweek evening sitting cross-legged, naked with their balls in a saucerful of hand-knitted yogurt (don't ask!). Glam was all well & good but lurex could be unflattering & glitter found its way into the most inappropriate places. It wasn't just stadium rockers inflicting their latest triple album length space operas (on ice!) on audiences. Prog took itself way too seriously & man, I saw some lumpen, mediocre bands in the early 1970s (ever heard Gnidrolog?). Providing cheap, even free, entertainment for a lubricated local gathering meant that bands could be less structured, cover their favourite songs, have fun & I ain't ever had too much of that. A new generation, experiencing live music for the first time, found an exciting alternative to their big brother's copy of "Dark Side of the Moon" & there's no doubt that Pub Rock's informality influenced these young dudes when, a couple of years later, they formed their own Punk bands.
My mate Frank was a bit of a face around Harlesden in North West London, well he thought he was. He introduced this small town, wide eyed teenager to a vibrant multi-cultural city where I was happy to live for 20 years, to amphetamines & to his lovely Irish mother who would never allow me to leave the house without a delicious fried breakfast & enough pocket change for my fare on the Tube. Frank studied 60 miles away from London, returned there every weekend & I often shared his adventures. I missed the night he saw a band about which he panegyrized for the following week. It seemed unlikely, a combo we had never heard of, playing in a pub! Still. I kept a future ear open for Kilburn & the High Roads &, what do you know, Frank was right, they really did have something going for them & no-one else around quite had that same something.
A varied assortment of musos & misfits passed through the Kilburns between 1970-75. A rugged blend of Rock, Jazz, Reggae & Music Hall revolving around the unique Cockney geezer stage persona of lyricist/vocalist Ian Dury proved to be very popular. A debut album was shelved in 1974 before, in the following year, "Handsome" was released. "Billy Bentley (Promenades Around London)", the B-side of 45 "Rough Kids", has all the elements, perhaps too many, that the band aspired to. The album smoothed their gritty edges & Kilburn & the High Roads folded. Ian kept saxophonist Davey Payne, hooked up with keyboards/composer Chaz Jankel & a new Blockhead crew. With a tighter, tougher, more defined sound there were great shows, outstanding albums, hit singles & Ian Dury, the Pop star, became an inspiring & deserved national treasure. Oi Oi!
There were just not enough music pubs in London to keep a band earning so the bands packed their gear into a van & hit small clubs in the provinces. I'm guessing that we first saw Chilli Willi & the Red Hot Peppers. at JB's in Dudley West Midlands, a no-frills, welcoming place that around that time also booked Dr Feelgood & Brinsley Schwarz. We were instantly attracted to their Country, Rock & Boogie presented with a stoned bonhomie & caught them whenever we could. They introduced us to old boogie songs by Louis Jordan (Choo Choo Ch Boogie) & Red Foley, covered songs we knew by Gram Parsons & Jesse Winchester mixed with original material like "We Get Along" from American frontman Phil "Snakefinger" Lithman. By the end of 1974 their album "Bongos Over Balham" had turned up in our pile of wedding presents & a great deal of pleasure it gave us.
In 1975 Pub Rock hit the UK's town halls with the "Naughty Rhythms" package tour featuring Chilli Willi, Kokomo & Dr Feelgood, a progenitor of the fabled Stiff tour two years later. It was a great night, two of our favourite bands & we won tickets for the gig from the local paper. The shows proved that Dr Feelgood had the tunes, the charisma & the audience to move on up while Chilli Willi & the Red Hot Peppers broke up soon after. Phil returned to the US to work with the Residents & on his solo work. It was a pleasant surprise to see drummer Pete Thomas as one of Elvis Costello's Attractions & Martin Stone consolidated his reputation as one of the most accomplished British guitarists that you've never heard of. It's not just me that remembers the band with respect & affection.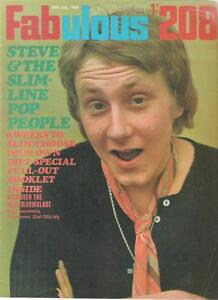 Steve Ellis had been a bigger deal than most everyone else on the small pub stages. As singer in Love Affair with three UK Top 10 hits in 1968, including the #1 "Everlasting Love", 18 year old Steve's instant teen idol status gave him a stronger claim to the "Face of 1968" title bestowed upon Peter Frampton. The young group made tabloid headlines with the revelation that they did not actually play on their records. Well I never! How could this happen? It was though Steve's strong, distinctive voice we heard on well-produced songs that are still remembered in the UK. A more ambitious release "Baby I Know" missed out, a blow for a group whose success was measured by their chart position & Steve left at the end of 1969.
"Have You Seen My Baby (Hold On)" is the opening, most rocking track on Randy Newman's marvellous "12 Songs" album (1970). It was taken to New Orleans by Fats Domino, given a wild Big Beat treatment by the Flamin' Groovies & turned up on Ringo Starr's 1973 album. Steve Ellis recorded the song as his fourth, final 45 for CBS. The involvement of producer Chas Chandler brought along his former Animals bandmate, drummer John Steel & Americans Eggs Over Easy, credited with starting this whole business of bands playing in pubs. Zoot Money, a veteran of London's R&B scene was there, Liverpudlian Howie Casey brought his horn section & teenage guitar whizz-kid Jimmy McCulloch, later with Wings, completed the line up. I don't know if Steve Ellis ever played down your local but it's a fine example of the rocking energy of British Rock at the time. It makes the Cherry Red collection, I haven't heard it for years & now it's your turn.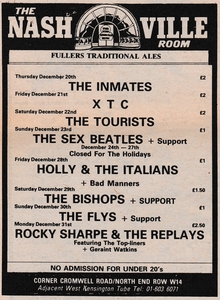 I've been in a lot of the pubs that were prominent in the scene but then I've been in a lot of pubs. On a London visit I dragged my friends to the Newlands Tavern in Peckham because Chilli Willi were playing there. It was later, well past its heyday, that we drank in the Hope & Anchor, Islington just because it was the Hope & Anchor. It was in 1980 that we attended the last night of The Nashville Rooms, Kensington, where the Sex Pistols had memorably played & fought in 1976, for Wilko Johnson's Solid Senders. I've been asked to write about that night but it was a real wild one, one of many at that time & names would have to be changed to protect the guilty. I did meet Lemmy off of Motorhead there & that's all I'm saying.
It's the less well known nights I remember most fondly. The Thursday night residency in 1980/81 by the Realists/Electric Bluebirds at the Royal Albert, New Cross. The Two Brewers in Clapham had bands every night, not all great but Pete knew everybody there & Micky, most of them. The Skank Orchestra, a lively mix of Kid Creole & UB40, made Saturday night at the George Canning, Brixton, unmissable in heady post-riot times ("Scarman Inquiry, make the people feel Irie!"). A good crowd, a few beers or more & some fine, fine music all make for a proper, enjoyable night out. There's time for just one more before last orders so here are the Brinsleys with the compilation's title track, out of the pub & on the BBC no less. Cheers!