A rare trio of selections from the Cash Box Top 60 in R&B Locations from 50 years ago this week. All three are from a group of musicians & singers assembled by an iconic figure in Black American music, an extraordinarily gifted artist who influenced & inspired many others & who achieved recognition on a scale comparable to the Jazz trumpeter Louis Armstrong. Let's start with a song at #26 on the chart, rising from #33, & a wonderful clip that displays his individual talent & has pretty much been on repeat round at our yard we we discovered its existence.
Ray Charles Robinson was raised in Florida. Blind since the age of six, he received a musical education at the Florida School for the Deaf and Blind in St. Augustine, leaving on the death of his mother when he was 15 & making his living as a professional musician since then. His early records were influenced by the successful, sophisticated stylings of Nat King Cole & Charles Brown, while his tastes were much wider it was what a young unknown musician had to play if he wanted to work in the clubs. There was more R&B push after signing for Atlantic in 1952, there were hits like "Mess Around" too but Ray was still working with other artists, reliant on local pick-up bands for his gigs. Employing his own band brought a focus to the music he wanted to play &, in 1954, "I Got A Woman" hit the shops & the top of the charts. Of course many Black singers had found their voices in church but Gospel still regarded singing secular music as going over to the dark side. With a tune borrowed from the Southern Tones & a sensational, stirring vocal inspired by Archie Brownlee from Five Blind Boys of Mississippi Ray took the song to church & made a ground-breaking record. A door had been open, Sam Cooke, Little Richard & Elvis Presley stepped through.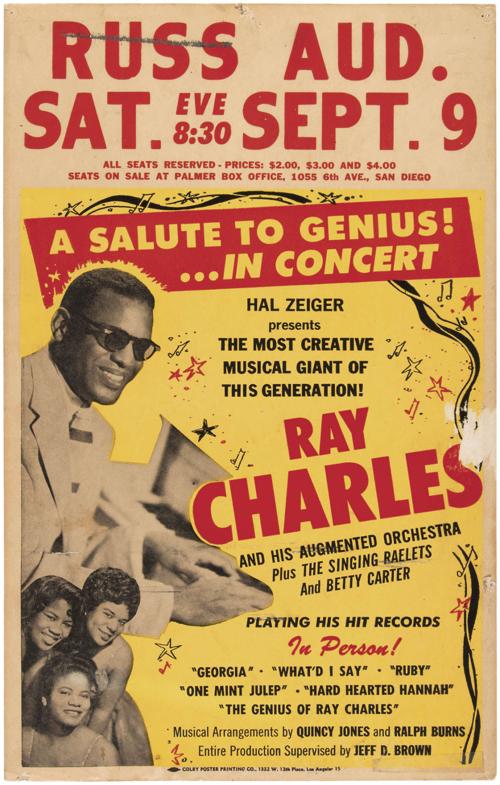 Ray Charles toured for 300 days a year with his seven piece orchestra. When studio-ready he was left alone to make his own music & from 1954 to 1957 there was an unbroken run of Top 10 R&B hits. In 1959 "What'd I Say", a seven and a half minute burst of energy building to a frenzied finale, was edited into two parts with some of the sexual charge sanitised. It crossed over into the Pop charts & earned a gold record. In the same year he recorded an album of swinging big-band music with players from Count Basie's & Duke Ellington's groups. These seasoned veterans were impressed by the acuity of the 27 year old R&B pianist & Atlantic could not resist naming the results "The Genius Of Ray Charles". After a move to ABC the mainstream deal was sealed in 1962 when "Modern Sounds in Country & Western" used a foundation of Country standards to incorporate Ray's Gospel, Jazz, Soul & Pop to create a new American music so popular & significant that attributions of breaking the racial barriers of the time have been made. Now, when Ray Charles played in New York it was at Carnegie Hall not just the Apollo. The only barrier to this success was his longstanding relationship with heroin & regular brushes with the law. In 1966, faced with prison, he was able to finally break that habit.
In 1970 Ray was ready for the Country again & "Don't Change On Me" is a single taken from the "Love Country Style" album. For some tastes the swirling strings & choruses on these songs were a little countrypolitan but Ray's soulful vocals could bring it all back home. Here he's in the barn of Kornfield Kounty for an appearance on the long-running "Hee Haw" TV show. A fine Country band (the Buckaroos?) is propelled along by his energy, the fluidity, the immediacy of Ray's vocals make it, for myself anyway, better than the record. It's a new song not a standard & it's a Y-tube gem!
Further up the chart at #19 is a Ray Charles composition, performed by the Ray Charles Orchestra & released on his own Tangerine label. Throughout the 1960s Ray had expanded his range even more, writing less original material, adding show tunes & selections from the Great American Songbook to his repertoire. His other LP in 1970 is "My Kind of Jazz", produced by Quincy Jones who he had befriended back in the day when they were teens living in Seattle. It's a cool instrumental selection, smooth & still swinging with a stellar brass section & Ray on Hammond organ. "Booty Butt", Ray's only song in the set, is something of an outlier. If the current thing was Funk then these experienced players show the young guns that it's not that new & they have always been playing that stuff. Over an oh-so-solid rhythm section of piano, bass & drums, the saxophone solos, Ben Martin's guitar stings then Ray plays his keys & scat sings. In 1971 a record this good could be played on the radio & sell enough copies to make the R&B chart. What a world!
Our final selection is holding up the rest of the chart at #60. In 1956 Ray invited the Cookies to join his recording session & two years later they became part of the Revue as the Raelettes. With Margie Hendricks as the prominent voice the group made fine contributions to the stage show & to records like "What'd I Say" & "Hit the Road Jack". Margie left in 1964 & the mid-1960s, when the Raelettes were recording their own singles there was a high turnover in personnel. . Members included Merry Clayton, Minnie Riperton, Edna Wright (coming round here soon with Honey Cone) & Clydie King. Mable John joined after leaving Motown, went for solo work with Stax then, by 1971, had rejoined the group. It is her voice that is heard on "Bad Water", a song written by Jimmy Holiday, also credited on "Don't Change On Me", & singer Jackie DeShannon. Other members include Vernita Moss, future Supreme Susaye Greene & possibly Dorothy Berry, keeping tabs on who was a Raelette & when is a tricky thing.
Books have been written & a film has been made about the life of Ray Charles. He achieved more with his musical vision than I can include here. His apparently limitless flexibility meant that he could play Jazz, Gospel, R&B, Country & Pop with equal energy, emotion & creativity. A claim can be made that Ray invented Soul music, if that's not the case he was certainly in the room when that happened. By 1971 he was already a legend & there was another 30 years of records, performances & deserved accolades from the public & fellow artists to confirm a unique place in American music.
For this week's live clip we return to that 1970 "Hee Haw" & find Ray Charles sharing a seat with Buck Owens, a pioneer of the influential Bakersfield sound in the 1950s & a star of the show. Buck had written "Crying Time" in 1964 & it was hidden away on the b-side of another song. In 1966 Ray's version made the US Top 10 & won two R&B Grammy awards. That band plays as clean as country water, the performances by & the obvious respect between the two artists are beautiful things. Excuse me, it must be dust or smoke that's in my eyes.