Joe South was having it pretty good in 1970. His debut LP "Introspect" had failed to make an impression but one track, "Games People Play" (you know it), eventually found an audience on both sides of the Atlantic & Joe was about to receive a couple of Grammy awards including Song of the Year. "Games…" was covered by artists right across the musical spectrum. Freddy Weller had a #2 Country hit, The Staple Singers & Lee Dorsey souled it up while Petula Clark took it to the middle of the road. Everybody did a good job too, it's difficult to mess up a song with such smart, straight-forward, lyrical social commentary & a tune that has you la-la-la-ing along after just one hearing.
Based in Atlanta, Georgia, Joe had first come to my attention with the sprightly Pop hits he made with singer Billy Joe Royal. "Down in the Boondocks" (whatever a boondock was), "Hush", later a hit for Deep Purple, & others were fine mid-60's American Pop, memorable enough to keep Billy Joe in work for many years. Joe's reputation spread & he found himself in Nashville to provide bass on Dylan's "Blonde On Blonde" sessions then in New York adding guitar to Aretha Franklin's "Chain of Fools". Time spent in the studio with such big hitters surely influenced & inspired his own music. Both "Introspect" & a slightly shuffled collection named after the hit feature considerate, candid, cosmopolitan lyrics matched to a skillful mix of Folk, Country, Gospel, a touch of Psychedelia (You cannot, in my opinion, ever have too much electric sitar) & always those radio-friendly choruses. "Introspect" is a fine example of Joe South's mature songwriting & his Country Soul ambition, there's much more to it than "Singing glory hallelujah & they're tryin' to sock it to ya"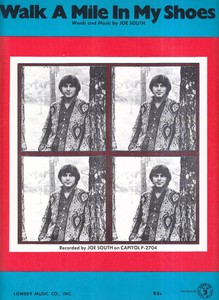 "Before you abuse, criticize and accuse then Walk a Mile in My Shoes", another great song, another Top 20 Pop hit. Later in 1970 Elvis included it alongside other contemporary songs on his "On Stage" LP, In 1974 Bryan Ferry off of Roxy Music selected "Walk A Mile…" for his second solo collection of cover versions "Another Time, Another Place". Built to last, in 2006 Coldcut transformed the song into a House anthem. Of course I prefer Otis Clay's Deep Soul version from the following year. The LP "Don't It Make You Want to Go Home" was more of the same from Joe, though not all the songs, written over a shorter period than "Introspect" were of the same high standard. Similarly the two LP's released in 1971 were of variable quality. "So the Seeds Are Growing" is a little over-produced with more covers of other people's songs. His contemporaries on the swampy Southern music scene like Tony Joe White & Leon Russell showed their roots a little more obviously than Joe who always retained his Pop sensibility but when Joe South did it right & he often did, his varied influences came together in a very distinctive way & his guitar flourishes were always original & delightful.
Joe may have been enjoying less success with his own records but in 1971 Lynn Anderson had a super-smash crossover hit with his "Rose Garden". It earned him further Grammy nominations, including Song of the Year & Joe South had another much-covered standard in his portfolio. In 1972, depressed by the suicide of his younger brother Tommy, drummer for Joe's group the Believers, disillusioned with the star-making machinery, often surly on stage & increasingly drug dependant South poured it all out into the confessional, stripped down "A Look Inside". As succinct & honest about his own situation as his earlier worldly-wise songs had been, tougher than the rest, a slice of Southern Gothic & it's the best record of his career. The radio wasn't playing songs about coming down alone or giving all your money to drug dealers, Country singers were certainly not covering them & it was all but ignored.
Despite a comeback LP in 1975 little was heard about Joe South as he struggled with his personal problems. He seemed well when, in 1994, he shared a London stage at an American songwriters concert with contemporaries including Allen Toussaint & Dan Penn. Solo, with just an acoustic guitar, a short set only allowed time for his greatest hits. A full house appreciated his contribution to an evening of enduring, classic songs & there was, before Joe's death in 2012, increasing recognition of the quality of his work.
Let's finish this with one of my favourite Joe South tracks. "Yo Yo" was first recorded by Billy Joe Royal in 1966 then, two years later, Joe produced a Soul floor-filler with R B Hudman, When, in 1971, the Osmonds went to Fame Studios in Muscle Shoals it was one of the two songs they recorded & "Yo Yo" was a Top 3 hit for the group. Joe's own version, from his 1971 eponymous LP, is an energetic, rocking, Southern Pop Soul toe-tapper & I can listen to stuff like this all day.