OK, Summer break's over… back on your head ( the punchline to a very old joke). Recently the going got weird so, as any fool knows, the weird turn Pro. As Life took a turn written by a Russian existentialist the blog took a back seat. Touting my favourite music seemed to be an inappropriate gewgaw but, y'know, I like doing it & I've certainly not stopped listening. Right, as Fyodor Dostoevsky used to say, "What the fuck"…Is this thing on ?
Single of the month is this glorious racket from Cleveland's finest Pere Ubu. It's been quite some time since I saw singer David Thomas & his crew perform music from the future at the Russell Club/Factory in Manchester. Those first two records from 1978, "The Modern Dance" & "Dub Housing", angular, challenging post-Punk collections were so outstanding (& still sound great) that any music the group has released since merits consideration. Breaks have been taken, the line up has changed while David Thomas abides. In 1989 "Waiting For Mary" was one of the songs of that year, showing that the avant-garage experimentation combined with the ability to rock was a fine blend.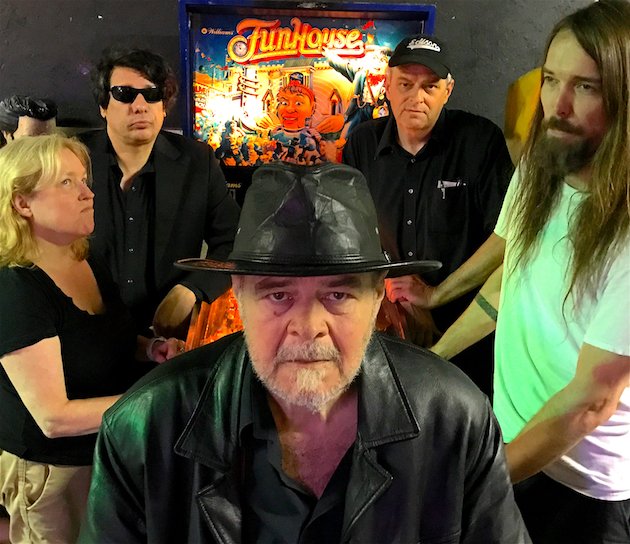 "Monkey Bizness" is a taste of something fine from the upcoming LP "20 Years in a Montana Missile Silo". The video features the classic 1990s "Funhouse" pinball machine, a little complicated for my old-school arcade taste but still a quality table. I'll be looking forward to hearing the rest of the record, Ubu's first since "Carnival of Souls" (2014), in September. A young person walked in while I was enjoying this track at high volume & wondered what the heck was going on…that's good right ?
This month, like most everyone I know, I handed over some of my hard-earned to the local multiplex & they let me see "Dunkirk". Christopher Nolan has always been worth the money since the low budget "Following" (1998) & the startling "Memento" (2000). He makes blockbusters now but his version of a previous British exit from continental Europe (a retreat which like most of our defeats has been portrayed as heroic) was never going to be a Speilbergian war epic. We got a sparse, impressionistic cinematic experience, emotionally anchored by a restrained performance by Mark Rylance as the middle-aged captain of a small rescue boat, which I found immersive & enjoyable.
I was not going to miss the return to the screen  of Doug "The Thug" Glatt the pugilistic protagonist of "Goon" (2011). Any Ice Hockey (as we Europeans call it, to distinguish it from an entirely different sport played on grass) movie will be compared to "Slapshot" the 1977 comedy/drama directed by George Roy Hill & starring Paul Newman, one from the top shelf of sport films. Glatt (Sean William Scott) is no Reggie Dunlop. His not-too-bright amiability, his talent to hit somebody/anybody giving him somewhere he belonged, made for an endearing & enjoyable story.
This time around writer Jay Baruchel directs, the humour is still coarse, the exposition broad. In "Goon: Last of the Enforcers" Doug is now married to Eva (the lovely Alison Pill), too punched out to play with his oddball teammates on the Halifax Highlanders, replaced by Anders Cain (Goldie & Kurt's boy Wyatt Russell who seems to have been busy since that gaming episode of "Black Mirror"). He turns to old rival Ross "The Boss" Rhea (Liev Schreiber, the great Ray Donovan, excellent as another washed-up brawler in the capable biopic "Chuck") for help. The violence is gratuitous, the story often sentimental but it was good to spend time in Doug's company & to see how he is getting on. I've seen the film described as "hockey-flavoured comfort food" & sometimes that's just the refreshment you need of an evening.
Of course it's never all new stuff round here & the LP I have mainly been listening to this month is a classic from 1972. Syreeta Wright married Stevie Wonder in 1970. Together they wrote the songs for "Where I'm Coming From" (1971) Stevie's first step towards independence from Motown, the beginning of a decade of musical brilliance. The marriage lasted just 18 months but they worked together on "Syreeta" (1972) her debut LP. The hook up with Tonto's Expanding Headband (Robert Margouleff & Malcolm Cecil) brought new synthesizer textures to the music & they are around for this record. Some of the tracks are a little sweet, it's not Deep Soul & it's not Detroit, more a modern Soul similar to Minnie Riperton's "Perfect Angel" (1974)
another LP that Stevie & his crew worked on. The charming opening track "I Love Everything About You" sets the standard while the closer,the scorching Funk throb of "To Know You is to Love You", is good enough to stand with the many great tracks created by Wonder. The pair collaborated on a more commercial follow up which made a bigger impression but, this month at least, I'm going with "Syreeta".