Are there more films around concerning the passing of the years & reflections on childhood or is it just that now I've reached a certain age I'm paying more attention to them? In 2016 "The Distinguished Citizen" ("El Cuidadano Ilustre") entertainingly told the story of a Nobel Literature Laureate (Oscar Martinez from the brilliant "Wild Tales"), wealthy & now unmotivated to write, accepting an invitation to return from Spain to his hometown in Argentina where his memories & the often resentful characters from his novels await. Last year Alfonso Cuaron's "Roma" lovingly & painstakingly captured his own upbringing in 1970's Mexico City & was deservedly awarded the Oscars for Cinematography, Direction & Best Foreign Language Film (though my vote went to "Shoplifters" from Japan). While I'm interested when others share their cogitations there's ample contemplative retrospection in my real life thank you. It's OK because this week I saw "Pain & Glory" ("Dolor Y Gloria"), the new film from Pedro Almodovar & I'll bet my pension that it will be some time before I need to watch another movie about love, loss & Life.
Pedro Almodovar, a master of cinema, is 70 this month & has been directing films for almost 40 years. Since his international breakthrough in 1988 with "Women on the Edge of a Nervous Breakdown" his sophisticated, subversive, sometimes melodramatic or outrageous observations on modern Spain (it's a list…a long one) has established him as the legatee of their genius Luis Bunuel & worthy of a placing alongside the great directors of cinematic history. "Pain & Glory" is the most autobiographical of his films, thematically & stylistically Almodovariano, casting two of his greatest stars while delivering a singular personal statement with integrity & honesty.
Salvador Mallo (Antonio Banderas, grizzled, handsome, sensational) is a film maker who no longer makes films, preoccupied with psychological & physical ailments. A revival of one of his movies reconnects him to the estranged star & to heroin, a drug he had some experience of. His opiate induced absorptions return him to childhood living in a cave with his mother (Played by Penelope Cruz with the sensuality of Sophia Loren) & a love for cinema smelling of "piss, jasmine & a summer breeze". There's a reunion with a former lover, Salvo's first feelings of homosexuality & meetings with his dying mother (Julieta Serrano cast as Banderas' mother for the third time). All of it is at a perfect emotional pitch &, employing a palette of red & white, looks absolutely gorgeous. The soundtrack by Alberto Iglesias is similarly evocative. Almodovar's films are not always as fully realised though different folks see different strokes of inspiration in each of them. "Pain & Glory", with its closing reminder that we have been watching a film, is a masterpiece from a director in absolute control of his undoubted talents.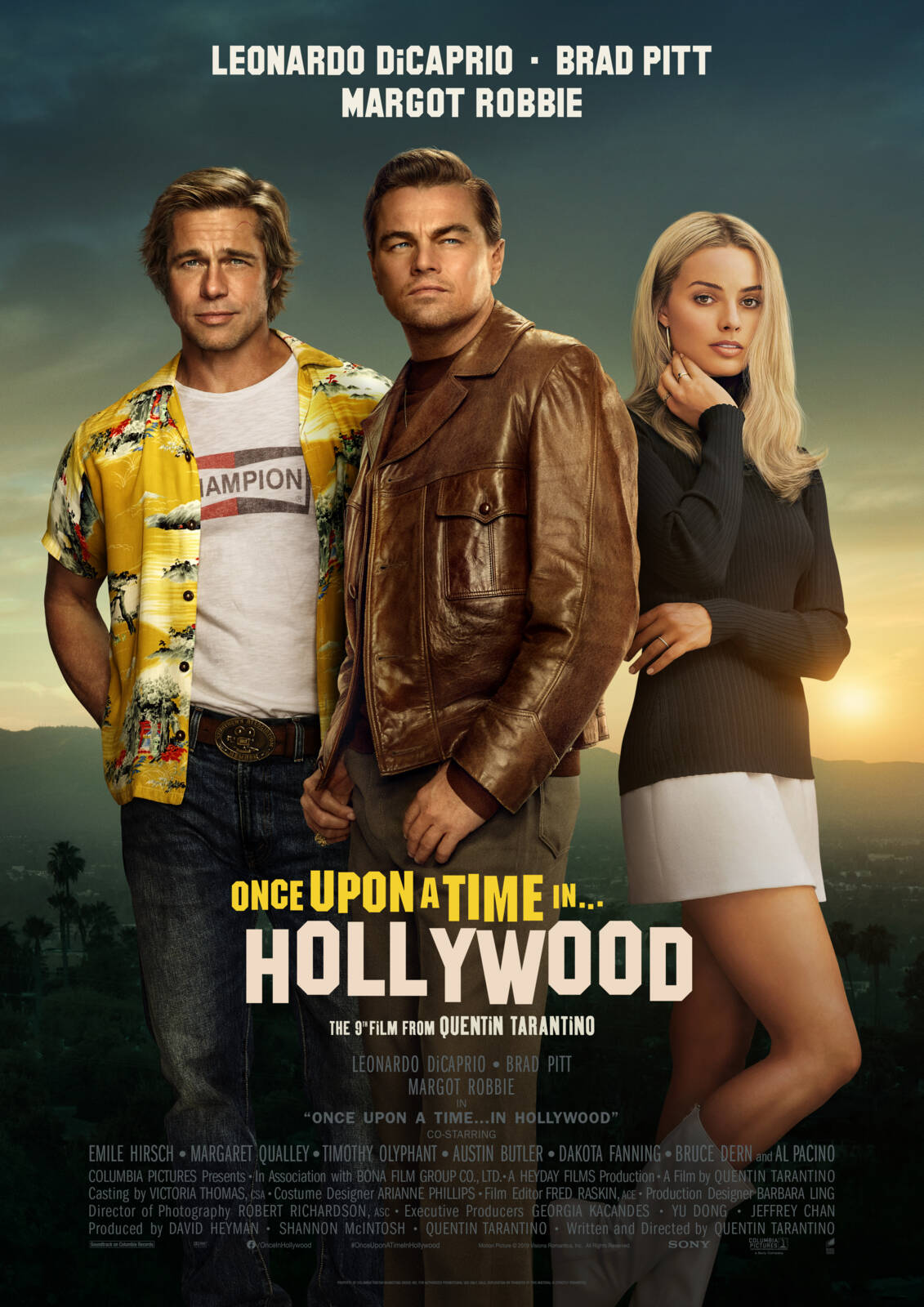 It was an early start on Sunday lunchtime for "Once Upon a Time in Hollywood". It would have been earlier but the multiplex staff forgot about us though the delay meant that we were spared the interminable commercials/trailers time waste & went straight to Los Angeles in 1969. Well, into Quentin Tarantino's version of La-La land. QT's movies, steeped in popular culture references, all have an element of anamnesis. The movie homages (steals?), artfully placed posters, the kitschy-cool Pop soundtracks all reflect his life-long preoccupations. This time around Rick Dalton (Leonardo DiCaprio), a star on the wane, is constantly reminded of his successful past. Cliff Booth (Brad Pitt) his former stunt double now a gofer is similarly reduced, living in a trailer adjacent to a drive-in cinema. They can't buy a break in the New Hollywood. Rick's boozing & Cliff beating up Bruce Lee when he does get a job doesn't help. Meanwhile Rick's next door neighbours, Roman Polanski & Sharon Tate (Margot Robbie) are living the life.
"…in Hollywood" is packed with references to movies & TV shows, real & imagined. The director has some fun morphing Rick into "The Great Escape". There are some fine scenes, Rick does proper acting, Sharon goes to see one of her movies, Cliff's visit to the Spahn movie ranch with those damned Manson Family hippies. Then there's Tarantino's whipcrack dialogue, it's a long film but listening to his characters shoot the breeze is always a reason to hand over the entrance fee. A fair chunk of the Internet & the commentariat likes to snark at such a visible, sometimes controversial director. There's a new Charlie's Angels film coming up, you'll be OK. The ending has raised some kerfuffle, violence in a Tarantino movie…who knew? The clue is in the "Once Upon a Time…", it's a reverie, only a movie. Jeez, in one of his films he killed Hitler, that didn't really happen either.
My companion & I had seen every Tarantino film & on the way home we talked about wanting to return to them (me, "Jackie Brown", him, "Reservoir Dogs"). Damn, if "Kill Me Now Ringo, Said The Gringo", a Spaghetti Western Rick made in Italy, exists then we would pay to see that too. We're already on the lookout for  the flame thrower-heavy "The 14 Fists of McCluskey". "Anyone order fried sauerkraut?"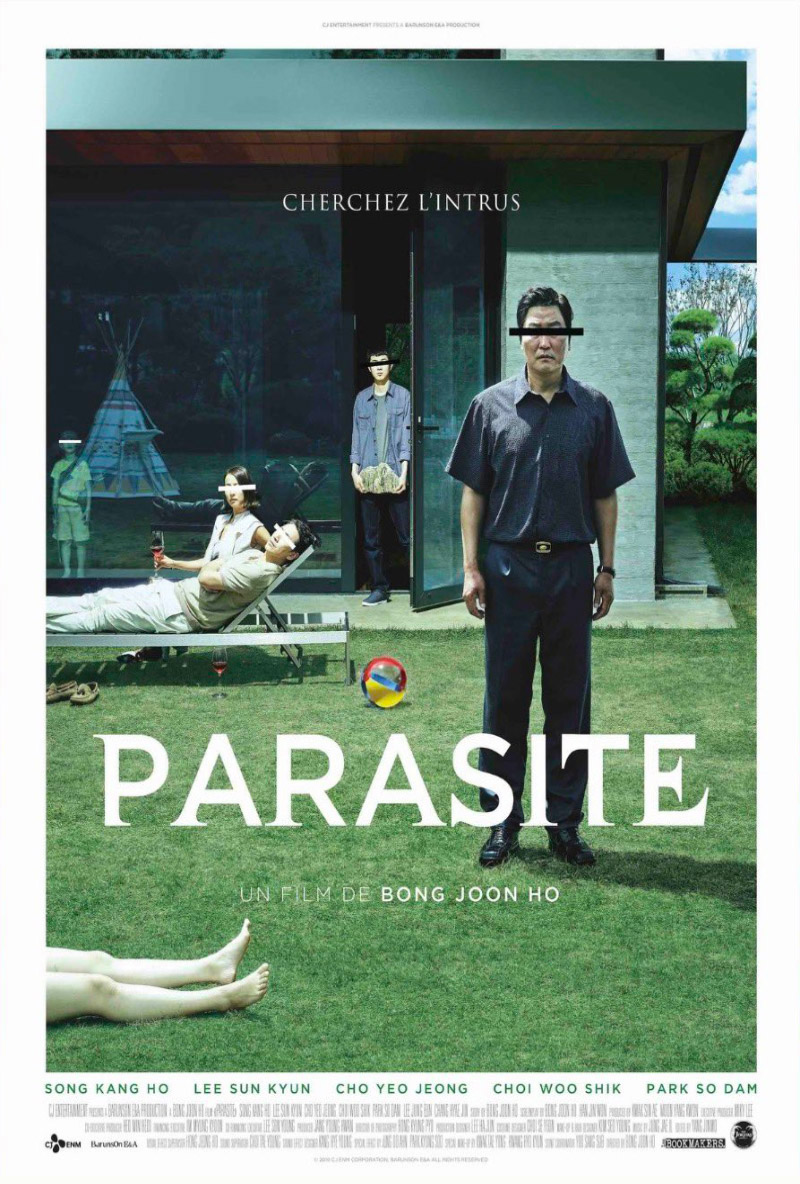 Bong Joon Ho returns to South Korea for "Parasite". He went to Hollywood to make the sci-fi classic "Snowpiercer" (2013), on to Netflix for "Okja" (2017), a capable satire about corporations starring a very big pig. "Parasite" concerns a poor family of four struggling to get along in the gig economy, living in a shabby basement. The son, Ki-woo, catches a break & after a little fakery gets work with a very wealthy one-percenter family. A plan is hatched to change their luck & the rest is their story. South Korea's first winner of the Palme D'or at Cannes is an intricate film, a biting social commentary on the class divide, an amoral, absurd black comedy, a drama which becomes a tense thriller. Each tonal shift is wonderfully & entertainingly handled by the director, the dispassionate camera lens allowing you to make up your own mind about the protagonists. A nod to Hye-jin Jang as the cynical, profane mother, my favourite character. Things I learnt from "Parasite", the rich don't like the smell of the poor & the best plan is no plan, then nothing can go wrong.
It's evidently been an outstanding week's viewing round here. I've already handed out the ultimate "masterpiece" tag to Almodovar's film so I'm reluctant to pin the same accolade on "Parasite". I'll probably regret that after another six months of the usual Hollywood dreck but for sure this is another Hit From the Bong (thank you!). Catch it if you can.