Like many of us I have time on my hands so last week I visited the Bandcamp website as they were waiving their admin fees, giving a bigger cut to the artists suffering a loss of income from the cancellation of all tours for the foreseeable future. I struck lucky on my first click. Hoping for a preview of the upcoming live album by Daniel Romano I found that he had uploaded, for the duration of his own self-isolation, "Visions of a Higher Dream" a 10 track collection of new songs. What's more he only wanted three of his Canadian dollars for them. I paid more than that because when it comes to Daniel Romano I'm a bit of a fan-boy.
OK, Bandcamp is only letting us share/embed the whole of "Visions…". Whether you only play the sparky opener "Where May I Take My Rest" or hang around for show-stoppers like "Lilac About Thy Crown" or "Boy In A Crow Skin Cape" I'm sure that you can hear that this is new music at a bargain price. It's been a long often challenging trip to keep up with the prolific Romano. He established himself with a heartworn, lovingly recreated classic Country & Western sound, traditional structures, honestly & respectfully emotional, artfully packed with guile & drama, doing it better than anyone around. Before the Nudie suits & three chords & the truth Daniel's band Attack in Black were quality indie-rockers & subsequent albums "Mosey" (2016) & "Modern Pressure" (2017) expanded his palette, experimenting with psychedelic flourishes, different musical styles, more impressionistic lyrics delivered with a touch of Dylan's nasality. Personally I was willing to follow an artist with the ability to write great songs like "There Are Lines In My Face (That Don't Come From Smiling)", I don't expect the same thing every time & now some of my favourite songs of his are on these adventurous records.
Daniel has previous when it comes to this surprise album thing. Always prolific, in January 2018 he placed two albums of original material, "Human Touch" & "Nerveless" on Bandcamp. They were not there for too long & I was sorry that I missed them. They're around, both uploaded to the Y-tube & very good they are too. Again all the Romano bases are covered, plenty of atmosphere even grandeur in every song. "Nerveless" is the more immediate of the pair, opening with a flurry of uptempo crashing guitars & continuing with some fine almost-Pop songs. "Anyone's Arms" is as simple a piece of radio-friendly Power Pop Daniel has ever recorded. I don't need more of that but it always puts a smile on my face. It may have been my coming late to these songs that dampened my enthusiasm when, later in 2018, "Finally Free" was released. What with 3 solo efforts while also touring & recording with his group Ancient Shapes it was a little too much. I'm getting there with "Finally.." though. You have to quicken your pace to keep up with Daniel Romano but it's always worth it.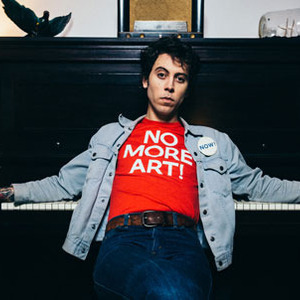 So, I'm just a couple of days into a very enjoyable exploration of "Visions of a Higher Dream" when the new album proper shows up. There's no problem with overload this time around because "Okay Wow", a live set recorded in Scandinavia credited to Daniel Romano's Outfit, is so different from his previous releases & boy, it rocks. The 15 tracks are a breakneck slalom, nothing over 4 minutes, through his back catalogue. Earlier songs "Hard On You" & "Time Forgot (To Change My Heart), beautifully judged Country songs in their original form, have become a Crazy Horse-like blast of guitars. There are songs from the 2 now-you-see-them albums, "Roya", above, (go on you've got 2 minutes to spare), is from "Modern Pressure". All of them are remade-remodelled & more of his old-school fans may decide that enough is enough. Me, I've not heard Country Rock played with such energy since Jason & the Scorchers. I can still hear the strong construction of the songs & still love the commotion & emotion of his music.
Daniel has made just the one video for the new record. "Nerveless" sounds great, the film, a couple shoplifting in the mall, has, of course nothing to do with the live performance. There has always been an artfulness to even the most traditional of his work. He's not going to change & I'm more than comfortable with the challenges he presents with his musical evolution & the way he presents himself through his videos. A shout must be made to The Outfit, brother Ian, David Nardi, Roddy Rossetti, Tony Cicero & Julianna Riolino for their exciting contributions. "Okay Wow" is livening up my days of isolation & if I need to chill then there's always "Visions of a Higher Dream" alongside it.