Can it be 30 years ago that I was sat with the woman lucky enough to be my companion in the well-appointed foyer bar of one of the concrete fun palaces on the South Bank of the River Thames eagerly awaiting a concert by the pioneering master trumpet player Don Cherry? I was raised to be respectful & to listen when someone is talking, notably good advice when you are hoping to make a good impression on the someone you have invited to share the evening. I admit that I was a little distracted when a very striking woman, Don's step-daughter Neneh, stood nearby. I knew about Neneh from her time as singer with Rip Rig + Panic who released 3 LPs of Post Punk, Jazz Funk, did a couple of sessions for DJ John Peel & appeared on "The Young Ones", the preferred TV comedy of the day for the nation's youth.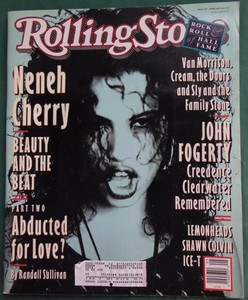 By the end of the year a lot more people knew who Neneh Cherry was. "Buffalo Stance", a sparky, sparkling confection of Rap, R&B, Beats & sass, the first single from her solo LP "Raw Like Sushi", was the brightest of modern Pop & in the UK Top 10. She appeared on Top of the Pops, almost 7 months pregnant, in stretch Lycra & she looked as good as she sounded. The single repeated its success in the US & in 1989 her music, videos & image were everywhere while she was celebrating the birth of her daughter Tyson with her husband-collaborator Cameron McVey.
It was 3 years before Neneh made the follow up record. "Homebrew" was good, not as commercially successful & I guess that she was not too concerned. Neneh was never too bothered about being a Pop star & since then she has worked when, where, with whoever she wanted & the music has always been interesting. The one you know is the trilingual "7 Seconds", a 1994 hook up with Youssou N'Dour, a big hit all across Europe. The list of her collaborators is long, varied & very impressive.
"Kong" is her first release since 2014's "Blank Project" LP. It's a serious , empathic commentary on the state of things, on the world in a state, "Goddamn guns and guts and history and bitter love still put a hole in me". Back in 1988 Massive Attack's 3D contributed to her song "Manchild". He returns to co-produce with Four Tet & the talented pair have created an atmospheric Trip-Hop soundscape. "Kong" has more than a little of Massive Attack about it & that's better than a good thing as there is not enough of that about nowadays. I put a friend on to the accomplished video & she was not just surprised that Neneh was still making music but also commented on how good she looked. Now I'm much too evolved to remark upon a woman's appearance but I'm with Gigi on this one.
Extended exposure to "Joy as an Act of Resistance", the powerful new collection of Punk pique by Idles, has created the need for a little time to chill so that I'm not gobbing on Life like it's still 1977. The current soundtrack to the restoration of my equilibrium is "Lifted", the new album, his fifth, by Israel Nash, a musician living in Texas whose work has passed me by for almost a decade. Seems like I've been missing out on something good.
I became aware of Israel Nash Gripka, as he was then, with his debut "New York Town" (2009). The standout track "Pray For Rain"  sounded like the best track that John Fogerty had never recorded, I liked it but y'know, I have Credence records. Israel has got his band together, moved to Dripping Springs, Texas where he makes his records at home. He likes a full, chimeric, light-Psych sound. His mature lyrics are matched to mostly mid-tempo melodies & that's OK,on "Lifted" perhaps the sum of the parts is greater than the whole. Israel still can write a mean Neil Young tribute, the harmonies evoke Crosby, Stills & Nash, even the Beach Boys on "Sweet Springs". His influences are easily identified & they are all the good ones. The swooning pedal steel brings to mind the first Jerry Garcia LP & there's not a lot better than that. While you click on the terrific "SpiritFalls" I'm putting the new Calexico on hold for 2015's "Silver Season" then working my way back through his catalogue. This is the kind of Americana I like.
Neneh Cherry may have my vote for the single of the year so far but here at Loosehandlebars Mansions we welcome the opinions of others & a good friend of the blog, Raymond Gorman, formerly of That Petrol Emotion, now a member of The Everlasting Yeah, has been canvassing support for this. I think that Raymond may be one of the dancers in this video…Yeah, he wishes.
Only good things can be said about Chaka Khan. In her early twenties when the group she fronted, Rufus, broke through you watch her performances on "Soul Train" & she is a hootie tootie disco cutie, magnetic, a talent & a star. Here's the first hit "Tell Me Something Good", before the group became "…featuring Chaka". I recently made a mix of 80's R&B for a mate, helping to make the day in his cab a little funkier, & her super smash with Prince's "I Feel For You" was an obvious ingredient. I had to match it with the abiding "Ain't Nobody" by Rufus, a permanent fixture on our house party tapes in that decade.
"Like Sugar" is the Great Khan's first track for a decade, the lead for a new album. It's recorded with Switch, formerly off of Major Lazer & producer for many, including M.I.A. The song proves that Old School or New School, what the heck's the difference as long as it's got the Funk. There's a heavy sample of the Fatback Band/Sarah Ruba version of "(Are You Ready) To Do the Bus Stop" & the all-dancing video will make you smile. If you have missed this up to now then get your groove on & remember what a fine Summer we had. There's a Switch remix that's worth a listen too. Ms Khan is, of course, a legend, just this week she performed at Aretha's funeral. It's great to have her around again.