OK, I'll take a break from the 1970 R&B chart & dial it back just a few years to the Sixties…I know, I just can't stop it…These three clips, recently arrived on the Y-tube are of such good songs, of such good quality &, in the case of two of them, can justifiably be categorised as "rare", a much overused term on that website. I am working on a couple on non-Soul posts I promise but I love this music. What else could I do?
Way, way back when I was just old enough to go to the weekend Youth Club disco it was the first time that the exciting Stax Soul records I had heard on the radio were played at a serious volume with other people in the room. Wilson Pickett's "In the Midnight Hour" & Eddie Floyd's "Knock On Wood, every week or questions would be asked & "Soul Finger" by the Bar-Kays, the soundtrack to my first attempts at dancing in public. I was not a Mod, my mother still bought my clothes but I would have been if I could have been. This wonderful record was as Mod as it got for this 13 year old boy. Man, I even missed Emma Peel in "The Avengers" to be out on the floor on a Saturday night.
"Soul Finger", with its nursery rhyme intro, blaring horns, stinging guitar & the neighbourhood kids, hyped on sugary drinks, chanting the title, still sounds immediate & thrilling. Things were happening quickly for the Bar-Kays in 1967. Memphis boys recruited & groomed as the back up studio band for when Booker T & the M.G.s were not around, selected by Otis Redding to be his backing band for live shows & they had written a hit record of their own. Here they are in all their optimism & glory on the US TV show "Upbeat"  that has been around the Y-tube for some time but never in such clarity. Of course there's an unavoidable poignancy to this clip. On the 10th of December 1967 Otis & four of these young men, friends from high school, still in their teens, were killed when their plane crashed into Lake Monona, Wisconsin. Trumpeter Ben Cauley survived the crash, bass player James Alexander was not on the flight but Jimmie King (guitar), Ronnie Caldwell (organ), Phalon Jones (sax) & drummer Carl Cunningham were lost & their memory, young, fine & Funky, will be eternal.
Back to the beginning of 1965 now & the marvelous Marvelettes, the girl group who, in 1961, had achieved the first #1 for the new Tamla Motown organisation with "Please Mr Postman" a song that became part of the Beatles' live set & was included on their second album "With the Beatles". There were other R&B hits before first Martha & the Vandellas & then the Supremes claimed the position of Motown's premier girl group. Originally a quintet, the Marvelettes had recently become a trio, before this promotion of "Too Many Fish In the Sea". Georgeanna Tillman had sung on the record but illness had forced her departure. Still Gladys, Wanda & Kathy, their dress & dance moves courtesy of the Motown charm school are as sharp & as energetic as the song, written by Norman Whitfield & Eddie Holland & the Marvelettes' biggest hit for a couple of years. There are not many clips of The Marvelettes, what a treat this is.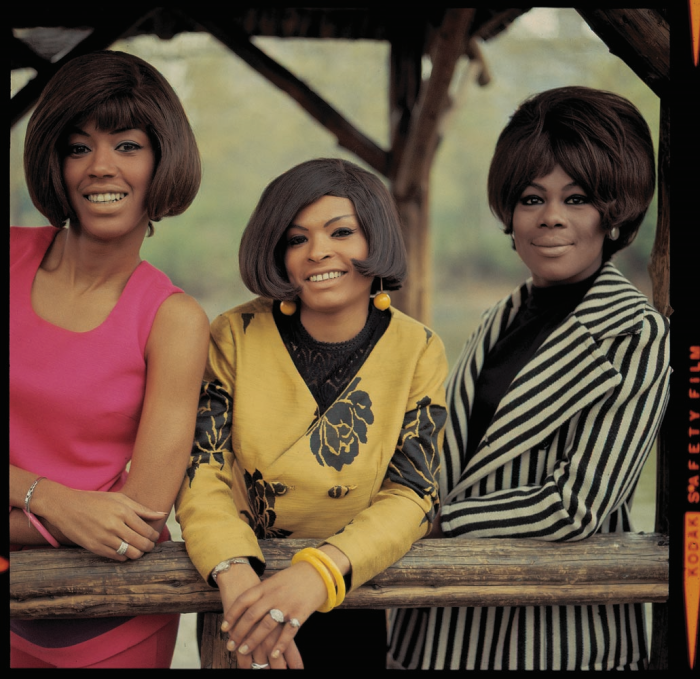 In 1966 Smokey Robinson took over production/songwriting duties. "Don't Mess With Bill", "The Hunter Gets Captured By the Game" & "My Baby Must Be a Magician" were distinctive, a little idiosyncratic & brilliant. A non-Smokey track, the emotional, dramatically  produced "When You're Young & In Love" was equally successful & the Marvelettes only UK hit. In 1980 there were plenty of white men in Hammersmith Palais to see Graham Parker & the Rumour on "The Up Escalator" tour & the Marvelettes were the support act. I have no idea how many of the three African-American women of a certain age were original members of the group & I didn't care as we were treated to a set packed with Greatest Hits that made us dance, sing along & glad to be out of the house on a chilly October evening. (Remember going out to gigs? Ah well, someday).
Well known in Gospel circles, Cissy Houston, mother of Whitney, had been so wary of secular music that she continued her factory employment while nieces Dionne & Dee Dee Warwick progressed from backing vocals to solo recording contracts. Helping out when Dionne was otherwise engaged Cissy discovered that two days in a New York studio paid better than a week assembling tubes for TVs so…y'know. These women were the classic "20 Feet From Stardom". If it was recorded in New York & had female backing singers (& they all did) then that was the Sweet Inspirations. They were there on Van Morrison's "Brown Eyed Girl" & for "Burning of the Midnight Lamp" when Jimi Hendrix came to town. Atlantic gave a settled line-up, Cissy, Sylvia Shermwell, Estelle Brown & Myrna Smith a chance to record & two singles put their name out there. In 1967 they went to American Sound Studios in Memphis to make an album.
The eponymous debut LP is heavy on covers of the hits of the day but Cissy's lead & the natural interaction of all four voices bring a vivacity & originality to songs you know well. The exception is "Sweet Inspiration", written by Dan Penn & Spooner Oldham, regulars at American & onlookers at the session it was quickly recorded & became a Top 20 Pop hit. The Sweets continued to record, for themselves & for others then in 1969 Elvis Presley, a fan of the single, returning to the stage after 9 years away, engaged them as his opening act & as part of his backing singers for a run of Vegas shows. Cissy left for a solo career while the remaining Sweet Inspirations toured & recorded with Elvis until his death in 1977. That gig & the occasional concert tour with Aretha Franklin maintained their reputation as the best support singers in the business.  In 1968 Motown seemed to have the girl group scene, such a big deal in the early years of the Sixties, to themselves. I have no idea where the above promo for their big song comes from, I just know that it's flipping brilliant to see the Sweet Inspirations, an essential female group of the time, as well as hear them.