Well OK, the good people at Billboard magazine have removed their chart archive from the Interwebs. No doubt the listings will return once those kind folk have figured out a way of getting interested parties (that would be me) to hand over some of their hard-earned to access the inspiration information required for these monthly posts. I just might do that, probably not. Fortunately just a few clicks away are the Cash Box R&B weekly rankings for 1969, pretty much the same discs in a slightly different order. So, for now, I'm a Cash Box guy & let's get to the August selection (Blimey, is it August already?).
At the beginning of the month there was a second #1 of the year for "The Hardest Working Man in Show Business", "Mr Please, Please, Please", James Brown. The double-bracketed "Mother Popcorn (You Got To Have a Mother For Me) (Part 1)" is a groovalicious invocation to dance 'till you feel better , co-written by James & bandleader/saxophonist Pee Wee Ellis, featuring the band's other sax ace Maceo Parker. Doing the Popcorn, if I knew how, will have to wait. The song that replaced JB at the top spot is a landmark by a significant artist.
For over a decade the Impressions had been making impressive, intelligent, influential music. A trio since 1963, under the guidance of Curtis Mayfield the group transitioned through Doo Wop to sweet Gospel & equally pleasing romantic Soul, honest sentiments expressed in spectacular harmonies. As early as 1964 Curtis' involvement with the Civil Rights movement was reflected in his music. "Keep On Pushing" is an anthem to empowerment & 1967's "We're A Winner", the group's biggest hit in almost 4 years, an assertion of Black pride before that became a thing in Soul music. "Choice of Colors", another affirmation of Mayfield's idealism & hope for progress. has a lyrical maturity & the vocals, shared between Curtis, Fred & Sam, are the very thing. Three sharp-dressed young Black men singing "How long have you hated your white teacher?" must have caused a stir. Taken from their latest LP "The Young Mods' Forgotten Story", a pairing with the funky, equally pertinent, "Mighty Mighty Spade & Whitey" made for a substantial 7″ of plastic. Of course the song is Panglossian, you may say that he's a dreamer but he was not the only one in 1969 & perhaps a little optimistic reflection regarding race relations in the US would still not go amiss 50 years later.
Curtis, in parallel with his day job as an Impression, had an education in the music business at Okeh Records in Chicago with producer/executive  Billy Davis & arranger Jerry Pate, respectively 10 & 20 years older. He wrote songs for many of the artists on the label & he learned how a hit record went. Now I can hear that Major Lance's "The Monkey Time" & "Um, Um, Um, Um, Um, Um" (really!) are Mayfield songs. All I knew in the mid-60's was that I liked them. With the start-up, along with his manager Eddie Thomas, of Curtom Records in 1968 the Impressions moved to Curtis' own label & their leader made plans for a solo career. Having his own studio & greater independence allowed him to expand his commentaries on the American situation & to embrace the new Funk. Curtis Mayfield was moving on up & we could do worse than go along with him.
The Five Stairsteps, teenagers, four brothers & their sister from Chicago, were dubbed the "First Family of Soul". The quintet had been produced by Curtis for an album on Windy City, an earlier Mayfield enterprise. The group were the first to be signed to Curtom, the LP "Love's Happening" the second full-length release on the label & the boss was all over it. "Love's Happening" really is a notable record. Curtis' songs, fresh vocals matched to effervescent arrangements by another new recruit, the multi-talented Donny Hathaway, make for some very enjoyable Chicago Pop-Soul. The five were joined by their three year old brother & billed as the Five Stairsteps & Cubie though the infant was only heard on the throwaway "The New Dance Craze". Infectious floor-fillers like "Stay Close To Me" extended their consistent run of Top 20 R&B hits.
"Madame Mary" is an odd one. I found it in the low 30's of that disappearing Billboard chart but it's nowhere to be found on the Cashbox list. A non-album track it was obviously recorded at a later date than the other Curtom releases, busier & funkier, a turn up the road  Curtis Mayfield would be taking in his solo career. In 1970 the Impressions included their own version of the song on the "Check Out Your Mind" LP, the final one that Curtis made with the group. It was in this year, now away from Curtom, that the Five Stairsteps enjoyed & deserved their biggest success with the damned near perfect original of the much-covered "O-o-h Child".
At #12 in the chart, it had been as high as #5, was "Moody Woman" by Jerry Butler, another artist with a strong connection to Curtis Mayfield. Church choir-mates, the first Impressions records were released as Jerry Butler & the… When Jerry left for a solo career several of his chart hits were written & featured backing vocals by his friend. His smooth confident style earned him "The Iceman" soubriquet, his biggest hits were with songs that are now regarded as standards (though he was the first to get to Bacharach & David's "Make It Easy on Yourself"). This facility & wide range could mean that his albums, while sounding fine, were padded with cover version filler. In 1968 Mercury Records made the inspired decision to pair Jerry with a young hot-shot producer/writing team from Philadelphia.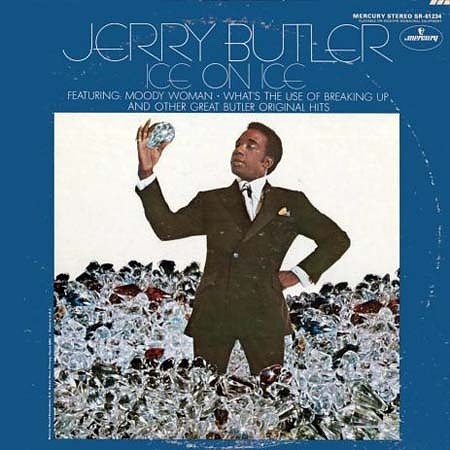 Kenny Gamble & Leon Huff had already enjoyed some success & now, with a full album to do, they were more than able to take their chance. On the resulting "The Iceman Cometh" LP of the 11 tracks, all credited to the trio, 4 entered the R&B Top 10 (2 made #1) & Jerry Butler was as big a name as he had ever been. "Moody Woman" is the opening track on the following "Ice On Ice", a track which may not match the peerless "Only the Strong Survive" but the first of another 4 successful 45's from the record. The producers retained Jerry's refinement, adding fluent, uptempo, innovative arrangements using a string section in ways that hadn't been heard before. This wasn't just a new contemporary Soul it was the future. Jerry Butler went on to make more fine records, with their Philadelphia International label Gamble & Huff's would soon become the dominant sound of commercial Black music. It was here, in collaboration with Butler, that this sound first came together & to our notice.
If I'm still looking back to 50 years ago in the early 2020's (& I hope that I am) & you're still hanging around I'm sure that you will be hearing plenty more from Curtis Mayfield & from Gamble & Huff.