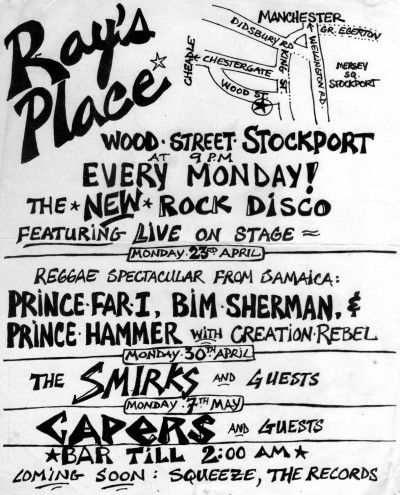 Well, look at this ! I have not seen this poster since…I have never seen this poster before… but I made the gig on the 23rd of April 1979. There were only the 3 of us going to see Prince Far I when we were usually team handed for any chance of a good night out. Not only was it a Monday, the night best spent relaxing on a saline drip after a bloody good weekend & an hallucinatory first day of the working week but also the gig was in Stockport . We were in Manchester, only 7 miles distant but a long way away.
I was good with the small turnout, just me & 2 young women, always a good balance. S was my girlfriend…ever fallen in love with someone you shouldn't have fallen in love with ? That's her. J was a new friend who, at a time I needed good friends, was as solid as a rock without me ever having to ask. We were in Janet's car for the first time. I wonder how good a driver she would be ? She, like myself, liked to get high. Hey, it probably improved her driving…probably. She had only just splashed her cash on the vehicle to make her commute to work easier. Fortuitously Janet worked in Stockport so she knew the way.
This journey into the unknown was being undertaken because a chance to see Prince Far I was too good to miss. Reggae, you know it…the music that goes chang-a, chang-a, was moving on up in the late 1970s. Bob Marley & the Wailers' popularity had opened ears to the Rastafarian inspired Roots music from Jamaica. At house/blues parties we heard Dennis Brown & Gregory Isaacs. Dillinger, Culture & Burning Spear featured in Punk DJ sets while John Peel, the national treasure of British music radio, always attracted to the outre & the surprising, played the latest Dub plates & plenty of Prince Far I. His first LP "Psalms For I" (1975) was simply that, a voice of thunder intoning sacred songs over simple, similar rhythms. "Under Heavy Manners" followed in 1977, less religion more politricks. Whether Far I's proselytising was sacred or secular he convinced you to sit up & listen.
So, put yourself in Ray's Place yeah. Trying too hard, unsubtle, and inauthentic, that's the definition of cheesy. I'm not the guy who'll make cracks about Stockport & sophistication but it was a faded aspirant nightclub & there was a good reason why I avoided joints like this. In Manchester we had the Apollo & the Free Trade Hall for the bigger gigs (no 20,000 seat arenas then). The Factory/Russell Club in Hulme was the perfect post-Punk hangout, rough & ready with the best music of the time right in front of you. If you just wanted a beer, a band & a night with your mates then you went to see Ed Banger & the Nosebleeds at the Band on the Wall in Swan St. OK, this was…er, different but the company was good, the bar was open until 2 a.m. & we had a "Reggae Spectacular" about to start. Happy Days !
The show, known as "Roots Encounter", was quite special. Creation Rebel took the stage & made themselves comfortable. they were staying for the whole night. The band already had their own LP "Dub From Creation" (1978), rhythm tracks recorded in Jamaica, polished in London. The addition of drummer Lincoln "Style" Scott, through the Far I hook up, added class, Dr Pablo's melodica made for a distinct sound. With subsequent releases Creation Rebel would find their deserved place in our collections, usually finding the turntable at around 1 a.m. after a night of smoking it up. Tonight they were the backing band, first for the toaster Prince Hammer then vocalist Bim Sherman.
Natty dread was taking over Ray's Place. The hard edges were softened by rhythms that demanded that you dance. The crowd were moving together at the front of the stage & everything felt a little warmer. Adrian Sherwood was a young fan with a talent for mixing tracks & for getting things done. He was already involved with all of the acts on tonight & after a couple of false starts he formed his own label, On-U Sound. Sherwood had intriguing & experimental thoughts on production & the label soon became a hallmark of quality, its varied output of Reggae & beyond always worth investigation. Tonight was his idea of how a Reggae show should go, Creation Rebel stretching out & taking up the slack between sets, the music never stopping. A good idea it was too.
When the star of the show arrived onstage there was definitely a surge of energy in the place. The man had presence, his individual growl serious & impressive. He described himself as a "chanter" rather than a toaster, whatever it was it worked. Creation Rebel were dubbing it up, heavy on the bass to match the lyrics. Prince Far I trod his own path & I was reminded of another unique talent, Captain Beefheart. There can be no higher praise. I have no idea what songs he played, refreshments had been taken & I was having a time. I've included "Message From the King" here because I love the combination of Prince & Culture's Joseph Hill. If you have the time & the inclination towards fine music then check the Peel Session from June 1978 which gives a better idea of what we heard on the night.
There's a lot of Prince Far I's music about. His alliance with Adrian Sherwood worked to their mutual benefits, Far I got his records released & Sherwood gained access to Jamaican artists recorded by the Prince. Between 1978 & 1981 4 chapters of "Cry Tuff Dub Encounter" were produced alongside a couple of other LPs in each year. In 1983 Prince Far I was shot & killed during a robbery at his home in Kingston Jamaica. He was a great loss to not just Reggae music & his lyrics continue to stir & inspire today. I was privileged to be able experience his live show. It was worth visiting Stockport after all.