By the time Gladys Knight & the Pips signed for Tamla Motown in 1966 the family group were an established live attraction with 2 US Top 20 hits to their name. Gladys had 2 small children, her husband was the group's MD. They were ready to take care of their own business &  independence was not always a good fit with Berry Gordy's Motown manifesto. A case can be made that they did not always get a fair shake at the Detroit label. The Pips were never at the front of the queue for the sure-fire hit songs from the Holland-Dozier-Holland production line, their records were released on the label's Soul subsidiary. They knew what worked & worked what came their way. Their breakthrough hit, "I Heard It Through the Grapevine", in 1967 was TM's biggest selling 45 to date. Their last hit for the label in 1973, the Grammy award winning "Neither One of Us" made #2. In between they made some music which sits comfortably alongside the headline acts on any Motown anthology.
This clip is, despite the sound quality, pretty special. Shot in 1970 on a hospital ward for soldiers wounded in Vietnam, Gladys looks stunning & sings wonderfully. The Pips, brother Merald, cousins William & Edward, look sharp & dance up a storm. There's a rocking band over in the corner so let's do the show right here. The healing power of music. I feel better watching a film of it over 40 years later.
Of course "I Heard It Through the Grapevine" is Marvin Gaye's song now. Producer  Norman Whitfield had co-written it with Barrett Strong then recorded versions with Smokey Robinson & Marvin which didn't pass Motown's weekly quality control meetings.(Must have been a good week !). It was a faster, more urgent take on the song by Gladys Knight & the Pips that was released & became a hit. This was the style favoured for their singles, in fact an earlier song, "Take Me In Your Arms & Love Me, a hit in the UK, was edited for a US LP because it was too darned hot ! Motown were moving to the West Coast, busy making Diana Ross a movie star & bigging up the Jackson 5. The label missed that Gladys & the Pips' smooth take on songs with a country feel,  Kris Kristofferson's "Help Me Make It Through The Night" & the hit "Neither One…"  was bubbling up & breaking through.
Leaving Motown was the best thing that ever happened to the group. At Buddah there was better promotion, a greater freedom to choose their own material, a growing maturity & sophistication & Gladys blossomed as a singer & as a star."The Empress of Soul" led her group to a run of Top 5 singles & gold record sales for their LPs. "Neither One Of Us" had been written by country songwriter Jim Weatherly & "Imagination", the first post-Motown LP employed 5 more of his songs. This music was not the earthy country soul of Muscle Shoals & the Southern USA, it was the Sound of Young America growing up with its audience. An audience that had always liked Gladys Knight & the Pips.
On one of Weatherley's songs "Midnight Train To Georgia" (originally "Midnight Plane To Houston") Gladys' swelling vocal is complemented by perfectly arranged backing vocals from the Pips. This is the group's signature song & while I like to stray from the beaten path on these things I know a classic when I hear one. "Midnight Train…" has got to be included here. The group was riding high. At the 1975 Grammy awards they were impressive & charming when they sang the nominees for Song of the Year. "And the Pips" appeared on the short-lived Richard Pryor TV show performing backing vocals with an empty microphone stage left.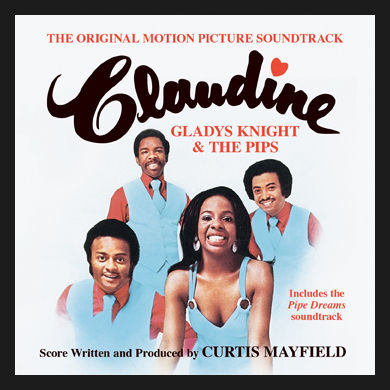 In 1974 they recorded a soundtrack LP for the film "Claudine" with the great Curtis Mayfield. The film starred Darth Vader & Diahann Carroll (oh my !). Carroll hooked a Best Actress Oscar nomination for her role as a welfare mother of 6 children. It was not a typical blaxploitation movie. No superfly, black private dick risking his life for fellow man across 110th St. For the soundtrack Gladys & the Pips' smooth assurance meets Curtis' Chicago funk & lyrical social commentary to create, in my opinion, the best LP of a long career. Over on "Soul Train" they know that they have got it going on with "On & On", the Pips getting down with their bad selves & no-one to edit beautiful Gladys now. Even the normally self-absorbed dancers know that they are in the land of the good groove. Fantastic.
At the time these records were made I liked more ham-hock in my cornflakes when it came to African American music, some funk in the trunk. Now I watch the clips & they make me smile. A class act at a time when Soul music was moving towards disco & the mainstream. Gladys went on to continued success with the Pips & as a solo artist. That's a lot of music to sort through. A good start would be to compare those 7 years at Motown with the hits in the 3 years after 1973. You may not be able to decide which you prefer but you will have a damn good time trying.