The highest new entry on the Cash Box Top 50 in R&B Locations for May 16th 1970 was by a singer who was better known as a songwriter. When I say "better known" I'm talking one of Rolling Stone's Greatest Songwriters of All Time, Songwriters' Hall of Fame, having a street in Memphis named after you better. David Porter, you know him, well maybe not.
David Porter was a teenager hanging out at Satellite Records in Memphis when it changed its name to Stax in 1961. Apart from his songwriting talent he introduced high school friends Booker T Jones, William Bell & saxophonist Andrew Love to the label. It was in partnership with Isaac Hayes where he made the most impact. In 1969 Sam & Dave released a glorious "Best Of…", 14 tracks & the Hayes/Porter team were responsible for 11 of them. Carla Thomas' "B-A-B-Y", that was one of theirs, in fact most every Stax artist recorded their songs. In 1968, still reeling from the premature death of its major star Otis Redding, Stax found themselves on the wrong end of a distribution deal with Atlantic Records & lost control of their back catalogue. Hayes & Porter were kept busy in the studio as the label, desperate to have something to sell, released 27 LPs & 30 singles in mid-1969. When the dust settled it was Isaac Hayes' "Hot Buttered Soul" setting new standards in Orchestral Soul, selling millions & saving the company. "Black Moses" had the road to international stardom to follow so David Porter finally got down to making his own solo album.
"Can't See You When I Want To", straight in at #37, is taken from "Gritty, Groovy & Gettin' It" (1970). A plea from "the other man" in a love triangle & over 7 minutes long on the LP the song most resembles his former partner in its drama & scope. It's also the only track composed by David & then it's a serious remodel of a 45 he had recorded in 1965. On other tracks he takes Curtis Mayfield & a couple of Motown tracks to Memphis & the transposition is enjoyable. Subsequently "…Into a Real Thing", issued later in the year, is more Hayes-like though the Garage-Pop classic "Hang On Sloopy" can hardly carry the weight of the 11 minute treatment it receives. 1971's "Victim of the Joke…an Opera" is an ambitious conceptual mix of music & dialogue. David Porter's solo work is worthy of consideration. "When Something is Wrong With My Baby", "Hold On I'm Coming" & "Soul Man" contributed to the dignity of Soul music & for that "I Thank You".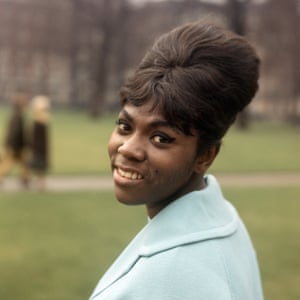 At the beginning of the 1960's a New York recording session was not complete without the backing vocals of the Gospelaires, a group started by the Warrick sisters Dionne & Dee Dee. The older sister's gig singing on demos for Burt Bacharach & Hal David led to Dionne Warwick becoming the interpreter, even muse, for the great songwriters. Young Dee Dee's early career was guided by Jerry Leiber & Mike Stoller, a more experienced & established partnership. While Dee Dee lacked the smooth, rich, Pop sophistication of Dionne the girl could certainly sing. Her R&B hits released by Mercury display a great range. In 1966 "I Want to Be with You" was a big production of a number from a Broadway show & "I'm Gonna Make You Love Me", later a hit for Diana Ross & the Supremes & the Temptations, was cool & possibly ahead of its time. In 1969 "Foolish Fool" displayed Dee Dee's power, earning her another chart placing & a first Grammy nomination.
When Dee Dee signed for Atlantic she was sent down to Florida where, at Miami's Criteria Studios where the label were setting up a new operation. Keyboard player Jim Dickinson assembled a band of Memphis session aces & the Dixie Flyers, guitarist Charlie Freeman, bassist Tommy McClure & drummer Sammy Creason  moved in. With stellar backing & well chosen material "Turning Around" (1970) is a very fine showcase for Dee Dee's talent. Her Gospel grounding is undeniable but her forceful voice is no Soul shout, comfortable with songs that require a touch of Country or a shot of Blues. "She Didn't Know (She Kept On Talking)" is the flipside of the David Porter record, a wife finding out that her husband is cheating. It was written by Swamp Dogg & Gary "U.S." Bonds who were getting developing a knack for dramatic lyrics that were almost conversational & certainly distinctive. A Top 10 R&B hit, "She Didn't Know…"was nominated for a Grammy in the Best R&B Vocal Performance-Female category. Others in the frame were winner Aretha Franklin, Nina Simone, Candi Staton & Esther Phillips. Dee Dee Warwick was keeping good company & was by no means out of place.
I am aware of & not ignoring the allegations made against Dee Dee in Kevin McDonald's movie "Whitney" (2018). My take is that both parties are no longer around to either confirm the events or to defend themselves. I am more sure that Dee Dee Warwick's openness about her sexuality, the lack of promotion of her records & possibly just being the little sister of a major star prevented greater recognition than she is given.
Another new entry this week, in at #45, gets the nod because I will never tire of this great clip. In 1970 the five Burke siblings' title as "The First Family of Soul" was under threat from Motown's new contenders the Jackson 5. Chicago's Five Stairsteps were all teenagers in 1966 when Curtis Mayfield produced their debut album, released on his own Windy C label. There were four R&B Top 20 hits on the record & while there are distinct Curtis touches the songs were mainly co-written by Clarence Jr. The partnership continued for two more records, with a mix of sweet ballads, funky uptempo tunes & a sprinkling of Mayfield songs the Five Stairsteps (& Cubie as they were known when the very youngest brother joined them) always proved to be popular. By 1970 Curtis was busy with his own plans, the Stairsteps signed to Buddah & were put under the care of the label's house producer Stan Vincent. The first 45 "Because I Love You" missed the chart but "Ooh Child", written by Vincent, was their first crossover to the Pop listing & the song for which they are mainly remembered.
"Ooh Child" has found it's way into popular culture now. It was immediately covered by by the Spinners & Nina Simone, reggaefied by Bruce Ruffin & many versions have followed. Featured in "Boyz n the Hood" & "The Simpsons", Spike Lee used the song in his movie "Crooklyn", & it's Peter Quill's choice when offering a dance-off to Ronan the Accuser in "Guardians of the Galaxy". It's this original version & this "Soul Train" appearance that keeps me coming back. The group are growing up, Alohe, the eldest steps to the front sounding (& it has to be said, looking) as fine as her name. Clarence Jr & James take their turn & all the boys, ditching their lounge suits & straight out of the Superfly boutique, look confident & hip. In the backline drummer Jerome "Bigfoot" Brailey, later of Funkadelic, drives the thing along. "Ooh Child" is such an optimistic song, the one I turn to when I need a little pick-me-up, a sharpener. In strange days like these we all need reminding of better days to come. "Some day, yeah we'll walk in the rays of a beautiful sun. Some day when the world is much brighter". That's right!