I do love a list & also have a liking for musical ephemera preserved on the Internet so when the all-encompassing treasure trove that is the archive.org website turned up a full set of Cash Box magazines, allowing my regular selections from the US R&B chart of 50 years ago to continue, my eye was caught by the listing for the LPs 101 – 150 for January 8 1972. It's a varied collection of classic hit records, "Sticky Fingers", "The Allman Brothers Band at Fillmore East" ("Eat A Peach" was due in February) slipping from higher positions, of "Best of" & "Greatest Hits", including Iron Butterfly (really!) & B J Thomas who was on to "Volume Two". There are outliers like the latest from Mantovani, a conductor of light orchestral music, & the soundtrack to the Disney film "Bedknobs & Broomsticks" then there are those records that didn't quite sell enough to make the big Top 100. I know, I'm easily pleased but there's some pretty good music to be found here.
At 5 pm on the 15th of August 1969 the Woodstock Festival wasn't ready to go. The stage hadn't been finished & Sweetwater, the opening act, were caught in congestion of people & vehicles travelling to the site. Richie Havens, still waiting for his bass player, was asked to step in, closing an extended set with "Freedom", an improvisation based on the spiritual "Motherless Child". The song was included in the 1970 festival documentary, the fifth highest grossing film of the year, & a lot more people knew about Richie, already a successful artist, three albums in, than had previously been the case. That was a good thing for everyone, Richie's deep smokey voice, his rhythmic strumming, open chord tuning, thumb hooked over the guitar fretboard & refreshing Soul-Folk interpretations of familiar songs gave him an individual place in music. "Alarm Clock" (1971), the first post-movie collection, released on his own Stormy Forest label, reached #29 & the lead track, the Beatles' "Here Comes the Sun", entered the Top 20, the biggest commercial successes of his career.
"The Great Blind Degree", down three slots to #105 this week, included a number of soft rock cover versions, songs by Graham Nash, Cat Stevens, James Taylor's "Fire & Rain" that everybody was doing & Pete Townshend's "Tommy" that no-one was, getting Havens-ised. The jewel of the record is "What About Me", a powerful state of the nation song from when the nation was in an absolute state, written by Dino Valenti. Dino was an enigmatic wild one, making the Greenwich Village folk scene before moving to the West Coast & joining Quicksilver Messenger Service. In the mid-60s he sold the rights to "Get Together", soon to be a Hippie anthem, for $100 to pay for the defence of a marijuana bust & for a while he held the copyright to "Hey Joe", gifted to Dino, it is claimed, when an inmate at Folsom Prison. "What About Me" is a lyrical triumph & Richie Havens did it more than credit (see above). He may not have had the big hits but he was always welcome through a long career, constant in his support for ecological action, for civil rights & freedom. In 1982 Richie Havens was the closing act at the Glastonbury Festival, it was an occasion, a stunning, inimitable performance.
Mitch Ryder (born William Levise) was singing in Detroit clubs as Billy Lee & the Rivieras when the group was signed by Bob Crewe, the writer-producer behind the Four Seasons whose successful run of hits had continued in the face of 1964's British Invasion. Together Crewe & the re-named Mitch Ryder & the Detroit Wheels recorded three LPs & five Top 30 singles, exciting, precipitous rushes of Garage Soul, an influence on young Bruce Springsteen & many others who wanted to make music that got people out of their seats. The band worked hard, Crewe re-packaged the hits three times in two years & only he got paid. The producer's idea of solo Mitch as a singer of standards for "What Now My Love" (1967) was a bad one, "The Detroit-Memphis Experiment" (1969), a record with Booker T & the M.G.s, produced by Steve Cropper, is much more interesting but failed to attract attention. The times they were a-changing & Mitch Ryder was a golden oldie, all the way back from two years ago!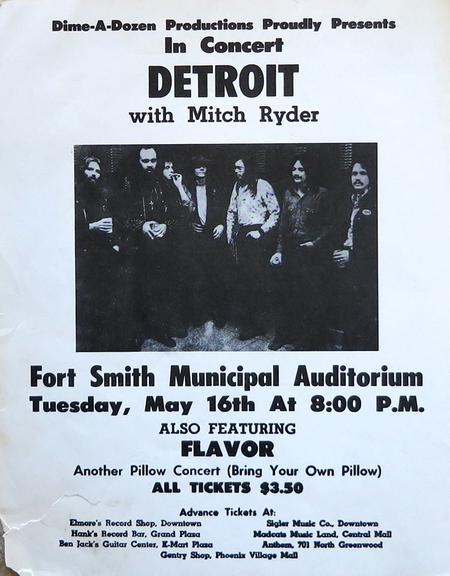 "Detroit", #137 from 142 this week, is the eponymous debut by Mitch's new combo, only drummer John Badenjek was a former Detroit Wheel. It's a straight ahead Rock & Blues record, as resolute as the hard-working city that gave the group its name &, after closer listening this week, Mitch is in great form & the best tracks hit the spot. These are when guitarist Steve Hunter, recommended by bass player John Sauter, is let loose. The record is produced by Bob Ezrin, just 21 years old,& when Alice Cooper was no longer a group he brought Steve along to help Alice the solo singer out. When Ezrin worked with Lou Reed he played him Detroit's version of Lou's "Rock & Roll", a minor hit (see above) & Steve was hired to make some noise on the Rock & Roll Animal tour. A hard living lifestyle took its toll on Mitch's voice & on a couple of band members. Detroit made just the one record, Mitch took a job in a warehouse before returning to make some fine, fine music with the help of friends who were fans. Mitch Ryder & the D.W.s may be less rated than some 1960s acts but if you are having a party then their "Breakout" album will bring a smile to faces & a tap to toes.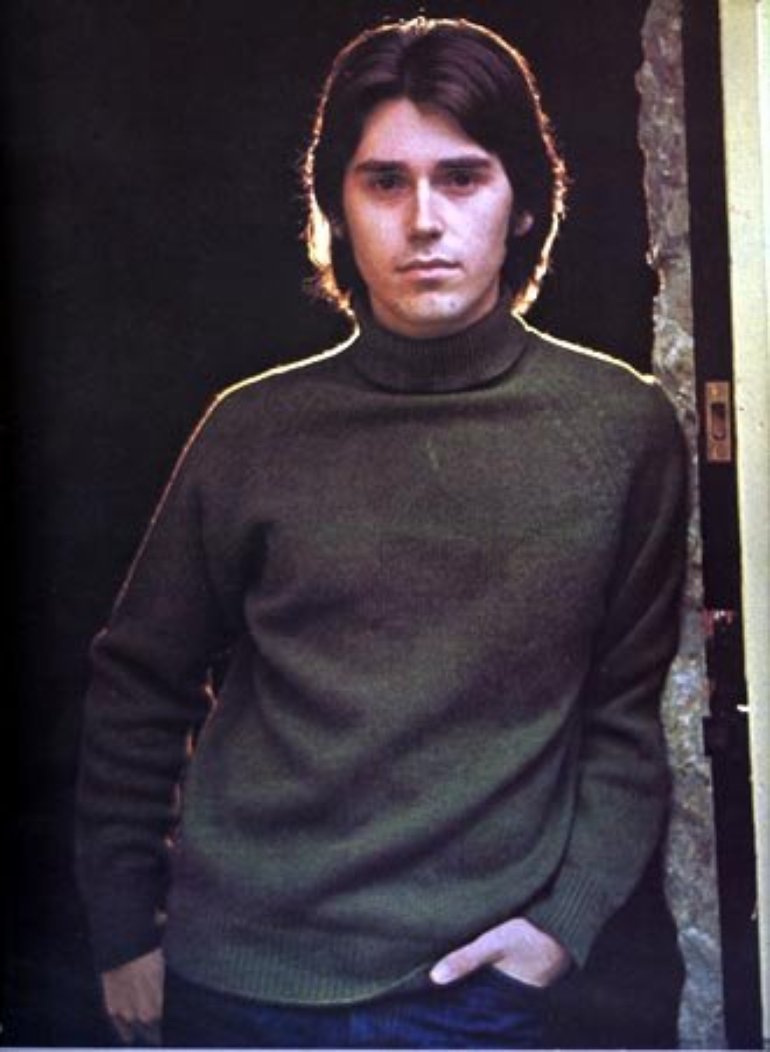 When Emitt Rhodes' teenage band, the Merry-Go-Round disbanded in 1969 after just the one LP of Pop with a light psychedelic seasoning his own recordings were rejected by the label. Undeterred his parents' garage became a studio & the subsequent tracks, all written, sung & played by him, gained him a contract. "Emitt Rhodes" (1970) attracted much critical acclaim & dedication from fans reaching the Top 30 of the US charts. Here in the UK his name would be checked in plenty of journals but there was little radio support & that's how we heard new music back then. Perhaps, due to Emitt's obvious influences, the "one-man Beatles" tag didn't help, our own Fab Four may have called it a day but their first solo records were selling by the lorry load. Similarly Mirror" (1971) didn't include a hit single that would have raised interest. It stayed at #131 this week 50 years ago & would not get much higher.
Emitt Rhodes' music is undoubtedly McCartneyesque, it is still now as fresh as a daisy, imaginatively arranged, natural, melodic, perfect crafted three minute Pop songs. Many artists have had similar aspirations & succeeded, few have shown the facility & talent of Emitt Rhodes. It was obvious that the two albums a year deal he had signed was to prove too heavy a load for a one-man operation & there would be just one more release before his royalties were withheld & he was sued for $250,000. "Farewell To Paradise" (his third record) indeed. Emitt continued to write, still thwarted by the business of music, releases were sporadic. It would be 2016, 43 years later, before another Emitt Rhodes record, interest in his work has always endured, fans remain devoted but isn't it a pity.