So this week my link to the Cash Box Top 60 in R&B Locations of 50 years ago just disappeared. The venerable American music magazine now wants some of my hard-earned to access not only crummy content in which I have little interest but also their chart archive which I find so fascinating & inspiring. Ah well, at first it seemed that my game was up but these are they Interwebs, it's all there if you know where to look or you get lucky. I have found this week's listing, can't tell you where in case the Cashbox folk are around & they send their heavies around to hold me upside down out of the window to get me to reveal my source. It's OK, I live on the ground floor & anyway I'll never squeal. Right, in a week that saw the "Theme From Shaft" leap a rather impressive 35 places into the Top 3, my selections are all from Philadelphia. The City of Sisterly Love, home of the Philly cheesesteak & the Hoagie (whatever they are), had been making significant musical ripples for some time. By November 1971 these new young guns were hitting their stride.
Much of the impetus for the greater interest in the sounds of Philadelphia came from the talent, ambition & success of songwriter-producer team Kenny Gamble & Leon Huff & the Intruders were a big part of the pair's first steps to establish themselves. In 1966 they started their own Gamble label & four of the first five releases were by the local four-piece vocal group. It was all there on the Intruders' breakout hit "Cowboys To Girls" (1968). Sam "Little Sonny Brown's strong lead vocal, complimented by sweet harmonies, lush strings & punchy brass was a template for the future Sound of Philadelphia.
In 1971, with hits by the Intruders, Jerry Butler, Dusty Springfield & others on their palmares, Gamble & Huff, with the backing of Columbia, started Philadelphia International. With new financial & artistic clout they were able to assemble a roster of artists & background staff with the ability to finesse a Soul strand to rival Detroit & Memphis. Through all this change the pair stuck by the Intruders & "I Bet He Don't Love You (Like I Love You)" up just one place to #30 became the group's ninth R& Top 20 hit, all Gamble & Huff compositions. By this time Bobby Starr had replaced Little Sonny on lead, joining Eugene "Bird" Daughtry, Phil Terry & Robert "Big Sonny" Edwards. The Intruders already had their name on the roll of important Philadelphia artists & there was still more to come from them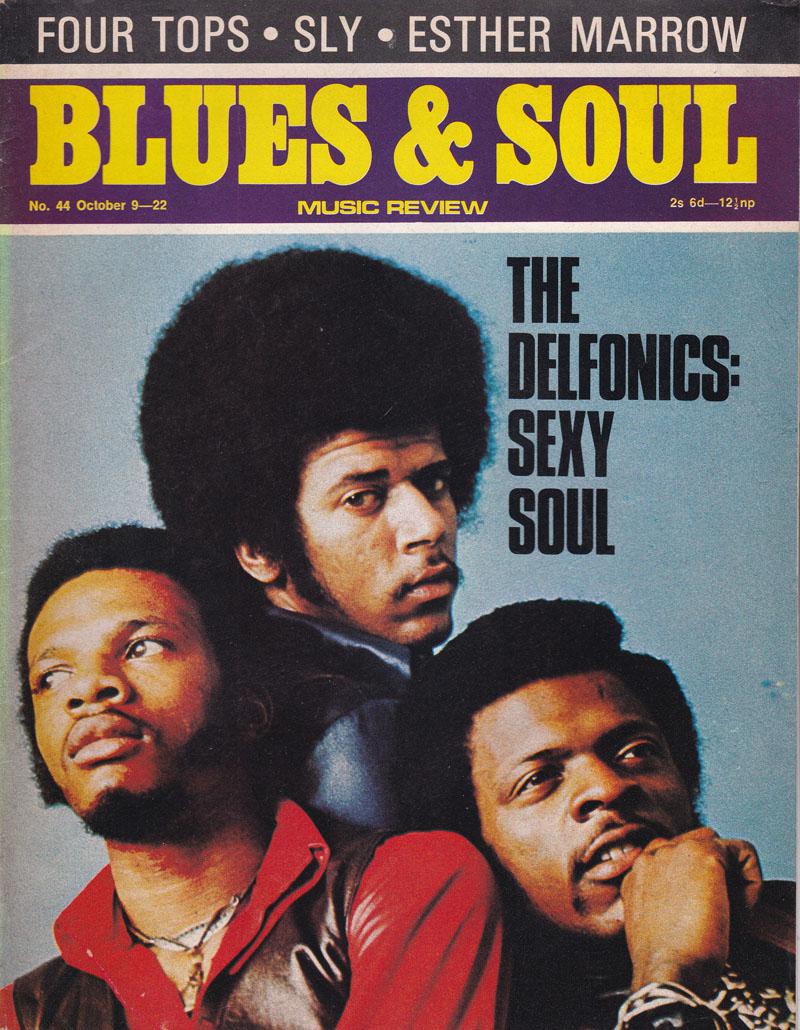 Thom Bell, Jamaican born, raised in Philadelphia, was an early recruit to the new record label. His talent as an arranger was already proven & when Gamble & Huff formed a publishing company Bell was the third of Mighty Three Music. In 1967 he was introduced to the Delfonics, the Hart brothers, William & Wilbert, & Randy Cain. William's love songs, sung in his sweetest falsetto, were matched to supertight harmonies & symphonic, atmospheric orchestration. The first two 45s were not hits, hearing them now they sound pretty fine, instantly recognisable as Delfonics' music. With their label Cameo-Parkway, a fixture in the city for the previous 10 years, about to fold they recorded "La La (Means I Love You)" & released it locally but you know it, Ms Jackie Brown knows it, we all do. It was just too good a record, a true individual classic, to not leave a major impression on the chart & in our musical memories.
"Walk Right Up To the Sun", rising a sprightly 10 places to #37, followed more Bell-produced hits including "Ready Or Not Here I come" & "Didn't I (Blow Your Mind This Time)". It's another smooth, airy piece which sits well on any of the group's "Best Of" collections only this time, as on the rest of the forthcoming album "Tell Me This Is A Dream", Thom Bell's name is absent from the credits. He had work to do on new projects based at the Sigma Sound Studios. William Bell continued to write, Randy was replaced by Major Harris whose cousin Norman took a prominent role (he co-wrote "Walk Right Up…"), playing arranging & assisting group manager Stan Watson on production. The hits were never as big again but hey, it's the Delfonics, you hear them you know them.
Linda Creed, raised in a suburb of Philadelphia, passed on college to pursue a musical career. She found her talent was as a lyricist & she was only 21 when Dusty Springfield recorded a song she had written with the aforementioned Mighty Three. Paired with Thom Bell the new partners worked on songs for the debut album by the Stylistics, a group referred to them by the Avco label. Eight of the nine songs on "The Stylistics" (1971) were Creed-Bell compositions &, given full creative control, Bell marshalled MFSB, the ready for prime time studio band, & a shimmering string section to frame the strong, sweet tenor to falsetto voice of Russell Thompkins Jr. I could name the other four Stylistics though they made no contribution to a record that produced five Top 10 R&B hits & was truly a landmark of the greater sophistication of Soul music.
It was such a landmark that when Diana Ross & Marvin Gaye were matched by Motown for an album of duets two of the Bell-Creed songs, "You Are Everything" (a new entry at #44 this week for the Stylistics) & "Stop Look Listen (To Your Heart)", were included. Things were tense between the label's biggest solo stars during the recording of "Diana & Marvin" (1973), she objected to his dope smoking, he wanted to know why her name came first. "You Are Everything" is the opening track, Diana takes the first verse before Marvin, showing he is not to be messed with, sits up & delivers the greatest 30 seconds of male vocal I have ever heard. Controversial? Not in the slightest -check it out.