This week, 50 years ago, the Jackson 5 were replaced at the top of the Cash Box Top 50 in R&B Locations by the breakthrough hit, a million seller,  from the Moments, not always mentioned in the first rank of vocal groups but who stuck around & made the listings for the next 15 years. "Love On A Two Way Street" kept the #1 spot on the Cash Box chart for 8 weeks, the longest stint of any record in 1970.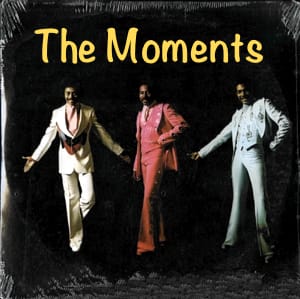 The Moments were formed in Washington DC in the mid-60s. They signed to All Platinum, a label run by husband & wife Joseph & Sylvia Robinson, in 1968 & experienced immediate success. Ms Robinson has her own chapter in the history of African-American music. There were hits as duo Mickey & Sylvia in the 1950's, solo records (& a Grammy nomination) in the 1970's &, as the founder of Sugar Hill Records, she pioneered the recording of new Hip Hop acts. Sylvia knew what sold, in fact she made a vocal contribution to "Lovely Way She Loves", the fourth of the Moments'  R&B Top 20 hits before "Love On A Two Way Street". It was during the recording of their debut LP that things got a little complicated when lead tenor Mark Greene & Richie Gross left the group. Billy Brown & Al Goodman joined John Morgan, Greene's vocals were re-recorded by Billy & it was this trio pictured on the cover of the record.
"Love On A Two Way Street", is a dramatic, romantic ballad, backing provided by the wonderfully named Willie & the Mighty Magnificents, & while maybe not as groundbreaking as the Delfonics it's certainly comparable. More team changes when Morgan left did not affect the Moments' popularity nor did Billy Brown's vocal problems which brought newest member Harry Ray to the foreground. There were to be two more R&B Top 10 entries before the year was out & in 1975 "Look  At Me (I'm In Love") put them back at the top of the R&B chart. The group released a steady run of albums, including the intriguing "Live At New York State Women's Prison", & three singles which missed out in the US all became Top 10 hits in the UK (Over here everyone knows "Girls" by the Moments & Whatnauts…Right On !). On leaving All Platinum in 1979 the label claimed dibs on "The Moments" name so the trio became Ray, Goodman & Brown & continued to have hits. This music business thing…it's complicated.
"You don't smoke what I smoke. You don't think like I think…I got a thing, You got a thing, Everybody's got a thing", Well alright! At #20 on the chart is the third single from the aural nitroglycerine that is Funkadelic's debut LP. The Parliaments, a five man vocal group formed in a barbershop in Plainfield, New Jersey, finally sold some records in 1967 when the driving beat of "(I Wanna) Testify" made the R&B & Pop charts. When their record label filed for bankruptcy & leader George Clinton wanted to move on he found that it meant leaving his group's name behind! George's solution was call his backing group Funkadelic & sign them to Westbound Records. This collective, 5 players & 5 singers, brought new talent to the fore, influences spread across Soul, Funk, Rock & Blues & probably a suitcase full of drugs, to pursue an intrepid exploration of the possibilities of music "dedicated to the feeling of good…for nothing is good unless you play with it". "Funkadelic" can be dense & chaotic, the birth of P-Funk. It's still Soul, a new kind & it's brilliant.
This wild & wonderful appearance on the nationally syndicated "Upbeat" TV show to promote "I Got A Thing, You Got A Thing, Everybody Got A Thing" highlights the difficulty of capturing the tumult of a 10 man fancy dress parade with little respect for the conventions of presentation. Things were more convoluted when George sorted out his legal problems & in July 1970 after Funkadelic's "Free Your Mind… & Your Ass Will Follow", Parliament released "Osmium", an album by the same line-up. With all this studio time guitarists Eddie Hazel & Tawl Ross, Billy "Bass" Nelson, drummer Tikki Fulwood & new guy on keys Bernie Worrell flourished, enabling George Clinton to pursue his grand vision for the group. By the middle of the decade more people were listening, gold & platinum albums & #1 R&B singles were achieved & Parliament-Funkadelic, with a stage show to match their reputation, were the biggest band in America.
Over on the West Coast the Watts 103rd Street Rhythm Band had made a couple of albums that consolidated their reputation as a fine club band. Soul standards were energetically & imaginatively arranged for an 8-piece group by member Raymond Jackson . The track that caught people's attention was the closer on "Together" (1968). "Do Your Thing", effectively employed in the film "Boogie Nights" while William H Macey is doing his, is a potent Funk brew, more basic than the rest of the record. Encouraged by their success 1969's "In The Jungle Babe" is much more confident, individual & adventurous as the group explore their new sound, stretching out on the cover versions of "Light My Fire" & "25 Miles". Somewhere between the two lead singles from "Jungle", to feature the singer & band leader, there was a name change to Charles Wright & the Watts 103rd Street Rhythm Band.
"Love Land", a new entry at #38 & the sweetest sounds you will hear today, is a bit of an outlier from the drive of the LP. All of the players in the Rhythm Band are pretty hot but drummer James Gadson is rightly considered as an innovator & an influence. He's less well known as a singer but he's on the button here. James became Motown's go-to drummer in L.A., he played on so many records that you know. Maybe he should have sung more. A Top 20 Pop hit, the biggest track from the album, "Love Land" is an update of an Al Hibbler song from 1959. It's credited to Charles Wright & Don Trotter. James Gadson believes that he should have got & was promised more credit. There were to be two more LPs from the group, the much-sampled "Express Yourself" was another that hit big,  but, as James said, things got a little strange after "Loveland". In 1971 four of the band left to tour the world with Bill Withers & Charles continued as a solo performer.
As many of us have a little more time on our hands here's a little bonus music. First, in 1972, James Gadson, still unsettled about getting burned on "Love Land" recorded "Got To Find My Baby", same tune, different lyrics.  On the Rhythm Band's final album "You're So Beautiful" he was, as usual, given one song. I first heard "What Can You Bring Me?" on Robert Palmer's "Some People Can Do What They Like". The original is wickedly funky & always hits the spot.