Another month, another Cash Box R&B Top 10 dominated by "the Sound of Young America" Tamla Motown. On November 15th 1969 four entries were releases from the Detroit company & across town former writing/producing team Holland-Dozier-Holland were responsible for "Crumbs Off the Table" by Glass House, a fine single by a short-lived group featuring Scherrie Payne, a future Supreme. There were to be two more chart-topping Motown records before the year was out so this month let's see what else was coming around.
If you own a copy of the 81 track "Complete Mythology" collection of the works of Syl Johnson then you will know that he suits the tag "legendary". Born in Mississippi Syl moved north to Chicago when he was a teenager. He & his brothers acquired their musical skills alongside his neighbour, Blues guitarist Magic Sam, a young man who had made the same journey. In a decade of recording his music, whether it was Blues or more contemporary Soul, was always dynamic & entertaining. By the mid-60's he was socking it to us with with bright songs about different strokes, mini skirts & the latest dances & making an impression on the R&B charts. "Is It Because I'm Black", at #32 on the chart & rising, was a different kettle of Blues-Funk, a straight ahead, no punches pulled commentary on race in America in 1969. I've selected the full 7 minute long album version here because it's a monumental track, a classic record. A message from a mature Black man, telling it like it is.
The hit single & subsequent LP were by no means a case of bandwagon jumping. James Brown was saying it loud but this was a year before significant albums by Marvin Gaye & Sly Stone placed social consciousness at the forefront of Black music. Syl's new vision was helped by the Pieces of Peace, the new hit sound of Chicago, the band behind the success of Tyrone Davis & Young Holt Unlimited,. After a disagreement with producer Carl Davis they brought their talents to Twinight Records & the singer made good use of them. The funked up covers of the Fabs' "Come Together" & Joe South's "Walk A Mile In My Shoes" complement Syl's impassioned songs of discrimination ("Concrete Reservation") & hopes of integration ("Together Forever"). The closing track "Right On" is a tower of Funk power, singer & band hitting the groove & just not stopping. A fine end to an absolutely outstanding & significant album.
Syl hooked up with his friend Willie Mitchell who had something good happening at the Hi studios in Memphis. In his time there less use was made of his own material. While he may have been overshadowed by the success of Al Green & Ann Peebles, Mitchell's productions at the time were second-to-none & Syl recorded some fine sweet Memphis Soul. Extensive sampling of his music brought renewed interest & he later resumed his recording career. If you are not too familiar with Syl Johnson then you know the drill.
Stalled at #41 was a single by a wonderful singer, another one who never enjoyed the success he deserved. Johnny Adams had been working & recording around New Orleans for a decade with just "A Losing Battle", produced & written by Mac Rebennack (Dr John) grazing the national R&B chart in 1962. A potential move to Motown was thwarted by a previously signed contract & some of his records were selling no more than a couple of hundred copies. In 1968 Johnny was signed to SSS International in Nashville & his fierce version of the country classic "Release Me" shamed Engelbert Humperdinck & put him back on the R&B Top 40. The label matched Johnny with country writers Myra Smith & Margaret Myers for the gorgeous "Reconsider Me", as good as Country Soul got & a Top 30 Pop hit. "I Can't Be All Bad", from the same team, has a marvellous Bluesy feel. I have no idea who was the Nashville cat in the studio that day but his guitar playing is as clean as country water, wild as mountain dew.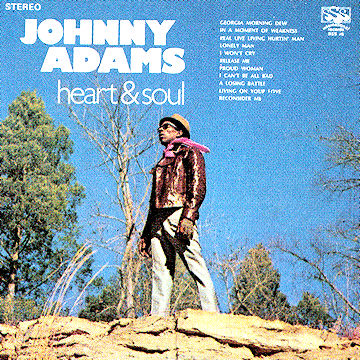 Johnny Adams, "The Tan Canary", had a range & versatility, accomplished in many styles, powerful but still smooth, that few singers could match. He recorded 4 singles for Atlantic, no album, & one of them Jagger/Richards' "Salt of the Earth" is from the very top shelf of Stones covers, a hit that got away. Johnny was in his fifties when he began a series of records for Rounder, Jazz, Blues, Soul, tributes to Percy Mayfield & Doc Pomus, all accomplished & classy. In 1970, with his name more visible than ever, SSS assembled the best of his recordings up to that date &"Heart & Soul" is the Johnny Adams primer, an entry into the good stuff.
I'm really spoiling myself this month, I hope you feel the same. At #39 was "How I Miss You Baby" by Bobby Womack, a man who, from his involvement with Sam Cooke in the 1950's until working with Gorillaz in the 2010's, remained relevant & influential. While still in the family group, the Valentinos, he co-wrote "It's All Over Now", the first #1 hit for them Rolling Stones, Bobby wasn't too pleased until the royalty cheques arrived. His marriage to Cooke's widow, Barbara, less than three months after his idol's death met with some disapproval & his records were not played on the radio. He found a place as a songwriter, with hits for Wilson Pickett, & as a session guitarist around Memphis. In January 1969 "Fly Me To The Moon" was a fine start to his solo career. The title track, an old standard & "California Dreamin'", a new one, put him in the R&B Top 20.
"How I Miss You Baby" is the lead single from "My Prescription". More of the same, Bobby's strong raspy gospel-inflected voice, clearly enunciating just like Sam taught him, telling his own stories, finding the Soul in sometimes unlikely easy listening classics ("I Left My Heart in San Francisco"), perfect accompaniment from the Memphis Boys at American Sound Studios. This was his most successful single yet before a change of label, with increased promotion, & a move down to Muscle Shoals in Alabama brought a regular R&B Top 10 presence. This string of early 1970's 45's, often employing a trademark introductory monologue, is a long, impressive list. I would be remiss of me if I did not at least mention "Across 110th Street" & "Harry Hippie". Of course Bobby Womack kept on keeping on, a Soul Survivor adjusting to changing taste, always the real deal. "The Poet" (1981) is probably his most well known LP, one day I'll take the time to tell you just how good "So Many Rivers" (1985) is.
I've had the company of some fine fine music this week. I'm aware that my recent selections have been predominantly male singers. Next month's #1 is by America's most successful female group of the 1960's so that's a start & I'll have no problems ending the year by redressing any imbalance.