There's been a Taj Mahal revival round at our house. Recently a young woman showed up on my doorstep with a couple of bags & nowhere to go after her parents had asked her to leave. I don't think that I have a heart of gold but Mollie is a friend, she was skint, screwed & homeless so what can a poor boy do except sleep on the undersized sofa for a couple of weeks while helping her to find somewhere to live. She's 19 & reckons that my musical taste ranges from absolutely archaic to downright weird. That's the way the youth should feel about old people's music. A concordance was reached one evening when she returned to a flat filled with Taj's unique, calming rhythms. It's harmonious in however many meanings that word has.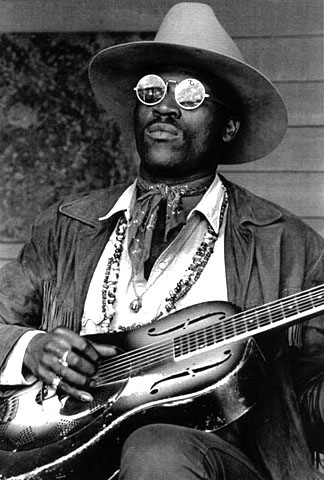 Oh yes! "Sweeter than a honey bee". Taj, his Regal RC-56 Tricone Resophonic guitar & a couple of friends on a Sunday morning ride around New Orleans in a horse-drawn carriage playing "Queen Bee", a track from his 1977 LP "Evolution (the Most Recent)". What could be better?…not much. In 1968 Taj released 2 LPs of soulful electric Blues, respectful to the tradition, modern without resorting to psychedelic gimmickry. The eponymous debut contained songs by Sleepy John Estes, Blind Willie McTell & Robert Johnson while "The Nach'l Blues" dipped into the Stax catalogue with tunes from William Bell & Homer Banks. I liked this new talent, I liked his range, it reflected my own listening preferences when it came to African-American music.
Throughout the next decade Taj Mahal continued to make quality music. With support from guitarist Jesse Ed Davis the first 3 albums featured a great rocking band. Subsequent records, it's a fine list, provided a tasty, diverse menu. The ingredients already included Blues, Soul, Folk Gospel & Jazz, Taj added a strong seasoning of Caribbean rhythms. As he told us on "Mo Roots" (1974) his grandfather married "one fine St Kitts Woman". This was though no musicologist's pick & mix of World Music. Whether Taj was picking his guitar or banjo or banging a couple of sticks together his own unique, soothing inner rhythm into whatever the origin of the songs he chose to interpret.
"Take a Giant Step", written by Gerry Goffin & Carole King & originally recorded by the Monkees was the B-side of "Last Train to Clarksville in 1966. Three years later it became the title track of the electric half of Taj's 3rd album. This version, my preferred one, is taken from the LP "Live & Direct" (1979) credited to Taj Mahal & the International Rhythm Band. A couple of years earlier he added Trinidadian steelpan virtuoso Robert Greenidge to his group. The pan is not my favourite instrument but maybe I'd not heard it played right until I heard Greenidge. "L&D" is such a bright, entertaining record, the band, including long-time contributor Rudy Costa on sax, flute & pan pipe, hit a groove that you want to go on & on. Ditching my cassette collection didn't seem too drastic at the time but I would have this one back in a heartbeat. Now I have a set the group performed at Berkeley Community Theatre in September 1977, taped for my listening pleasure by KSAN.
The contracts with Columbia & Warner Bros ended & there were less records released in the 1980's. His reputation meant that he could still draw a crowd & I saw Taj play 3 times in that decade. His 1987 Glastonbury set, closing the festival on the Sunday night left me so satisfied & tickled too that 7 days later I was down the front at the Town & Country Club in London for more of that good stuff. "Like Never Before" (1991) had a bigger budget, a polished production, a guest list of heavy friends (Hall & Oates, Dr John, David Lindley). The record attracted a little more attention & "Take All the Time You Need", a song written by Jerry Williams, the great Swamp Dogg, joined that long playlist of essential Taj Mahal tracks. It sounded like the kind of Rock & Roll that I wanted to hear back then & it surely still does now.
So that was going to be my triple whammy choice of Taj tracks for today. I'll mention his show in London on a Summer evening in 1998 when he & the Phantom Blues Band performed a fine Soul-Blues review show. There has been a fine, wide mix of collaborations & solo releases since but it's the charm of those early records that keep me listening to him. Then I stumbled upon this clip from 2014 which shows where Taj is now so much better than I can. Here he shares a stage with an all star band including Ryland P Cooder who, as a 17 year old had been a fellow member of the Rising Sons, a Blues Band from Los Angeles. "Statesboro Blues" is that Blind Willie McTell song they played in 1966. Taj fills the stage with his presence, his personality & his ability. When Taj plays you can't help but smile.