In late 1969 I watched the first TV series of "Monty Python's Flying Circus" with my Mum. Dad was more vocal about things he disapproved of on the idiot box. "Top of the Pops" was never not interrupted by "I can't hear the words" & "Is that a boy or a girl ?". While I struggled not to fall off the sofa in convulsions of laughter Mum's silence was only interrupted by regular tutting. That was OK, an example of the "generation gap". I was 17, living in the swingingest country in a dynamic decade, Mum was ancient…36 ! Anyway, don't you hate it when old people think they are down with the kids ? As my sides were splitting over Bicycle Repair Man, Nudge Nudge & Arthur "Two Sheds" Jackson, Mum was wondering quite what the world was coming to.
Monty Python is now regarded as a high watermark in comedy (not just British), a ground-breaking New Wave of hilarity. My friends & I had an interest in any seriously funny business & the series was a much anticipated collision of talents who had already been making us laugh for some time.
Despite the increasing hegemony of television the BBC, the monopoly provider of UK radio, continued to commission popular comedy programmes. I was too young for "The Goon Show" but Spike Milligan's anarchic tomfoolery was built to last & still around.         The interest in political satire, sparked by the decrepit Tory government of Harold Macmillan, had been past my bedtime but Peter Cook & Dudley Moore seemed to be the funniest men in Britain.  They had come to notice in "Beyond the Fringe", a tremendous success, a merging of the best talent from Oxford & Cambridge university revues. Comedy became a career option for graduates of these establishments & the Beeb eagerly signed up the next generation of side-splitting scholars.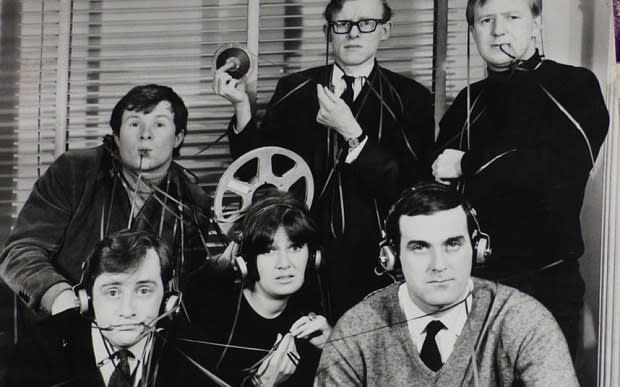 When the 2nd series of "I'm Sorry I'll Read That Again" moved to the Light Programme from the Home Service (I know…what the…!!) in 1965 it soon became essential listening.Satire was played out, we had a new Labour government, the first for 15 years, & it wasn't only comedians who were cutting them some slack. The young cast of "I.S.I.R.T.A" reverted to their teenage Goonery & spliced it to the iconoclasm that Britain was getting pretty good at in the mid-1960s. The new rules were that there were no rules &, often, no punchlines. In the helter skelter of hilarity the stand out was John "Otto" Cleese. His parody of the oleaginous "bubonic plagiarist" (©P. Cook) David Frost nails the vacuity of the chat show format. Frost was not the last self-obsessed, talking loud saying nothing, TV host to prosper in the US.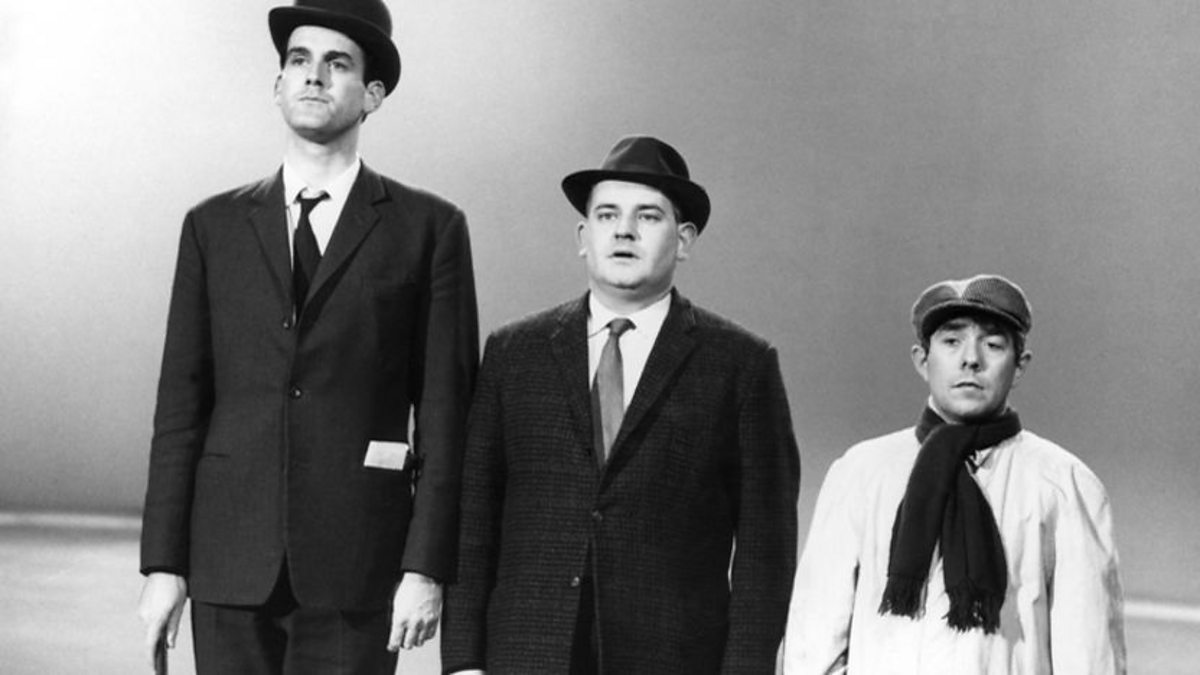 It was on the BBC's "The Frost Report" that we first got to see the 6'5″ Cleese in our telly. Sketches with, in descending order of height, Cleese & the two Ronnies, Barker & Corbett were the stand out in a successful series. Frost's production company (he was always a busy…) assembled Cleese, his writing partner Graham Chapman &, from "I.S.I.R.T.A", Tim Brooke-Taylor for 1967's "At Last the 1948 Show", a mix  which included older university revue stuff & sketches which would later be used by Python. The cast was completed by the "lovely" Aimi McDonald (& she was) & Marty Feldman who had a reputation as a writer, for Frost & "Round the Horne", a very popular radio series, not as a
performer. Marty had much more going on than the bulging exophthalmic eyes that gave him a face for comedy. He roughened the intellectual edges of the others & brought along his own brand of mischievous anarchy. The ramshackle improvisation & corpsing in this cross-dressing cop sketch still makes me laugh out loud. "…the 1948 Show" replaced "Ready Steady Go" as the must-see TV show, another night that I was on my quiet, best behaviour so that bedtime came a little later.
Meanwhile at teatime, children's TV was getting more interesting. "Do Not Adjust Your Set" ran for 2 series from December 1967 to May 1969. Eric Idle (Cambridge), Terry Jones & Michael Palin (both Oxford) were touting their sketches around to the successful comedy shows already mentioned & were enthusiastic about writing & performing their own show. They were joined by Denise Coffey & David Jason ( as not-so-superhero Captain Fantastic), later to find his own place in the British comedy pantheon. Neither lampooning the worthy but patronising tropes of British children's TV  (& about time too) nor being funnier than other comedy for kids was particularly difficult but "Do Not…" did both with imagination & energy. It was an opportunity for the 3 young writers to find out what worked & what didn't. I was of an age where kids' TV was no longer interesting but this was a reason to rush home from football practice, ask my sister & 3 brothers to move on over & let me watch my show.Then we all had to hush up while Dad watched the News !
For the musical interludes, direct from "Magical Mystery Tour", the Bonzo Dog Doo Dah Band were now sending up their novelty trad jazz roots, dropping the Doo Dah & becoming the funniest rock group on vinyl. A regular TV slot & a free rein allowed them to develop their visual style & expand their audience. By the end of 1968 "I'm the Urban Spaceman" was in the UK Top 5 & we were rolling around to the classic LP "The Doughnut in Granny's Greenhouse". In the second series the guy who contributed short illustrative inserts, Terry Gilliam, a young American, was given more to do. "Beware of the Elephants" (with the UK's most prominent racist, Enoch Powell, promoting sludge that keeps everything "white, white, white") is perfectly Pythonesque. We all know now that the world is a better place for having Gilliam around.
"Monty Python's Flying Circus" was not something completely different for us 16 year olds who liked to laugh. It was a merger of talents who had been making us do that very thing for some time & was eagerly anticipated. I guess that we thought that this new troupe would attract a cult following (that would be me) before the BBC decided that it was just too silly & pulled the plug. It really did not take long (Episode 8, the Dead Parrot sketch, Ep 9 the Lumberjack Song) before British youth were committing this funny business to memory & knowing that it was built to last.20 years later, on a quiet Mayfair street, on a quieter Sunday morning, I met John Cleese & he politely acknowledged my rather effusive greeting. I didn't ask him to do a Silly Walk or perform the Gunfight at the OK Corral in Morse Code, just paid the respect & thanks due to a Comedy Don.