When Gram Parsons joined the Byrds he needed little of his Southern charm to steer his new band members along the Country roads on their LP "Sweetheart of the Rodeo" (1968). Bass player Chris Hillman had grown up playing Bluegrass & guitarist/singer Roger McGuinn was a folkie before they went following into the jingle-jangle morning. The problem was that America's Woodstock Nation viewed Country as over-sentimental, clean-cut & conservative, the soundtrack for Vice-President Spiro Agnew's silent majority. Coming back at ya, the denizens of Nashville & the Grand Ole Opry were not about to give a bunch of longhairs from California a fair hearing. I was in that first camp, Mum was a big fan of Jim Reeves, I wasn't. Gram's love & appreciation of Country, allied to great songwriting talent & an achingly beautiful voice, produced original music that moved the tradition forward. His choice of songs to cover in his short life were always worthy of further investigation which proved that those Nashville Cats played clean as country water & that the Devil did not have all the best tunes.
Ah, the Louvin Brothers, Ira & Charlie from Rainsville, Alabama. Their song "The Christian Life" appeared on "Sweetheart…". It's the antithesis of a rock lyric & a great tune. Anyhow, you may not heed God's call "but what is a friend who wants you to fall". Their early career was interrupted by Charlie's military service in Korea & it was 1955 before they appeared at the Grand Ole Opry. The brothers were steeped in Gospel & it was only around this time that they first recorded secular music. The following year was their breakthrough with 4 Top 10 Country hits & the release of the LP "Tragic Songs of Life", a superb collection of heartbreak, doom & murder. These boys could sing. Ira usually took the lead but their close harmonies, swooping & soaring & so natural, are a thing of wonder. "I Don't Believe You've Met My Baby", the lightest of their songs, makes the cut here because it's a chance to see just how the duo did it in living colour. Check "You're Running Wild", a high, lonesome delight, or "Cash on the Barrelhead", a song I was introduced to by GP's version on his posthumous classic "Grievous Angel".
Charlie Louvin was a respected, respectable God-fearing man. Brother Ira, was a womaniser & a mean drunk given to smashing his mandolin on-stage when his mood took a wrong turn. On a tour with Elvis Presley the new young star professed his love for Gospel music & was dismissed by Ira for the "trash" Elvis performed. His third wife, there were four, shot him 4 times in the chest & twice in the hand after he tried to strangle her with a telephone cord. Ira pulled through. The many stories add piquancy to their songs about the temptations of sin. By 1963 Charlie had had his fill of this abuse & split up the act. The Louvins were inspired by the Delmore Brothers, stars in the 1930s. In 1960 they recorded an LP of their songs. By this time Rock & Roll was the thing & the Everly Brothers, influenced by Ira & Charlie, were at the top of the tree, continuing the timeline of the families that play together.
For his solo LPs Gram found the perfect foil in Emmylou Harris, a young folk singer from the Washington DC area. "GP" (1973) featured 2 duets, both rather minor country hits. "That's All It Took" was co-written by George Jones a legend of American music who had started out in the honky tonks but whose orderly Countrypolitan style was just the thing younger audiences disliked about Nashville's output. George's great voice, his ability to invest part of himself & to achieve a universality in the songs he recorded made him something of a model for Gram Parsons. I discovered more about George Jones, the original of "A Good Year For the Roses", after Elvis Costello's cover, the tender melodrama of his 1980 #1 "He Stopped Loving Her Today", the duets with his wife Tammy Wynette & the alcohol fuelled dramas from their marriage. It was almost 30 years since I fell in love with the sound of Gram & Emmylou before I heard, from what I thought to be an unlikely pairing, the original of "That's All It Took".
Gene Pitney's first hit in the UK was his dramatic, memorable interpretation of Bacharach & David's "Twenty Four Hours From Tulsa". Gene had previous as a songwriter for teen idols Bobby Vee ("Rubber Ball") & Ricky Nelson ("Hello Mary Lou"). Phil Spector picked up "He's A Rebel" for a #1 by the Crystals, though the girl group did not sing on the record. I liked Gene Pitney. The follow up to "24 Hours…" was the first cover of a Rolling Stones song to reach the charts. His multi-tracked ballads were original & distinctive during the British Beat Boom. What I didn't know was that while he was making these hits he recorded 2 LPs of duets with George Jones. "For the First Time ! Two Great Stars" opens with the marvellously titled "I've Got 5 Dollars & It's Saturday Night". There are standards, a few of George's songs & a song that I'd loved since I first heard it in 1973. An incongruous duo but it worked.
Harlan Howard, though I didn't know it at the time, was responsible for one of the first pop hits that I was aware of. "Heartaches By the Numbers", a country hit for Ray Price became an international pop hit for Guy Mitchell & Harlan took his satchel full of songs to Nashville where he found instant success having 15 hits in 1961. By the time Gram recorded his versions of 2 of Howard's tunes he was being inducted into Nashville's Songwriters Hall of Fame. On "Burrito Deluxe" (1970) the Flying Burrito Brothers covered "Image of Me", a country hit for Conway Twitty. "Streets of Baltimore" ("GP") is a sad vignette about a Tennessee cowboy who took his wife to the big city & left her there when she chose the bright lights over him.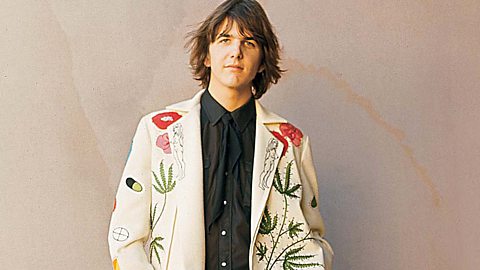 Back then I thought I knew nothing more about Harlan Howard beyond those two credits on the labels of much-played records. He had a hand in more than 100 hits & what we have here is his fine version of "I Fall to Pieces", a smash for the greatest of the female country singers Patsy Cline. Other artists picked up on his songs. Ray Charles, whose 1962 LP "Modern Sounds in Country & Western" had ignored musical labels & just smashed it, found "Busted" on a Johnny Cash record. In 1969 Joe Simon took "The Choking Kind" to #1 in the R&B charts (between the Isley Brothers & Marvin Gaye). Harlan Howard defined country music as "three chords & the truth". This was what Gram Parsons was aiming for & something we should all have around.