Here at loosehandlebars we have always appreciated an elite group of invited friends giving up their time & talent to contribute to the blog. It's a delight to welcome Derry music legend, my great buddy, Paul Pj Mc Cartney, off of Bam Bam & the Calling, to these pages. Paul is going to put us on to one of his hometown's hottest combos Strength. McCarts talks a lot of sense about a lot of things. Any time he wants to share something with us I'm sure that we will find a space for him.
I had a party in the house in late March 2010 to celebrate my 45th birthday, and some of the distinguished guests (arch-hooligans of the Derry Underground Music Community?) were late getting there because Strength were launching their double A-Sided single (on cassette) – 'Do Televisions/Frankie Moore Ritual' – in the Castle Bar on Waterloo Street. My good friend Sean Pemberton (he of Guadapenda Rosindale and Mars Field fame) brought me up a copy and it went straight into the stereo. I was automatically blown away, and knew I would have to get my ass along to their next show, and a few weeks later I witnessed their brave, beautiful and indeed confrontational music first hand and was smitten.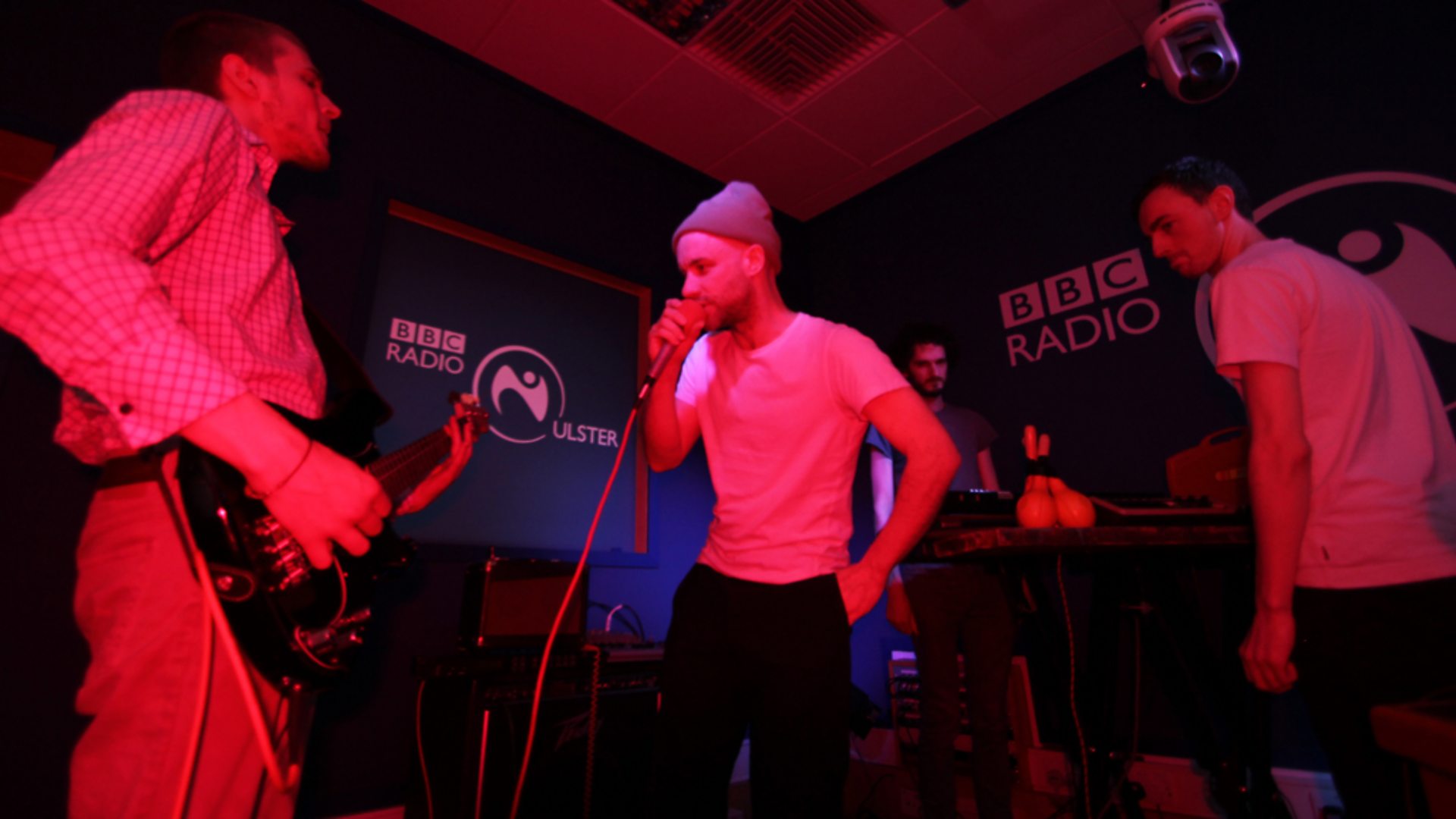 One thing I recall was seeing them not too long after that and remembering most of the songs from the first night and I think that's a really telling thing. This was Strength Mark 1 – Rory Moore (vocals), John McLaughlin (synthesizer) and David McFeely (synthesizer). I think they played in the Castle about half a dozen times, and it was always an incredible experience that stayed with me for weeks after, and I was totally honoured when Rory invited me along to DJ twice. On a few of these occasions, when they finished a song, there was like a 3 or 4 second delay before the audience applauded. But that's the magical and seductive whirlpool they draw you into when they play their fantastic songs, they take you on a trip Baby and the last thing you need is Drugs.
It's not for someone like me to speculate on the actual influences the band have, they kinda keep that to themselves, just go out and let it loose. Their songs and their sound had me thinking of Scott Walker, The Young Marble Giants, Nick Cave, The Silver Apples, Suicide, the post-punk Dub excursions of Adrian Sherwood, Liquid Liquid and The Idiot era Iggy Pop. We are aware of their preference for vintage technology (Betamax videotapes are still on the agenda) , but they do it right and the sheer emotion they communicate when they play is nothing short of thrilling. And to the actual songs – the aforementioned 'Do Televisions' and 'Frankie Moore Ritual', 'Disobedience', 'Hospital Beds And Drugs', 'I Like Compressions', 'Evil Part One' and 'Northern Ireland Yes' are all totally different to each other , but form a whole, that has us lucky people looking down the barrel of one of the best Irish debut albums ever in my opinion.
I'm gonna cut to the chase and talk about the songs (in non-chronological order of course), here's one that has transcended the line-up changes and they play and enjoy playing every night – 'I Like Compressions' – In effect, a regional hit, it made a chart of songs put together last year of songs released from bands and artistes from the North of Ireland. The difference here is that Strength didn't actually put it out as a commercial release. The line-up playing in this video (and you've been introduced to Rory Moore already) is Conor McNamee, Neil Burns and Eoghan Doneghan, they are the current line-up. One thing this particular song shows also is that these guys can get pretty darn funky when the groove takes them, and there's an added bonus here of a chorus you could park three-quarters of Iceland on, and you'll be humming it for weeks after…as you do.
Next up, 'Frankie Moore Ritual', this was on the the cassette-only double A-Sided release from 2010, the other song being 'Do Televisions'. They bring this one in at over 8  and a half minutes and it never dips as it goes, in fact, it's all action start to finish. This one got me thinking of the Young Marble Giants when I first heard it, but also elements of early Orbital and the larky elements of the Stereolab EPs and Albums when Sean O'Hagan of The High Llamas came on board. I would say that anyone who liked the 'Turn On' project Sean O'Hagan and Tim Gane put together in the late 1990's will definitely dig this one. And you know the way some records end up opening up for a few minutes, and you think it's an instrumental the whole way through and then a song happens, well this is one of them songs…don't worry, I'm not giving away the plot.
"Northern Ireland Yes" is this year's single. It's another imaginative, hypnotic addition to their catalogue & deserved the wider attention that it received. The group are currently touring. This week, on the 7th of July, they are playing in Derry supported by our boys the Gatefolds. We need an LP of their tunes, in whatever retro-influenced format they choose. Keep an eye out for further news on their website. These guys are going from Strength to…(you see what I almost did there).