Koya Webb- B, July 31, 1981
I came across Koya Webb recently during a recipe search from one of my favorite raw vegans, Kristina Carrillo-Bucaram. Koya is also a raw vegan! They've actually collaborated on a few yoga-themed projects as well, and that was very exciting to see! Those two are blowing up! I wouldn't say I'm completely raw or even completely vegan. I would define my eating habits as 'clean omnivore with raw vegan & fruitarian leanings' 🙂 and right now, I'm not even doing that! [prep time kills me]. Normally, my first choice would be something green or fruity, but I'm not gonna be an a*hole about it — like go to restaurants and implore the poor wait staff & managers as to the intricate details of how a plant-based item on their menu is prepared, or turn up my nose at work lunch outings [yeay! job!], insulting hosts at a party… eating is a social thing! Besides, a big ol' rockfish every now & then, grilled with my pomegranate ginger marinade is RIDIC.
Koya is still new to me, so I'm finding out that not only is she a raw chick but also a yoga guru + health coach + fitness model + motivational speaker… it goes on & on… She's the definition of lithe; and she glows! That smile! Those legs! and it seems like she's making the rounds: appearances on National network news channels, talk shows, various health magazines– Essence, Oxygen, Vegan Health and Fitness, Max Sport and Fitness, and Muscle and Performance to name a few. Hope she really does well… anybody with a mission to: "spread love consciousness mentally, spiritually, and physically worldwide one breath at a time" is worth at least a few moments. I'm not really a clamor-er… I'm not waiting with bated breath for the next 'enlightened' guru to 'show me the way'. I tend to be skeptical about most everything & most everyone, but Koya is definitely inspirational. All of our journeys continue. I'm not there yet, but every day is an opportunity to improve & evolve… I might be approaching 50 in a couple years, but I've got a feeling I've only just begun…
"Being free is following your soul and letting it guide you to your next destination in life. I love experiencing life organically one breath at a time."
Esperanza Spalding, B: October 18, 1984
My first introduction to Esperanza Emily Spalding was on Youtube… one of those natural hair chickies was doing a tutorial on her hairstyle for the Grammies — this pic I chose of her is from that night– never was that psysed about an updo with fluff or curls on top, but it was cute enough and Esperanza's version was gorgeous, well SHE's gorgeous… so of course I wanted to know why this woman was so special. I like jazz enough, but not to know everybody's names… I like what I like when I hear it, if I like it, then I like it… yeahhhh….. have fun with that! [just know that when I 'like' it, it's ON. Locked in. Why do you think I can't shake flamenco? I have Vivaldi to thank for that!] I got acquainted with Esperanza's magical standing bass & grooved on for a bit. So this was 2011. That year I discovered the most delightful thing I would ever discover about an artist. It seems Esperanza was caught up in a bit of fresh hell, because she and Justin Bieber were both up for the New Artist of the Year Award[?!] and to the violent chagrin of all the 'Beliebers', Maestra [yes I said it] Spalding WON! There was weeping and gnashing of teeth across the globe for young master Bieber… and I just found a new best friend!! If this was all this woman would ever do in her lifetime, it would be enough. Hyenas in heat [no, that's not a band] could have taken the award instead of Justin Bieber, and we'd be having a celebratory lunch. I'd be in some sort of padded jumpsuit with headgear & goggles, but we'd power thru! …and I *HATE* awards shows! You couldn't PAY me to watch those trainwrecks! oh you best believe I'll check out the clothes, but the concept of them & all that posturing is bs, and why we're up in arms now over all of it is beyond me – hm… all this recent nonsense might be a trick to distract us from something… just you wait 'enry 'iggins… haHaa!
::oops, sorry, tangent again, where was I::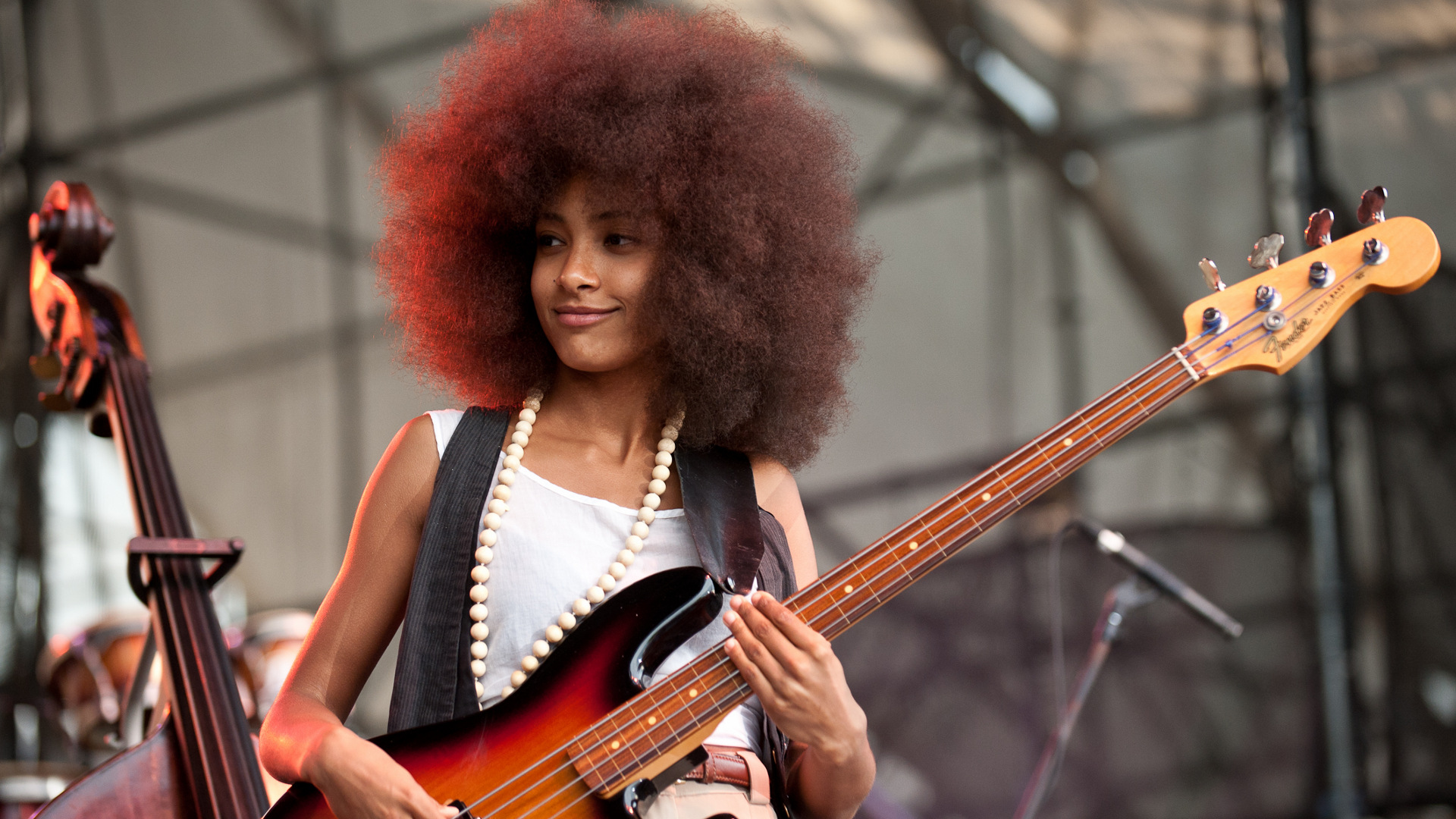 From that moment on, I knew the stars had aligned and I had to dive into what Esperanza had to offer! Quick sweep from the beginning: Prodigy, absolute musical genius, probably from birth. She began officially, playing violin in the Chamber Music Orchestra of Oregon – at 5 years of age. FIVE! Self-taught, then formally trained — on violin, double bass, bass guitar, violin & cello, and also a vocalist—a sweet light, slightly smokey soprano with impeccable pitch control. She has been asked of all the instruments, what drew her to the bass, and her response was simply that it wasn't a choice, that the bass has its own arc that resonated with her, that discovering the bass was like "waking up one day and realizing that you were in love with your co-worker". I imagine this tiny girl then later tiny woman dragging this gigantic instrument around up & down the Berklee College of Music stairs, calluses forming, evolving, assimilating… sleepless nights… endless writing, bleeding fingers, tears, musical nirvana… yeah, all that happened. That love affair was the best gift to all of us. See, Esperanza is a musician sure, but there is more going on in her mind than she lets on- it's phenomenal and analytical, but she doesn't get ahead of herself – she has married the idea of sound and science into a beautiful conscious thing with a formula, but she doesn't draw attention to that– no no, the art must shine… She's truly a genius—with this beautiful enigmatic fro that changes day to day [sometimes I weep for her ends!] and a gorgeous smile with her signature missing upper canine tooth [or maybe just extra space-y?]… she's adorable! if she had pointy ears and wings, she'd remind me of a wood nymph. My only fear is of all these studios and labels courting her and trying to change her… I've already seen that they've fixed her tooth, and she's landed in a make-up artist's chair a few times more than not these days… I worry…
I'll be seeing Esperanza at my beloved 9:30 Club in April, and I'm so excited I can't even stand it! Her new stuff is super experimental—with a Laurie Anderson-ish /Bjork-ish tinge to some of her pieces. Scary! Good-Scary! 😉 There were scads of music quotes from Esperanza, but this one shows her compassion– don't we all just need to feel valued? ♥
"You can grow up with literally nothing and you don't suffer if you know you're loved and valued."
Lupita Nyong'o, B: March 1, 1983
pssst, I've got a confession for all of you:…ready ?
::I've never seen '12 Years a Slave':: shhhh… well, I've seen odd & random clips here & there– Mikey Fassbender sliding around a pigpen while chasing down Chiwetel Ejiofor, also a bizarre slave hoedown where Lupita gets an on-the-rocks tumbler hurled at her by a crazy stressed out lady… whatever's going on, it can't be good… I'm not chomping at the bit [is it champing?] meh, maybe later I'll get the dvd, put the comments feature on– should be an interesting listen… blooper reel…?
So, like Frank Costanza, I'm goin' in FRESH! What I do know is the moment Lupita Amondi Nyong'o stepped onto the scene, almost EVERYthing on this beautiful baby was PERFECTION—from her tiny fro to the tips of her heels, including this famous Calvin Klein pearl gown that for a moment was actually stolen from her dressing room, after another one of those lame award shows [not even sure which one – the Oscars maybe?] but eventually returned… There ARE some moments when an unfortunate stylist, possibly unhappy with his or her life, gets into the mix, but for the most part, this woman is always stunningly gorgeous. That's about it really… I'm just happy to gaze & be jealous for a while… We've seen that she's charming and gracious in interviews, Vanity Fair is on a mission to court her to be one of the 'gang', we can look up the Mexico-Kenya connection, her artistic & politically involved family, and her multilingual talents, her past, present & future acting roles, see those neat shots of her with the dots all over her face – I was so hoping that would have been her look for 'Star Wars the Force Awakens', but alas alak, that was just super-cool tech at work to transform her into Maz Kanata [she had wanted a role where her actual appearance wasn't required], catch up on all the humanitarian causes to which she selflessly lends herself, be proud of her producing/directing debut for 'In My Genes'… but my lord, would you just look at Lupita… ::sigh::
"I discovered that joy is not the negation of pain, but rather acknowledging the presence of pain and feeling happiness in spite of it."