In 1976 I was 23, married & almost a decade long adherence to Hippiedom made me too old to be a Punk. The four young guns, just 16 years old, who treated our flat as a second home/crash pad were however in the right place at the right time. These Bowie/Roxy Music kids were just starting to go to clubs & it was there that they saw the Damned, the Clash and the Pistols. After rifling through our record collection for so long now it was their turn to introduce new music to us. They loved this switch around & we did too,Talking Heads, Television, Buzzcocks and ,of course, The Ramones were all friends to our turntable.
I bought "Horses", Patti Smith's debut album on the day of its release. My wife cut her hair & bought a leather jacket, my first non-flared jeans of the decade were not far behind. Of course we knew from our friends that this was about more than a new fashion. The history of the Punk Wars, initially chronicled as a moral panic by an oppositional media & even now by those who were there does seem to sometimes misguidedly emphasise haircuts rather than attitudes. Fuelled by the energy from cheap amphetamine Punk was about doing music for yourself & extending that ethic to get other things done, your big brother's hippie shit was worn out & it was time for a new generation, blank or otherwise to have their say. A Saturday night in Amsterdam where the  "punks" were an expensive fashion parade showed us how serious our friends were. A Patti Smith concert was Art with a heart. A scorching band with a shared connection to the audience. She was serious, joyous & G-L-O-R-I-O-U-S.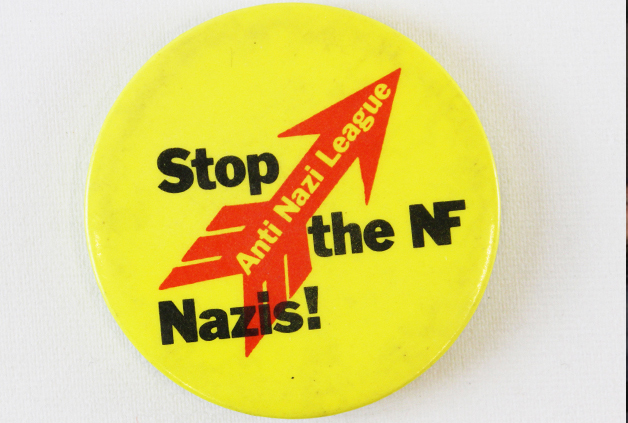 Punk brought a new force into British politics. In the 70s my own activism was through my trade union. A fast track on to national committees felt like progress but monolithic bureaucracy & archaic attitudes felt like a separation from the people I wanted to help, my workmates & that would not stand. The National Front, a bunch of perverted neo-nazis , were becoming more prominent. The Anti-Nazi League was formed in 1977 & linking with the already existent Rock against Racism it succeeded instantly. Young punks knew what side they were on instinctively. This was my kind of politics. confront the Nazis with 3 chords and a dub reggae beat as the soundtrack. I was active in the ANL, organizing gigs, fighting on the street, doing something important. At an anti-Fascist rally turning into a riot we pulled a young teenage boy from the floor. "Hello Miss" he said smiling to my teacher wife. "Go Home NOW" she sternly said to one of her class. I was glad the kid was safe, pleased that he knew the importance of showing out against these thugs & amused at my wife's off-duty activities becoming known at her school.
Rock against Racism had the best new bands at the best gigs & in 1978 they went national. A Carnival Against Racism was organised, a march to Victoria Park in Hackney where X Ray Spex, Tom Robinson Band, Steel Pulse & the Clash would play. No-one was gonna miss this. We travelled down from Birmingham for the weekend. The bunch of merry punks joined us on the Saturday. My friends in London knew the Birmingham boys and wanted to show them a good time in the big city. The next morning there was no chance of getting 15 people in the same place, in the same shape, never mind walking 10 or so miles. A decision was made. We would go to the gig in the van, picking up friends along the way.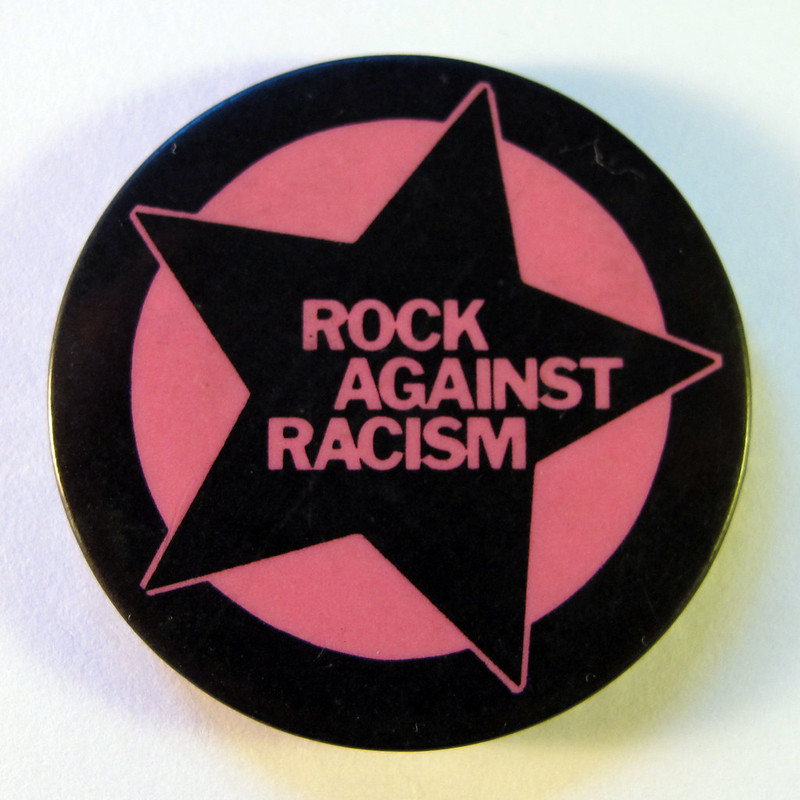 It was a massive turn out. These were the biggest public rallies of the century. People were streaming in from every direction. The atmosphere was celebratory. Today the city was ours. A couple of our posse fell under the nearest tree, refreshments had been taken again. We arranged a meeting place for later and went off to have fun. Any crowd of 100,000 people inspires awe. When they are all there for the same reason, all in it together, it's the greatest thing. "Sing if you're glad to be gay" said the Tom Robinson Band & we were all happy to do so. I had worked and played football with Steel Pulse's soundman, Horace so we went over to the sound desk to say hello. He was well pleased to see two old friends & we found places by the sound desk to see the Pulse, a band we had known about from their start. Best view in the house over 50,000 heads bobbing to "Ku Klux Klan". Those Birmingham boys were making good. It was the Clash everyone wanted to see, the size of the crowd were gonna make it an event whatever. We said our goodbyes to Horace and re-joined our friends. It was time to POGO !
Starting with "Complete Control" the Clash were our band playing for their audience. London was burning with positive energy not boredom. Everyone was anticipating "White Riot", a riot of our own & when it came the release & celebration was cathartic. This was by no means a riot but there were enough of us & it could have been. The British political world had shifted that day. All who were there went back to confront and isolate racism. The NF, so emboldened by resurgence in the local elections of 1977 were smashed in the 1979 general election. The youth had done the right thing. It felt then & still does like the most significant gig I have ever attended & you know what they say, some of it was true.
Those punky boys ? I am still in contact with 3 of the 4. Unfortunately one of them, the only black punk in Birmingham, a talented animator, didn't make it. he is fondly remembered & much missed. Three of us shared a flat in London as the self styled "Last Gang In Town". We were a rubbish gang. For 2 years (until 2002) I lived with the other in Birmingham helping to repair an old house. He was unhappy then having little contact with his children but, through their own choice, they are back with him & he's cool. C  looks after his elderly folks who helped him break a 20 year heroin habit more than we did. M lives with the woman he always loved, just 20 years later than he should have. These two men are the best people I have ever met. I am proud to call them my friends and to have shared so much of their lives.